My name's Richard, and I'm happy to tell you that I'm a full-time freelance writer. August 2017 was my first full month of working for myself. Here's a screenshot of my earnings for the month: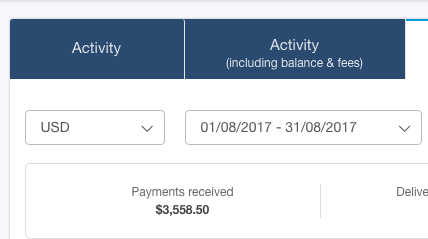 But I'll let you in on a little secret … it may have been my first month as a full-time freelance writer, but I built up to this point by writing in my free-time over the last couple of years.
And that's really what this article is all about. It's for people who are in the same position as I was. People with a full-time job and a dream to break free and write for a living.
There's so much I could share with you about my freelance writing career so far, but I'll try and stick to the core ideas that helped me reach this point.
There's a saying I like, "It's not easy but it's simple." I think this is a great way to describe the journey to becoming a freelance writer. Everyone's path to success is different, but hard work and a good strategy will pay off in the end.
I hope my story inspires you to take action and make writing your full-time job, too.
Here's a quick overview of some of the things I'll cover in this post:
What I did to build my confidence and get some writing experience
The strategy that kickstarted my writing career
How I chose a niche and started to land paying clients
My favourite platform for landing work
The types of gigs that steadily built my monthly income
How I juggled freelance writing with a full-time job
My plans to take my writing business to the next level
So, let's get down to it!
My First Writing Sample
Let's go back to the beginning. I first considered writing for a living back in 2015. I can't remember exactly where I first heard about becoming a freelance writer, but it interested me enough to start doing some research to find out more.
After reading a few books and blog posts on the subject, I decided that I wanted to give it a try. But like many aspiring freelance writers, I wasn't sure where to begin.
At the time I didn't have a niche, and I wasn't concerned about getting paid for my efforts at first. All I wanted was an opportunity to get my first published sample. This was important to me for two reasons: first, I needed to know that my writing was good enough to be published, and second, I planned to leverage that first sample to find more work.
After searching online I stumbled across the site VolunteerMatch. On the site I found lots of requests for writers, so I picked a nonprofit magazine and contacted the editor. Fast forward a couple of months and my article was in print. It was a great learning experience, and I had the opportunity to interview sources and write a full-length magazine article.
Writing the article gave me confidence that the quality of my writing was good enough to pursue freelance writing as a career. My challenge then was using that first sample to land paying work.
Bamidele Onibalusi's Earn Your First $1000 as a Freelance Writer Challenge
My initial efforts to find more work were quite scattershot. I'd scour job boards for writing jobs and try different marketing methods with limited success.
In retrospect, my problem was a lack of focus. I made the mistake of looking for a "silver bullet" that would bring me paying work. I thought if I just took one more writing course, or tried one new marketing method, I'd find the elusive secret to freelance writing success!
Bamidele's Earn Your First $1000 as a Freelance Writer Challenge came at just the right time for me. I was looking for a strategy that had worked for someone else. A strategy that was simple to follow and laid out in a way I could understand. And I found it. I knew Bamidele's challenge was a good fit for me. So I rose to the challenge and followed his strategy as closely as possible.
The challenge started on July 25th 2016 with the aim of earning $1000 from freelance writing within 60 days. Here's my post to the Facebook group on September 15th:

I was excited to have met the challenge goal, and now had a couple of paid clients under my belt. Looking back, there were a few key areas that contributed to my success. Here's what worked for me:
Picking a Niche
I decided early on that I wanted to work within a niche, and quickly resolved that the pet industry would suit me. There's a lot of debate among writers about picking a niche – my advice is to not let it worry you too much.
Choosing a niche can be a huge roadblock for lots of writers, so make a quick decision about whether you want to go this route. It worked well for me, and helped me build a reputation as an expert quite quickly. It's also great for knowing exactly which prospects to target and where to find them.
Outsourcing
I'm a big fan of outsourcing work. For me, some things are just too frustrating and time-consuming. I'd rather hire someone else to do them, and use the time saved to focus on writing and marketing.
Two things I outsourced early on were my writer's website and a list of 500 prospects. These days it's not necessary to spend huge amounts of money on outsourcing. Think about where your time and money is best spent in order for you to reach your goals as quickly as possible.
Social Proof
Once I decided on a niche, I made it my mission to get relevant social proof with a high-profile publication. At the time, it was relatively easy to land a contributor post on the Huffington Post – so that's what I did. Here's a screenshot of my winning pitch: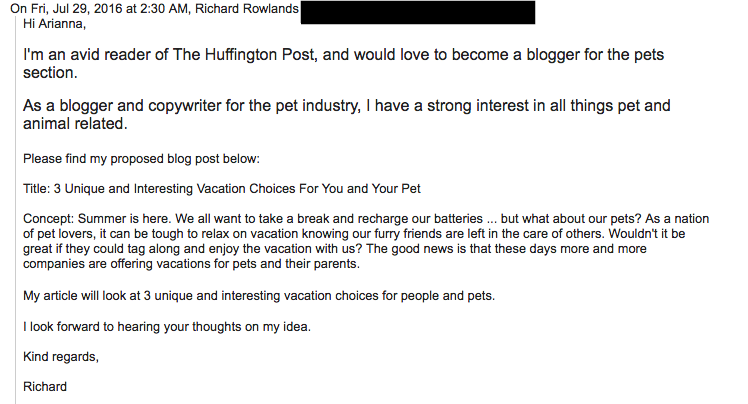 As you may well know, the Huffington Post doesn't pay writers. This is another issue on which writers can't seem to agree. In my view it's fine to do one or two unpaid jobs you can leverage to find paying work. Think of it as a tactical decision – and whatever you do, cut out the unpaid work as quickly as possible.
Pitching
You've heard this one before, but start cold pitching. It works! I started pitching by cold emailing the list of targeted contacts I outsourced. Cold emailing is a numbers game, plain and simple – even more so when you're just starting out. As you gain more experience and get more samples your response rate will improve, but it still takes hard work and persistence.
After sending about 100 cold emails – and following up – I managed to land my first couple of clients. Here's a screenshot of the pitch I was using and one of my early wins:
Here's the response I got:
Becoming An "Expert" in My Niche
I figured out quite early on that one of the keys to charging more for my services was to be seen as an "expert" in my niche. So, how did I do it?
First, I researched trade magazines in the pet industry and came up with a shortlist of several publications. Next, I checked their websites or used tools such as Hunter to find relevant email addresses for their editors. Then I cold pitched them, and soon got this reply:
Sounds great, right? But there was one small problem … I only had the Huffington Post article to use as a sample, and the prospect had asked for "two or three samples of your pet-centric writing."
It's at times like these when you need to get creative. Don't give up – keep hustling! My solution to this problem was to write an ad for a pet company, outsource some graphics for it on Fiverr and use it as a sample.
The strategy worked, and the magazine became an ongoing client. It just goes to show that it pays to be persistent. Sometimes you have to go the extra mile to get a great client.
LinkedIn
Towards the beginning of 2017, I started experimenting with using LinkedIn as a way to find clients. This worked really well for me, and it's a strategy I now use often. The thing I like about LinkedIn is the inbuilt people search, which can be used to find ideal clients.
If you're new to LinkedIn, the first thing you'll want to do is optimise your profile to attract clients. There's plenty of information online that will show you how to do this.
Once your profile is optimised, I recommend searching for your ideal clients within LinkedIn and building your network by sending personalised connection requests. Using this method I've built my network to over 700 targeted connections. I send each connection a pitch and follow up with them a couple of times to try set up a phone call.
Here's a template of the pitch I use for LinkedIn:
Hi <first name>,
Thanks for connecting here on LinkedIn.
As a writer and marketer for <your industry>, I help generate more leads and sales with quality content and marketing.
My work has been featured on sites such as <2-3 sites>.
Would you be available for a quick phone call next week to discuss how I can help with content and marketing at <company name>?
Let me know a day and a time that will work for you and we can jump on a quick call.
I look forward to hearing back from you.
Here are links to a few of my recent articles: <2-3 links>
Thanks in advance,
<your name>
And here's an example of a positive response:
Retainer Clients
One of the keys to my success has been securing retainer clients. Retainer clients are those that hire you for their ongoing content needs – meaning you have a guaranteed monthly income for the duration of the agreement.
I highly recommend pitching your services on an ongoing basis. To do this, have a think about the type of content businesses in your niche use, then package up your services and pitch them to prospective clients as a monthly retainer deal.
In my niche, blog posts and newsletters are in high demand. Knowing this, I pitched my services to potential clients as a monthly retainer. I now handle blog posts and newsletters for three separate clients each month. It's often easier to convert a current client to a retainer deal after they're delighted with a smaller project you've worked on.
Don't be afraid to up-sell and introduce the idea of retainer deals – it may just be exactly what your client is looking for!
Handling Client Work as a Full-Time Freelance Writer
Up until the end of July 2017, I was working a full-time job while writing on the side. This made managing my time quite a challenge. To complicate things further I was teaching English abroad. This meant I'd often have to conduct client phone calls late at night in order to manage timezone differences.
There's no great secret to juggling the commitments of a full-time job with freelance writing. You'll have to give up a lot of leisure time and be willing to work when you just don't feel like it. One piece of advice is to find the time of day when you write best. For me, that was usually early mornings before work. For you, evenings may be better. Test it and find out what works for you.
Working full-time as a freelance writer, I like to batch my tasks. An example of this is to do only marketing for a day – or even a week, or to complete the work for one client over a period of a couple of days. Working this way helps keep me focussed on the task at hand, and definitely makes me more productive. Give it a go and see if it works for you.
Final Thoughts
My first month as a freelance writer was a success – but the journey isn't over yet! Here's the breakdown of my income for the month:

The payments on August 15th were from two of my retainer clients, and the payment on August 20th was from my third. The $1000 job on August 11th resulted from an email I sent to a past client asking whether she had any upcoming content needs. It's always worth reconnecting with past clients – you never know when they'll need you! The other jobs were one-off projects from new clients.
My aim as a freelance writer is to keep building my income (and yours should be too). Here are a few of the ways I plan to do that in the coming months:
Over-deliver with existing clients and attempt to up-sell them – Clients who are impressed with previous work I've completed are likely to consider me for additional projects
Put together a direct mail package to send to a list of 500 prospects – This is a powerful marketing strategy I've heard a lot about, and I'm looking forward to trying it
Keep pitching! – I plan to use LinkedIn and cold email to find two or three more retainer clients, this will drive up my regular income and reduce the amount I'll need to pitch in future
Reconnect with past clients – keeping in contact with past clients keeps me on the radar for new projects, now's a great time to reconnect in the rundown to the end of the year
I hope you enjoyed this post. If you leave with one takeaway let it be this: it IS possible to make a living freelance writing. Believe you can do it, take action every day, and I've no doubt you'll soon be on your way to freelance writing success.
I'd love to hear your story. Please share it in the comments!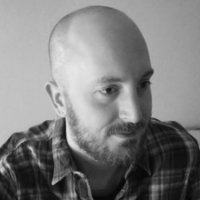 Richard Rowlands is a freelance writer and marketing consultant for the pet industry. He's also a co-founder of WriteWorldwide – the number one resource for freelance writers whose first language isn't English.