There are numerous platforms out there where you can find people in need of freelance writers to help with their blog posts and web content.
However, these are clients looking for writers and in most cases, the clients dictate the terms of pay and the rates. If you want to earn more than $10 per hour, you must be willing to go out there and look for clients yourself.
Like many freelancers know, job-boards like Craigslist are a good way of finding good clients, but that does not mean that they are the best. In my experience, I have had clients paying me anywhere from $1- $5 per 100 words.
While starting out, this is a good paycheck. But only if you can get consistent work every other week.
As such, I recently started marketing my skills using another strategy that is proving to be very helpful.
Here are some of the ways that experienced freelancers market themselves and end-up garnering as much as $100 per post or $1 per word.
Personal networking
Do you have a friend who owns a blog or a website? If you have one, then this is the person whom you should be cultivating a relationship.
People who know you are more likely to give you work because they know that they can keep you under their leash. With this in mind, you have to do check out all your friends and find out how many can hook you up with some work.
Don't just stop at friends. Sometimes, a friend's friend may be in need of an article. This is where you have to either introduce yourself to them or just ask your friend to introduce you.
This way, you know who exactly you are working for and it also makes communication easier.
Webinars and seminars
A webinar is a web based seminar.
Both are lectures or presentations about a topic, but seminars tend to happen offline while webinars happen online.
These two are good ways of discussing issues or topics related to your niche of interest, and if done right, they could be your gateways to better clients.
Seminars can be done with other freelancers in your area, while webinars can be carried out with an international audience. However, both provide a good environment to share ideas and learn from each other.
For example, if you are a freelance copywriter, you could hold a seminar or a webinar on "How to be successful as a copywriter". Among the people who watch or listen to you could be the client that you have been waiting for.
Social media
If you are like me and you do not have the best social media presence, maybe it is time that you worked on it.
Social media is the one place where you get to be known by total strangers and any other persons interested in a skill-set related to what you have to offer.
Start out with Facebook and then move on whatever else interests you.
Just make sure that you have some platform where you can share your posts, be they guest posts or posts from your blog.
Own a blog
A personal blog is a very good way of showing potential clients what you can deliver. Just explain in a pitch that you can write great articles isn't enough for them to hire you.
'Seeing is believing' and so you must have a place where you can send any potential clients you come across.
If you find blogging hard, you can revert back to doing guest-blogging. Guest posts are advantageous in the sense that that they can be distributed across many blogs thus increasing the chances that a client in need of a writer can see your name on a post.
Always include your bio and contact information in all blog posts that you write.
As a tip, do not start with high-end magazines like Forbes, just start with growing blogs and then cultivate your way up. Soon, you could be guest posting on great magazines.
Connect with other freelancers
What better way to market yourself than to the people who you are competing with. While many may be skeptical, it is a fact that competing for clients makes you neither rivals nor enemies; it's just business.
Do not only ask them to tell you when they find their gigs; that will sound like you are out to use them.
Be smart and ask them to connect you with their past clients or to clients with needs that they cannot meet themselves.
A good tip is to reciprocate the courtesy and refer them to clients whenever possible. However, be wise with who you partner with since you don't want someone taking advantage of you.
Pitching magazine and blog editors
After gaining a following on your blog or building up some guest posts, you should start pitching blogs and magazines to express your interest in writing for them.
There are many blogs and magazines on the web that pay anywhere from $10 to $150 per post.
If you are an established blog or freelance writer who knows how to pitch, then you should have no problem writing for great magazines and influential blogs in any niche.
If you need a list of blogs that need contributions, just do a Google search. In the search box, type [your niche] followed by 'write for us'. Be sure to put the text in quotes so that the results can be specific to your niche and in need of articles. Below is a screenshot.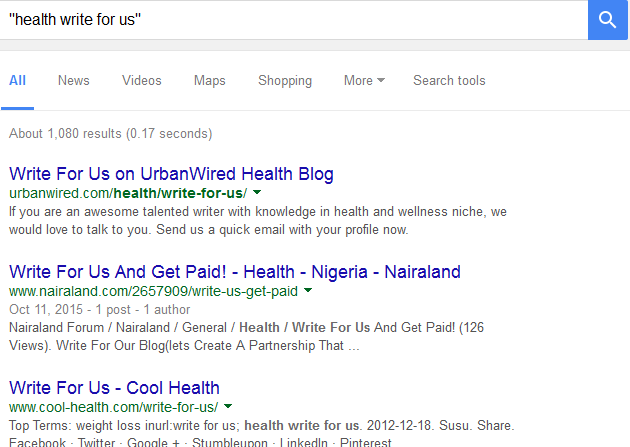 However, if you do not want to be limited to just a single niche, you should just search for 'blogs/websites that pay for posts/articles' and you will be amazed at how big the list is. Below is an example.
Choose wisely.
Afterthoughts
While these are not all the methods that you can use to market yourself, these are the ones that I have found most helpful and most easy to implement. Not easy in the sense that less effort is needed, but easy in the sense that you don't have to be a pro to implement them.