Fiverr Review – The Hyper and Fun Way of Making Money Online
Disclosure: Some of the links in this post are affiliate links. This means that, at zero cost to you, I will earn an affiliate commission if you click through the link and finalize a purchase.
Fiverr is one of the most interesting freelancing websites and among my favorites.
Currently, my main money site is Elance but you'll be shocked to learn that when I compare the two, I charge almost twice the amount per article in Fiverr as I do in Elance. In short, I currently charge an average of $5 per 500 words on Elance but $5 per 300 words on Fiverr.
Click here to see that on my Fiverr profile.
You'll also notice that I have gig extras, therefore I can earn up to $15 for a 600 word article compared to the $5-12 in Elance!
Guess where I got my eBook cover designed from. Yes, you guessed it. FIVERR! Below is a screenshot of the delivery post:
Here is the link to the gig I ordered.
Yes, the guy may not be very good in English but he has does some great eBook designs, right?
Everything about Fiverr is just different; from the language used, to the price setup to how services are ordered and delivered. In fact, at some point, I called it the inverse of iWriter.
I became a Level 2 Seller on Fiverr a couple of months ago and as usual, I decided to share my secrets on how to make money on this awesome, unique and fun site to work with. This is part of my reviews of freelancing websites.
Before we go to how exactly you can make money on Fiverr (my next post), let's first learn what this site is all about.
What is Fiverr?
Fiverr is a unique freelancing website where sellers go to sell their services for $5, hence the name Fiverr. These micro-services are called gigs. Click here to check out one of my gigs as an example.
In this site, you can freelance literally anything, from singing birthday songs in your native language to writing articles and graphic design. It is quite famous with most internet marketers for graphic design work.
People outside the internet marketing field also love it for the interesting and even bizarre gigs that are offered there.
Fiverr Fun
"Fun" is one of the main things that make this site unique. Check out some screenshots of some of the fun aspects of this site.
The login page:
The email titles:


The gigs: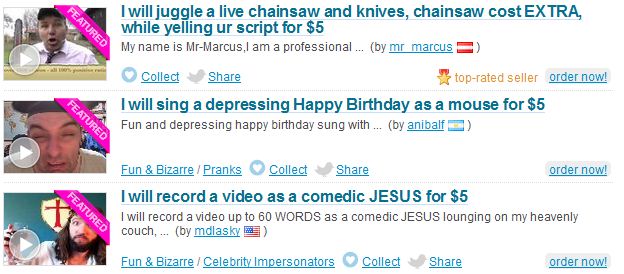 Their blog:

Having fun already? Then welcome to Fiverr!
Starting out with Fiverr
Starting out with Fiverr is quite simple. You simply need to create a micro-job, called a gig in this site. This can be done as follows:
Sign up
Go to seller
Click on "Create New Gig"
Fill in the necessary details
Once you have this set up, you're ready to start making money from the site.
What gigs should you create?
This brings me to what I said above, that this is the inverse of iWriter. In iWriter, buyers put up their articles then sellers (writers) choose the best, write and get paid. In Fiverr, sellers put up their gigs, buyers come, choose and buy.
You can therefore create a gig about anything that you can come up with. Simply go to the Fiverr homepage and see what people are selling and actually making serious money with.
Click on the different categories on the sidebar to see which one suits you best then you can learn from the best and create your own. If you get into my Freelance Writing Training, I will share with you some Ninja skills that you can use to get started right.
Gig Extras!
Yes, some of the high-end freelancers wonder – only $5 for a gig? That's pocket change.
Well, think again.
Once you become a Level 1 seller, you can start adding Gig Extras; therefore you can charge more than $5 for a gig. Level 2 gives you a few more extras and Top Rated Seller will ensure you get more orders and of course more money! Personally I am a Level 2 Seller and make a small percentage of my income from the site. More on my next post
Advantages of Fiverr
You can sell anything there, including physical goods
It is fun to deal with
When you craft your gig correctly, the rejection rate is quite low to nil
You decide what you earn and can increase your charge at any time by adjusting your unit e.g. if you write a 1000-word article for $5, you can decide to increase your income by changing that to a 500-word article for $5. You can also earn extra with Gig extras
Once you get to Level 2, you can link your Payoneer card with Fiverr and get paid straight via Payoneer
Payments take two weeks to clear. This is both an advantage and disadvantage. The great bit here is the fact that it "forces" you to "save" the cash as you wait for it to clear. You can easily plan for the future with your Fiverr income.
Disadvantages of Fiverr
Sales fluctuate: you may sell more this month and nothing next month. It therefore qualifies more as a sideshow than a main act.
It takes long before you receive your payment. Once your payment for a sale is approved, it takes two weeks to clear. Payment for each sale will take two weeks so you cannot use Fiverr for fast money.
How to Make Money on Fiverr
Check out this other post on how to make money on Fiverr. Feel free to order my training so that I can teach you some insider tricks.
Let's talk on the comments.