Freelance Transcription: How to Get Started and Land Your First Job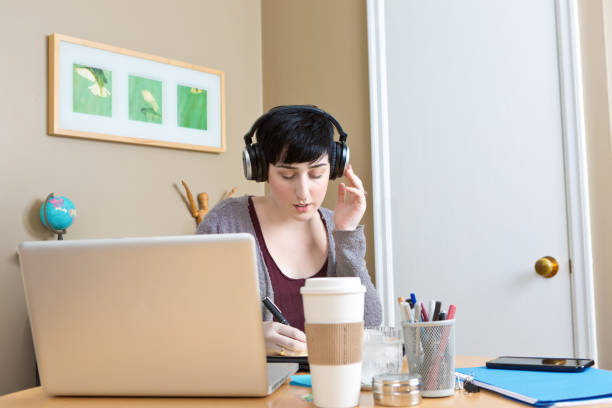 Disclosure: Some of the links in this post are affiliate links. This means that, at zero cost to you, I will earn an affiliate commission if you click through the link and finalize a purchase.
Freelance transcription is a valuable skill in the freelance world.
Whether you're a student, a stay-at-home parent, or someone looking for a sustainable source of income online, freelance transcription can be your pathway to financial independence.
In this blog post, we'll discuss freelance transcription as an online career and review the essential steps to kick-start your transcription journey.
From learning the skill to finding reputable jobs online, we'll cover everything you need to know to establish yourself as a proficient and highly sought-after online transcriptionist.
What is freelance transcription?
Freelance transcription is a form of remote work where individuals, known as freelance transcriptionists, convert spoken words or audio content into written text.
As a transcriptionist, your main task is to listen to audio or video recordings and accurately transcribe the words, dialogues, interviews, speeches, or any other spoken content into a written format.
Like online content writers, freelancer transcriptionists are self-employed and work independently. They offer their transcription services to clients and businesses on a project-by-project basis.
The demand for freelance transcription services is rampant in industries like media, legal, and academic.
What do freelance transcriptionists do?
As mentioned, freelance transcriptionists convert spoken audio or video content into written text.
The client provides the audio files, and the transcriptionist carefully listens to the recorded material, then transcribes it into a readable and coherent format.
The content could be an interview, meeting recordings, focus groups, podcasts, webinars, or lectures, among others. When transcribing, you need to capture every detail, including dialogue, punctuation, and any background noises that may be relevant to the audio content.
Freelance transcriptionists have the flexibility to choose their working hours and can work from anywhere. This makes it an attractive freelance job for those seeking remote job opportunities and a better work-life balance.
What skills do I need to become a freelance transcriptionist?
Every profession requires a set of essential skills, and so does freelance transcription.
Here are the key skills you need to possess to begin and run a successful freelance transcription business:
Excellent Typing Skills
Since you'll be listening to audio and typing at the same time, you need to have a fast typing speed to keep up.
Accurate and fast typing skills will help you produce timely and error-free transcripts.
Good Listening Skills
As a transcriptionist, you also need excellent listening skills. You should be able to listen attentively and comprehend spoken language.
Good listening skills will help you catch all the words, nuances, and context of the audio or video for you to produce accurate transcriptions.
Language Proficiency
A strong command of the language in which you are transcribing is also essential in a freelance transcription career.
Before you start transcribing, you should have a good grasp of grammar, punctuation, spelling, and vocabulary to produce well-structured and coherent transcripts.
Familiarity with Word Editors
Like online writing, you should be familiar with word processing software like Microsoft Word or Google Docs. These are the platforms you'll use to type, edit, format, and deliver your transcripts.
You may also need to be familiar with transcription software like Express Scribe, depending on the type of projects you'll be handling.
Proofreading and Editing Skills
Before submitting transcripts to clients, you should review and edit them to eliminate any errors or inconsistencies.
Therefore, you need to know how to proofread and edit your content or how to use content editing software like Grammarly and ProWritingAid.
Concentration and Focus
Freelance transcription needs a lot of concentration and focus, especially when dealing with lengthy or complex audio content.
On top of the essential skills, you must have high concentration and focus to deliver high-quality transcripts to clients on time.
Tools and Resources Needed to Start Transcribing
Once you've grasped the necessary skills required to become a transcriptionist, you need to collect the essential tools and equipment needed to start working.
Though you may not need all of them, these tools will boost your productivity and help you deliver quality work as a freelance transcriptionist.
Here are some of the essential tools and equipment you need to get started:
A Computer/Laptop: This is the primary tool you'll need for transcription work. Ensure it has sufficient processing power to handle audio or video playback while simultaneously running word processing software.
Word Processing Software: Your computer should have word processing software like Microsoft Word or Google Docs for typing, formatting, and editing the transcribed content.
Reliable Internet Connection: You need a stable and fast Internet connection to access online resources, communicate with clients, and upload or download files.
Noise-Canceling Headphones: You need good quality noise-canceling headphones to block out external sounds and help you hear the audio content clearly.
Transcription Foot Pedal: While not mandatory, a transcription foot pedal can significantly improve your productivity. You can use it to control audio playback (play, pause, rewind, etc.) with your foot, leaving your hands free for typing.
Transcription Software: Depending on the client's requirements, you might need transcription software that synchronizes audio playback with your typing or allows you to insert time stamps. Some of them include SpeedScriber, Inqscribe, Descript, and Vowel. AI software like Otter can also speed up the process.
Audio/Video Player: You also need a reliable audio or video player that supports various file formats and allows you to adjust playback speed as needed.
Quiet Workspace: Create a distraction-free and quiet workspace where you can focus on your transcription tasks without interruptions.
Backup and Storage: Finally, you need cloud storage or external drives to help you store and access your work securely. This will ensure you don't lose your transcribed files in case an incident like a computer crash happens.
How to Become a Freelance Transcriptionist
You don't need a college degree to become a freelance transcriptionist.
Like any other online job, transcription is a skill you can learn online, apply for transcription jobs, and start earning money within a few weeks.
Let's take you through the fundamental steps to help you kick-start and a run successful transcription business:
Step 1: Learn the essential skills
If you're a beginner with no transcription experience, the first step is to learn and grasp the essential skills required to do the work.
Here are the initial steps you can take to start learning how to transcribe:
Start by taking an online typing test to gauge your typing skills (speed and accuracy). If you're a slow typist, keep practicing and improving your speed and accuracy until you become highly proficient. A typing speed of at least 40 words per minute is ideal for a beginner.
Search for online language assessments to evaluate your listening abilities and language proficiency. Sites like Test Your Language have several tests and quizzes you can take for free to evaluate your skills in any language.
Enroll in an online transcription course or take tutorials to improve your transcription skills. You can find both free and paid online transcription courses on sites like Alison, Udemy, Coursesity, and SkillScouter.
After you finish learning, take a skills assessment test (a transcription test) to see if you're competent enough to start working on clients' projects.
Transcription sites like Scribie have free tests you can take to practice and improve your online transcription skills.
Step 2: Acquire the necessary equipment
Before your start applying for transcription jobs, ensure you have all the necessary freelancing tools mentioned in the previous section.
The most important ones are:
A reliable computer or laptop with a good audio player and a word processor
Noise-canceling headphones
A stable internet connection
A transcription foot pedal and specialized software can enhance your efficiency, but they are optional.
Step 3: Choose Your Niche
Do you want to become a general transcriptionist or a specialized transcriptionist?
Before applying for jobs, you need to decide if you want to specialize in a specific industry or type of transcription (e.g., legal, medical, academic, general).
Specializing can help you target specific clients and increase your marketability as a freelance transcriber.
Just ensure you choose a niche that interests you or that you have background experience with so you won't struggle in the process.
Step 4: Create a Professional Profile
Now that you're ready to start working, go ahead and set up your profile as a freelance transcriptionist on freelancing platforms like Upwork and Fiverr.
LinkedIn is also an excellent place to start branding and promoting your newly learned skills.
When building your profile on any of these sites, showcase your skills, experience, and any relevant certifications or training you've taken as a transcriptionist.
This will help you attract potential clients and start landing freelance transcription jobs.
Step 5: Build Your Portfolio
If you're starting with little experience, create a portfolio by transcribing sample audio files and uploading the transcripts online.
You can use freely available audio content or request permission from content creators to transcribe their videos.
You can then create a simple portfolio website and upload your work or host them on popular portfolio websites like Portfoliobox.
These are the samples you'll showcase to prospective clients as proof of your ability to accurately transcribe content.
Step 6: Apply for Online Transcription Jobs
Now, you're ready to apply for transcription jobs and start earning money online!
Look for transcription job listings on freelancing platforms like Upwork or transcription-specific websites (more about this in the next section).
As you start, be ready to take entry-level jobs and offer competitive rates to attract clients and build a reputation. You can gradually increase your rates as you gain more experience and positive feedback.
It may take you some time and effort to land your first gig, but never give up!
Step 7: Deliver High-Quality Work
In the online workspace, quality is king!
Once you land a transcription job, ensure you deliver quality work and make your clients happy! Provide highly accurate, well-formatted, and error-free transcriptions within the agreed deadlines.
One happy client is enough to open doors to more job opportunities through their feedback, reviews, and testimonials.
Always request feedback from clients to understand areas for improvement and continuously refine your skills to adapt to client preferences.
Step 8: Network and Market Yourself
If you've specialized in a specific niche, market yourself as an expert in that area.
Target clients and industries that require your expertise and connect with them on various platforms like Twitter and LinkedIn.
Also, grow your network by joining transcription-related forums, groups, or social media platforms to connect with other transcriptionists and potential clients.
Be active by engaging, commenting, and sharing your expertise with them.
Before you know it, you'll be swimming in a sea of lucrative freelance transcription opportunities and earning more money.
10 Websites that Offer Paid Freelance Transcription Jobs
Ready to start your job search and win paid transcription projects?
There are several sites on the internet where you can find freelance transcription jobs. However, some are more reliable and more frequently updated than others.
Here are 10 reliable sites from where you can find the best transcription jobs and start earning a decent income online:
Upwork
Upwork is one of the largest and most popular freelance platforms connecting millions of clients and freelancers across the world.
It offers a variety of transcription jobs for different industries, including general transcription, medical transcription, legal transcription, and more.
All you need to do is create a profile that showcases your skills and experiences and start bidding on relevant transcription projects.
The average hourly rate for transcriptionists on Upwork is $17-$22, which is quite good for a beginner.
Fiverr
After Upwork, Fiverr is the next big deal as far as freelancing is concerned.
On this platform, every freelancer markets their services in the form of 'gigs', and clients who are interested in those gigs buy them.
You can create your gig as a freelance transcriptionist, put a price on it, and wait for interested clients to find and hire you.
TranscribeMe
TranscribeMe is another popular platform that focuses on micro-task transcription jobs, which are short audio snippets that can be transcribed in a few minutes.
This platform is suitable for beginners or those who prefer shorter transcription tasks. The pay rate may vary based on the difficulty and length of the tasks.
To start working on this platform, you need to sign up for an account and pass the entrance exam to be accepted into the team.
Scribie
Scribie is another transcription site that offers transcription services for audio and video content.
Freelancers on Scribie can pick and choose from a pool of available jobs to transcribe.
This site uses a payment system based on per audio hour, which ranges between $5 -$20/audio hour. However, the pay rate may vary depending on the quality and complexity of the audio.
Before applying, you need to go through their transcriber guide and ensure you meet all the outlined requirements.
GMR Transcription
GMR Transcription is a well-established company that hires freelance transcribers for various fields.
They hire both general English transcriptionists and Spanish transcriptionists. GMR mostly looks for experienced transcribers to maintain a high level of accuracy and quality in their work.
Their pay rate varies depending on the turnaround time and the quality of the audio to be transcribed.
GoTranscript
GoTranscript is among the largest online transcription and translation agencies specializing in different languages, including English, Dutch, Chinese, Arabic, and French.
They offer transcribing jobs for freelancers all over the world, depending on competency and experience. They also offer competitive pay rates of up to $0.60 per audio or video minute.
However, GoTranscript is currently not accepting English transcribers.
eScribers
eScribers is a transcription company that specializes in legal transcription work.
They focus on transcribing content for court and law enforcement agencies.
Though it's not mandatory, freelancers interested in working with eScribers should preferably have a background in legal transcription.
If you're a professional lawyer looking for a more flexible way to earn money online, you can give eScribers a shot!
Daily Transcription
Daily Transcription offers transcription services for various industries, including entertainment, corporate, and academic sectors.
They hire freelance transcribers and require them to pass a skills test before joining their team.
This site also offers transcription courses and training that you can take to develop your transcription skills before starting to work.
Transcription Staff
Transcription Staff is another leading supplier of transcription services to enterprise clients.
It has several transcription jobs, and once accepted, you can handle as many jobs as you can daily. This site pays a beginner-friendly rate of $7.50-$26.50 per audio hour with a 30% bonus for full-time transcriptionists.
To start working on Transcription Staff, you need to pass a short transcription test for them to gauge your suitability.
LinkedIn
While LinkedIn is not a dedicated transcription platform, it is a powerful networking tool that can connect you to find potential clients and companies looking for transcription services.
Many businesses and individuals post job opportunities for transcription work on their LinkedIn profiles or in relevant groups.
You can check for the latest job postings on various transcription groups or do a simple search with the following keywords:
"Freelance transcription jobs"
"Looking for freelance transcribers"
"Freelance transcribers needed"
"Hiring freelance transcribers"
Look out for the dates to ensure you're only applying for recently posted jobs that have not expired.
The Art of Cold-Pitching
If you're not a fan of freelance websites, one of the best ways to earn high-paying transcription jobs is through cold-pitching.
Cold-pitching is a proactive approach where you reach out directly to potential clients or companies to offer your transcription services.
You can craft a compelling pitch or proposal that highlights your skills, experiences, and dedication to delivering accurate transcriptions.
Cold-pitching can help you land direct clients and secure lucrative freelance gigs that might not be publicly listed on job boards or platforms. Plus, it's less competitive since you're the only candidate, unlike thousands applying for the same jobs listed on freelance websites.
Artificial Intelligence (AI) and Freelance Transcription
In recent years, artificial intelligence (AI) has significantly disrupted the content creation industry, and transcription has not been left behind.
AI-powered transcription tools and speech recognition software are now available, which can automatically transcribe audio and video files. This significantly reduces the time and effort required for manual transcription.
As a result, some clients have shifted to automated transcription services due to their cost-effectiveness and quick turnaround.
However, AI transcribers can't fully replace human transcribers since human transcribers are better at understanding nuanced content, dealing with multiple speakers, and handling challenging audio conditions.
To successfully survive the uncertainty as a transcriber, you should:
Niche down (focus on one or multiple niches that you're really good at
Leverage technology to boost your productivity
Sharpen and Improve your skills
Offer high-quality, value-added services to clients
Diversify to better-paying skills like freelance writing and virtual assistance
FAQs
How much do freelance transcribers make?
Freelance transcribers make different amounts depending on the platform or client they work for, the complexity of the tasks, the transcription industry, and their experience levels. Beginners or those with minimal experience can earn anywhere between $10 to $20 per audio hour. As they gain experience and niche down, transcriptionists can earn higher rates, ranging from $20 to $50 or more per audio hour.
How do I start freelance transcription?
To start freelance transcription, take time to learn essential skills like listening skills and fast typing. You can take an online course or a tutorial, then practice with online transcription tests. After learning, gather the necessary resources, create your portfolio, and start applying for jobs on freelance platforms like Upwork and TranscribeMe.
Is Freelance transcribing worth it?
Whether freelance transcribing is worth it or not depends on your individual goals and preferences. However, as a freelance type of work, it offers flexibility, the ability to work from home, and the potential to get financial independence. It can be an excellent option for those seeking a work-life balance or an additional income online.
How much can I earn by transcription as a beginner?
As a beginner, your transcription earnings may be on the lower end of the pay scale. You might earn anywhere from $10 to $20 per audio hour, depending on the platform or client you work for. Keep in mind that your speed and accuracy will improve with practice, and you'll likely earn more as you gain experience.
Conclusion
Freelance transcription is a good opportunity for anyone who wants to make a living working online.
Once you learn the essential skills and amass the necessary resources, you'll be ready to go out there and make your dreams come true.
When starting out, you may find it a bit challenging. That shouldn't keep you down since everyone starts from scratch.
Ultimately, the key to success is to continuously improve your skills, deliver high-quality transcripts, and build positive relationships with clients. Over time, you can establish yourself as a reputable transcriber and command higher rates for your transcription services.
And if you want to do something that pays better, consider article writing.