7 Ways to Get Direct Clients in Online Freelancing
Disclosure: Some of the links in this post are affiliate links. This means that, at zero cost to you, I will earn an affiliate commission if you click through the link and finalize a purchase.
It is painful to keep bidding with no work. It's demoralizing when you log in to your favorite online freelancing website but there are no jobs on the queue. Or the few jobs that you can see give you instant headache since you cannot do them.
While you're fumbling online looking for the best online work platforms to work on, some people are busy being given direct work and payments by clients.
A direct client (DC) is a person who hires you without the use of a freelancing website. Therefore, you discuss with the client directly, and not through Upwork, Speechpad, PeoplePerHour, etc. Once you do the job, the client pays directly to your M-PESA, PayPal, Paxful, Payoneer, bank account or via any other agreed method.
Direct clients pay way better and in most cases have an almost zero rejection rate. They tend to be long term. If you do a good job for one, they can keep you for years!
A few things to note before we go on (if you forget these, don't say you were never told)
You must be able to deliver pure gold in your field of online work
It is not wrong to be part of a freelancing website. It's good to mix up websites and direct clients. As I always say, have multiple sources of income.
Be more cautious when working for direct clients since in case of any disagreement, there is no site that can mediate. Therefore, consider things like charging them higher to cover the risk, asking for deposits (50 to 100%) before working, establishing POD (pay on delivery) models, or asking them to pay more frequently (daily or weekly) to minimize risks. These rules don't apply for big companies like CNN where you're sure you'll be paid.
With that out of the way, how do you get direct clients?
1. Pitching
This is one skill that has many names. Some call this outreach. Others cold-pitching. Others cold-emailing (where you focus on emails only). No matter what you call it, here's what it means:
You're reaching out to people who don't know you. People who haven't even expressed that they're looking for someone to work for them. Your goal is to convince them to hire you.
It's a brilliant method for those who want to command higher rates. I'll use the example of a writer. Let's say you want to write for a site called Pure Gold Technologies. You check for a few signals:
Do they seem like they have a good budget? Look into the company to see how much they're worth. Some have such information out there. For others, you'll have to check the site, blog, newsletter, product, engagement and other signals to see if they're worth their salt.
Are there any gaps? I once pitched a company that was doing extremely well in other areas, but their blog was pathetic. In such cases, you show them how having an engaged blog will boost their bottom line.
Can you really deliver high-quality content to the company? It's your value that will get you hired and keep you hired.
Once you've established the above, contact them. Some people use cold emails, others use cold calls, or if it's a local company, you can even pay them a visit. Just make sure you contact the people who matter and convince them to take up your services.
Since you're pitching people who haven't expressed their need for your services, this method can take time. For example, out of 100 pitches, you may only get 1 job. Or none.
Some have had higher success rates and gotten clients after sending less than 20 pitches—but many take quite some time (a few weeks to a month) and many pitches (over 100). The best part is that since you're looking for prospects that fit your budget, even that 1 job can push you to unimaginable heights.
You also don't have some of those challenges that people get when using accounts like Upwork. No 20% fees. No account closure. No limit to how many people you can pitch. You're fully in charge. Some of the richest freelance writers in the world use this method to get clients.
See how Nick used this method to build a successful writing business.
2. Friends and family
This is the most basic way to get local clients. It is as simple as it sounds. As much as it may not get you so many clients, you can actually get some few jobs to start with.
Sometimes I've challenged people to do this and they've gotten results real quick. The fact that you're reading this shows you're serious with what you want. I challenge you to do this right now. Here is how you can reach your friends and family:
Send a text message to your entire phonebook. Yes, everyone on that contact list, even your grandfather ????. Tell them you can offer a certain service, e.g., article writing, graphic design, transcription, etc—whatever service you are confident you can provide quality in.
Do the same thing on WhatsApp.
Go to Facebook and LinkedIn. Create a status update or group post informing your friends that you offer a certain service. Tag anyone relevant in your field. For example, if you are a writer, you can tag other writers, web designers, and graphic designers. This is because sometimes these professions cross paths, i.e., when one is doing web design, his client may ask him for a top-notch content creator or graphic designer. And that's where you come in.
Do the same thing via an email to your friends and family all over the world.
Whenever someone gives you a job, do it well and ask for feedback. If they're happy with your work, tell them to refer you to their friends and colleagues.
Unlike cold-pitching, this method has a very high response rate since you're contacting people who know you. I have written for many local clients who are actually my personal friends and family. They simply know that whenever someone in their office needs a writer, the number to call is mine—0720754933. Or my email walter@freelancerkenya.com!
Referrals rock!
3. Job boards
There are many online job boards. You go there, check for job listings, and apply for jobs. Some of the most famous job boards for writers include ProBlogger and BloggingPro job boards. I usually place Craigslist here since it works similarly. Other good ones include Listiller and Indeed.
One thing to note about job boards is the fact that there are so many people applying for those jobs. Therefore, you will need to apply for so many to get a client. It doesn't hurt to try, though. And when done well, this can give you some amazing, high-paying clients.
4. Blogging
This is an exceptional way to get direct clients! It is difficult to rank a blog, though. It takes a lot of time and patience, but compared to all the methods highlighted here, it can get you some of the highest paying clients. Simply follow these steps:
Create a blog that talks about your area of online freelancing, e.g., writing, graphic design, transcription or virtual assistance
Research on the pain points of your clients. What pains them most? Who would they like to hire? What makes them cry? What makes them smile? Write mostly about the solutions to these things.
Check out different forums to see what potential clients are mostly talking about and write about it
If the aim of your blog is to get clients. Don't over-highlight your own pains as a freelancer. Clients' primary aim is to have their problems solved. Not yours.
Check out blogs targeted towards freelancing clients and get content ideas
Have a services page where you highlight your services—all of which solve the problems the clients have
If you don't know how to create a blog, simply sign up here and I'll give you a free blogging eBook that will teach you step by step how to do it. Through this blog that you're reading from, I have gotten some of the best international clients. To highlight two of the best, one paid me $100 per 500 words article for a one-off project.
Another long-term client paid me $200 for 750 words, while many others have paid me hundreds of dollars for very simple marketing tasks. All reached out to me after reading this blog.
5. Social media
You can use social media to get freelance clients. I have already mentioned above how you can take advantage of your own social media platforms to turn a percentage of your friends and family to clients. You can also use social media to get clients who are not friends or family. Below are some pointers:
Join Facebook and LinkedIn groups that have freelancers (they are so many nowadays)
Ask questions on the group wall
Answer as many questions as you can on the wall
Learn from the existing wall posts
It's social media, so whenever someone posts jokes, have fun and make merry
Once you're well known to the group, you can post that you are looking for online jobs in your niche
You will also see other people who are looking for freelancers. Apply for their jobs.
Do your due diligence to establish if the clients are trustworthy (people get conned every day in groups).
Once you're sure the clients are legitimate, accept their offers and do a good job
As usual, once a client approves your job, ask them to refer you to their friends and colleagues
Make sure you have a smashing LinkedIn profile since international clients love checking that out
"Like" social media pages that talk about freelancing and inbox them asking for job offers
Don't confine yourself to local groups, also join international groups and pages. You can get clients there, too!
Do a Facebook search for keywords such as "freelance writers wanted" and "content writers wanted". Look through the posts for opportunities.
Also, don't confine yourself to existing groups, you can create your own. I created one of the first Kenyan transcribers Facebook groups and this has helped bring in lots of business to me and its members. Also join this group that I created for freelance writers.
I have heard of many who have gotten long-term clients straight from social media groups and pages. One of my best clients came from a social media post. A team member who helps me with this simply searched "article writers wanted" and other similar keywords. Then bam! We got ourselves an amazing long-term client.
You never know, this may be your jackpot. Try it out now and see how it goes.
Learn more about getting clients on social media.
6. Forums
There are so many forums in the world. Some are very active with lots of hits per day. They are excellent sources of direct clients.
Join an excellent forum that either generally talks about business or that is specifically for online business
Some forums I've joined and gotten clients from include Wazua, Affilorama, and Warrior Forum. Others claim to have gotten offers from Digital Point. Research for more powerful forums.
All forums have rules. Read them!
Ask questions, answer questions, crack jokes, inform, etc., to establish your presence in the forums
In forums that allow you to advertise your services, advertise yours
In those that allow you to put a link to your services, put a link to yours as a forum signature. Remember to have a small description either as anchor text to your link or right before the link.
Just like what I stated about social media, it's good to first establish a presence and provide immense value to the forums as you continue looking for jobs.
7. Partner with others
Are you an established freelancer? Do you offer exceptional services? Then it may be time to partner up with someone else. Form networks with other freelancers who do different online jobs. When you hear something they can do, freely pass on the job to them. They will most likely do the same to you.
You can also find an established online freelancer with fantastic networks, then read carefully below:
Don't just email and say you want to partner with a successful person, they'll ignore it
Offer a benefit. People only buy benefits. Therefore, create an arrangement that will mutually benefit you both.
Yeah, just those two points. I'll give you two examples.
Example #1: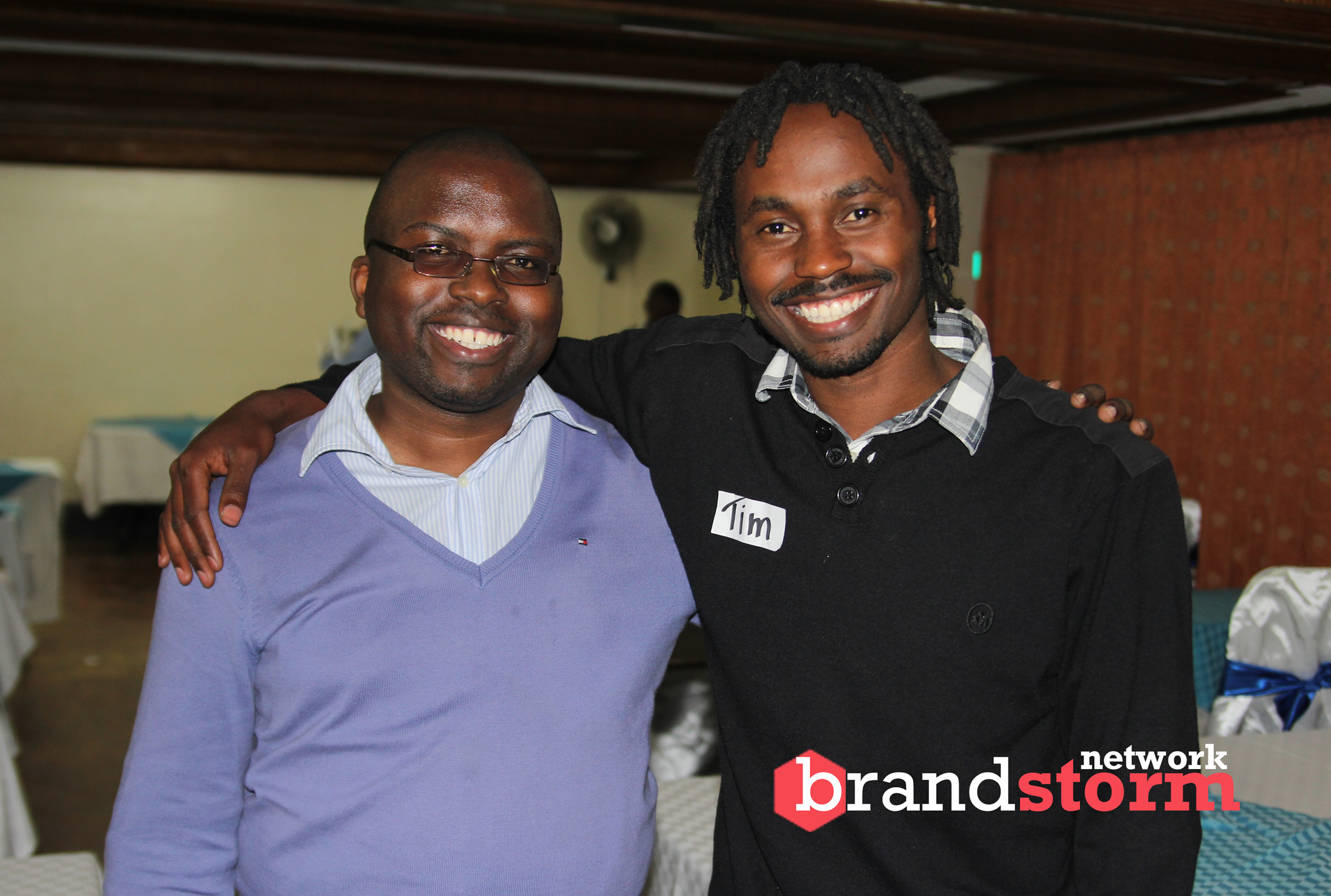 Timothy Maina talked to me at some point. He was living in the States and he wanted to do a smashing seminar in Kenya on how one can establish a thriving online business as a side-hustle. He gave me the following benefits:
I was to market his seminar on my blog and emails
I would attend the seminar, have time to talk about online business and market my products
I would learn his in-depth tips on internet marketing
I would get a commission on all attendees I referred
I would get a commission on all those who bought his side hustle training, even long after his seminar.
This was a great mutual arrangement, which I quickly endorsed, marketed and earned from. Win-win situation for us both. Tim got the attendees. I got the commission and lessons.
Example #2:
John Wafula (fictitious name to protect his privacy), a friend of mine, kept calling asking for a partnership to establish a writing business. I was to use my blog, mails, resources, and money to contribute towards this.
According to him, after we got the company rolling, we were to share with him the profit on a 50/50 basis.
I had already helped him to establish an entire online business that helped him earn for years. I never earn from what I set up for him freely (and I don't really want to, I helped as a friend).
I definitely rejected all his offers. Why? They are not mutual-benefit arrangements. They would drain me dry while earning him a profit.
Lesson:
Partnerships can help you get lots of lasting direct clients. You can also make lifetime mutual benefit arrangements.
Just ensure that you are not a leech, pest, or parasite to whoever you want to benefit from.
Don't get me wrong:
It is always great to give free business advice and help. I do it all the time ????
However, there are limits as to what someone can offer you for free.
Aim to work mostly (or only) for direct clients
I work for both direct clients and for clients in Upwork. So it's okay to combine both. However, I mostly work for direct clients. I love the fact that my direct clients give constant jobs, pay frequently, and refer me to their friends.
You can do it, too!
Make sure you remember the safety tips since it is so painful to be conned by a client after working hard. On your side, remember to always deliver pure gold and remain professional so that you can keep the clients (and the dollars) flowing.
Do you work for direct clients? If not, what's been stopping you? Tell us below.