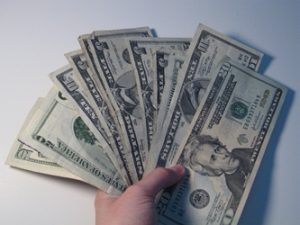 Many people mistakenly assume that Freelancer.com is a reserve for cheap freelancers who earn peanuts. Below are some of the questions people ask:
Is Freelancer.com a site for cheap freelancers?
Can you make good money out of this site?
How can you earn from a site that pays so low?
How exactly can you earn 30k and above from Freelancer from next month?
As we saw on my freelancer review, if you work hard, you can get lots of cash from this site.
Below is how you can get 30k and above from Freelancer from next month.
1. Start Small
Matt Barrie, the owner of Freelancer once wrote an article in Forbes about how a profile cannot be transferrable. This means that if you have a tight profile in Elance and start with Freelancer, you will still become a new freelancer with no credentials. You will therefore need to earn your way up.
Therefore, after you sign up to Freelancer using this link, you will definitely need to start small if you want to make it quickly. For example, if you are a new writer, you can accept a few $1-$1.5 per 500 word jobs to just help you build a profile. Once you have a couple of 5 stars, you can as well double this figure. Consider the low pay your investment for a greater good.
2. Use a Sample
I mentioned this in my previous post and am mentioning it here again. Always use a sample.
The latest news is that Freelancer.com disabled the attachment feature when bidding. Below is how you can still use a sample of your work. As usual, I use the example of freelance writing.
a) Use Dropbox
Use a cloud application like Dropbox then include a link in your message. You can click here to register to Dropbox:
Once you install Dropbox, below is how you'll be getting links to your samples:
Go to the file you want to get a link to
Right click and hover on "Dropbox"
Click on "Share Link"
It will open a page on your browser
Click on "Get Link" and the link will be copied to your clipboard
Go to the message you're writing to the client, right click and paste
b) Publish your works online for free
If you are a writer, you can easily do this in article directories or revenue sharing sites like EzineArticles, Triond, HubPages etc. then be giving links to your published content.
c) Use the portfolio feature
Of course you'll need to do this as I insist on a complete profile below. What you'll need to do though is tell the clients to check your portfolio to see samples of what you do.
For the best results, use all the three features above.
3. Complete Your Profile
Do whatever it takes to have a complete profile. This will include a photo, your portfolio, your subheading, description etc. Freelancer will always tell you what you need to do next to complete your profile.
4. Bid Daily and Deliver
Dedicate time every day to send out a few bids. When you get a job, make sure you deliver quality so that you can be given a great review. Always bid for $30 when starting since this is the minimum amount. Once you get better clients as seen below, you can bid for higher amounts.
Note that also Freelancer charges you approximately 10% when you get hired. Therefore, the lower the first bids, the lower the initial investment.
5. Become an Affiliate
Freelancer has one of the best affiliate programs I know. Once you refer someone to the site, you'll be getting part of the lifetime project fees whenever they are accepted for a project. This way, you can earn money even in your sleep!
To become an affiliate, simply go to "Invite Friends" or go to "Finances" then "Affiliate Activity". There you will get a link that you can use on Facebook, emails, blogs etc. to refer friends.
Note that this will not earn you quick money but once in a while, you'll be surprised to get a $4.5 in your account. If you take my blogging training and build a great blog, then the results of affiliate activity will become much better.
6. Become an Entrepreneur
Once you start getting high paying clients, look for freelancers from the same site and pay them lower than what you earn.
For example, if you are a lucky writer and you earn between $2.5 and $5 on the site or elsewhere, you can hire other freelancers from the same site and pay them between $1 and $2. You may need to invest a bit of your personal cash so that you can pay them milestones.
Otherwise, whenever you are paid, you can pay your freelancers, plough back some money to the business and withdraw some cash.
One thing I know about freelancer is the fact that you can make some long term relationships with clients. Your work will just be to make sure your freelancers do an awesome job and only pay them when you are paid by the client…and you'll not need an office to do this.
7. Practical for Writers
I have made lots of cash through Freelancer with this method. As a writer, I am pointing this out for writers but all other freelancers can duplicate the same method.
Start writing $1 articles
Create a good profile and gather some 5 star reviews
Upgrade to $2.5 articles (or higher if possible from Freelancer or other sites)
Hire freelancers (from the same site) for $1.5 per article (or lower). This gives you a profit of $1 per article. Whenever you bid, tell clients that you have a team and can handle bulk work.
Let your total production be at least 20 articles per day as a team; earning you approximately $20 profit per day.
Work 24 days per month with your team (Mondays to Saturdays). Therefore total profit will be:
$20×24=$480
Assuming a dollar is Sh. 80, this will give you Sh. 38,400.
Of course there will be other expenses such as project commissions. When all these are deducted, you'll be left with at least Sh. 30k per month from next month. At this stage, all you will be doing is bidding and proofreading since other writers will be doing all the writing.
Increase your production to more than 20 articles per day as a team and you can easily multiply your income. You may need to promote some of your writers to become proofreaders and pay them for this but the more you produce, the more you get.
Eventually, hire a virtual assistant/manager who will do all the above for you and start making some residual income!
Warnings!
Always invest and pay milestones to your writers. On the other hand, always ask for milestones from clients. That way you'll all be protected from the numerous con men in the site. I once was conned a lot of money because I trusted some long-term clients who eventually disappeared with six figures. If you use milestones, this will never happen.
Do not accept offers to work and be paid outside the site.
If you ignore my warning and work without milestones, then make sure no client ever holds a lot of your cash at once. Also, make sure you have enough savings to pay all your writers should a client go rogue.
Other writers should be cautious about accepting work from clients who do not offer milestones.
Never write an unpaid sample. The client will simply disappear with it.
Conclusion
Freelancer.com is a great and famous site. There are a lot of dollars to be made. It is mostly great for beginners who should later graduate to other better paying sites such as Elance and Fiverr. You can then come back as a client since freelancing, like most businesses, may not be as lucrative without outsourcing.
Therefore, whether you're a new or seasoned Freelancer, sign up with Freelancer.com and start making that extra cash either as a client or an employee.
See you on the comments!