Two years ago, I was working with businesses that paid me $0.8 per article in Arabic.
At that time, my earnings were smaller than my bank account fees.
I felt scorned, broke, and hopeless. I wasn't going anywhere earning peanuts working my face off all my holiday and after-school time.
Thankfully, I bumped into a few English freelance writing blogs then ended up landing a few clients after Bamidele Onibalusi's challenge, "Earn Your First $1,000 as a Freelance Writer."
Today, one year after I embarked on my business journey, I'm working with various retainer clients that offer on-going work I can easily write and get paid for.
Recently, I was able to boost my writing income with one of my clients from $140 to over $350 per week.
The strategy I followed was very simple, and landing the gig was relatively easy.
According to Paul Farris' book Marketing Metrics, there's a 60-70% chance you'll be able to successfully upsell to your existing clients.
So if you pitch them new services, ideas, and projects, they'll probably hire you for those.
How I First Landed This Client
To give you some context, I landed this client after filling out a contact form in their "Guest Post" page – which I spotted while browsing their blog.
Websites that are on the lookout for writers usually link to their Guest Post page in the footer or header of their blog. In my case, here's how it looked:

The client is a multi-million dollar SaaS company that works with writers to generate organic traffic and attract clients via search engines.
To get the most out of my pitch, I used Bamidele Onibalusi's second pitch template that he posted during the Earn Your First $1,000 challenge – it's more personal, as you can see below.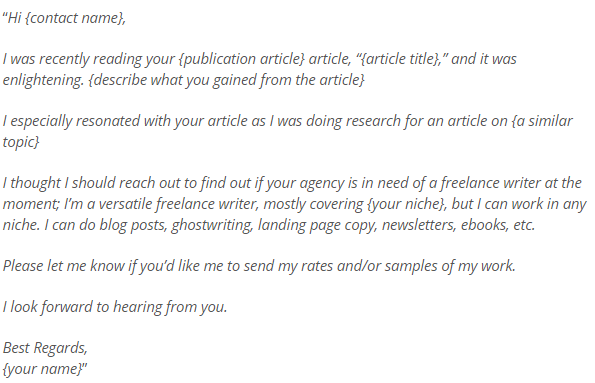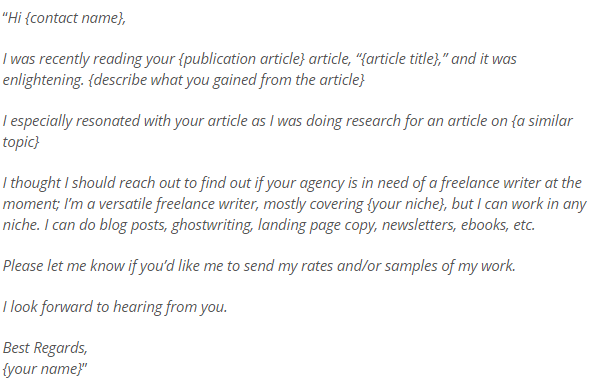 After I made the necessary tweaks and sent the pitch template, here is the response that I received: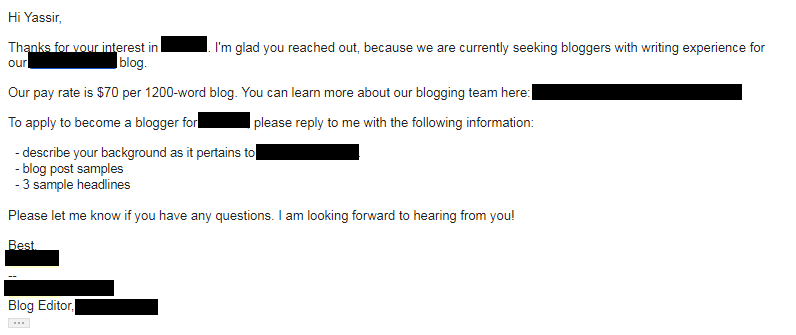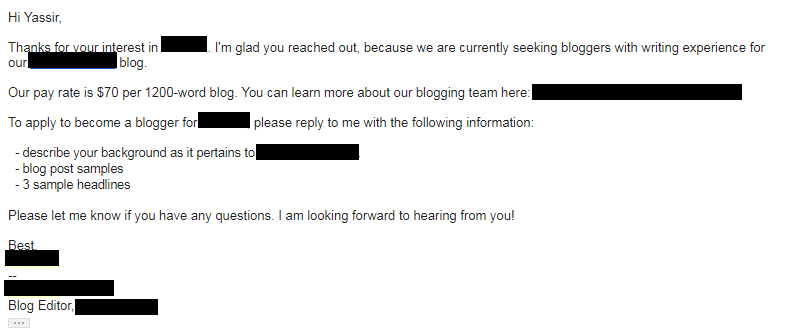 I got back to the editor with article ideas, samples headlines, and my experience in that specific niche. I also attached a sample blog post as proof of my writing ability.
In a matter of hours, they set me up to start working with them then invited me to their WordPress platform.
After months of continuous work, I found out that my client has recently launched a new website and acquired another SaaS company.
Here is how…
#1 Check Your Client's LinkedIn Profile (the Founder/CEO)
My client has listed the companies he owns and the exact dates he started running them on his LinkedIn profile. I used this data to learn more about whether he might need my services for his other businesses.
Here is an example from Neil Patel's LinkedIn profile.
As you can see, he has listed both of the websites he has co-founded on his LinkedIn account. Therefore, if you work at Crazy Egg, for example, you can easily reach out to your editor, content head, or CEO (depending on the volume of the company and your relationships) to pitch them your ideas for KISSmetrics.
In case your client doesn't have a LinkedIn profile or hasn't updated it in a while, feel free to drop them a line to learn more about their possessions and entrepreneurial activities.
This leads us to the next step…
#2 Do Your Research
Familiarizing yourself with your client's business is very crucial to send a successful and personalized pitch. Here is what I've done to learn more about the company and its needs:
Initially, I browsed their blog to have an idea about the type of content they publish and whether it can match my expertise in this particular niche.
Then, I chatted with a writer at that business to ask questions concerning keywords, SEO strategy, number of writers, payments, etc. Luckily, I was already connected with this freelance writer – which made asking detailed questions easier.
Lastly, I googled "Company Name + Freelance Writer" to see if they posted any job offers online. Fortunately, I stumbled upon an announcement at ProBlogger where they mentioned all the relevant requirements for their new blog.
#3 Pitch Your Freelance Writing Client
Freelance writer and WriteWorldwide co-founder Nick Darlington has recently shared a phenomenal pitch template he used to land a high-ticket client here at FreelancerKenya in his guest post, "How I Built My Freelance Writing Business (And Earned $2793 Last Month)."
In case it's not enough for you to edit his template and pitch it to your client, you can also use the following email that landed me this gig…


Although the email looks well-written, the editor didn't respond. So, I had to follow up…
After no more than two weeks, this email hit my inbox…
Before upselling this client, I was only assigned two articles per week for $70 each. Now, I almost tripled my writing income after they enabled me to write more content for their other businesses on topics that I'm familiar with.
With this being said, I'm now able to make $1400/month writing 860 words per day from just one freelance writing client.
What are your thoughts and experiences on upselling clients? Let me know in the comments section below and I'd be happy to join the conversation.