Surfer SEO Review 2023 (The Ultimate Review)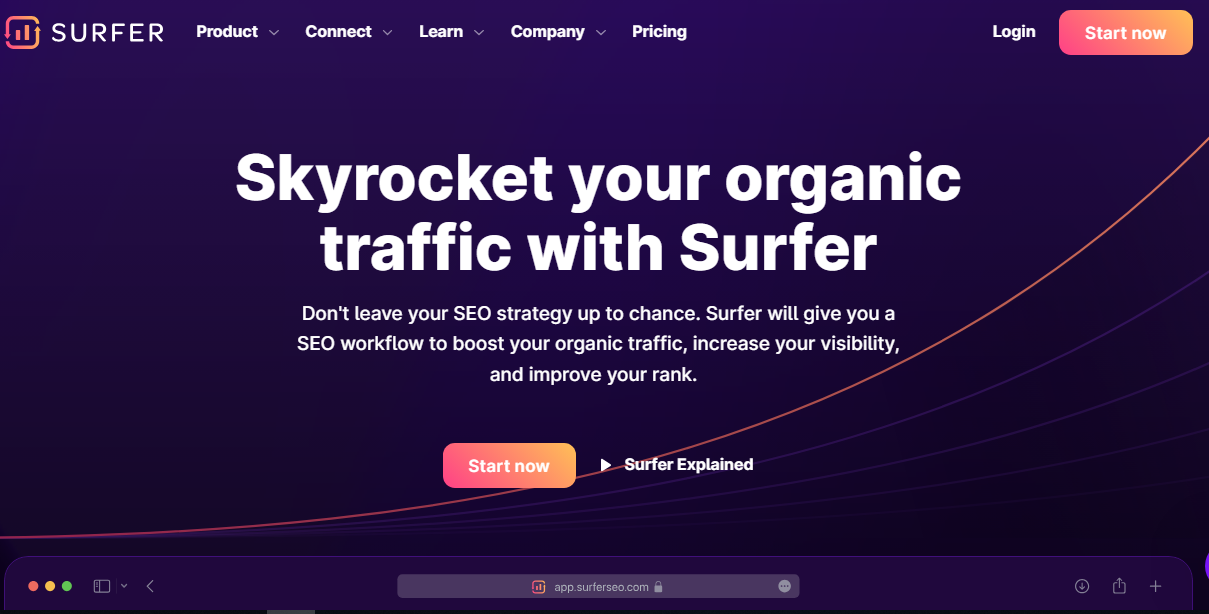 Disclosure: Some of the links in this post are affiliate links. This means that, at zero cost to you, I will earn an affiliate commission if you click through the link and finalize a purchase.
If you run a personal or business website or blog, you'll agree with me that driving traffic is not a walk in the park.
The competition is fierce, and it could take years for your site to gain a decent ranking on Google pages. You've probably followed all the advice on the internet and spent hours on end manually optimizing your pages with no results!
But did you know that we now have tools that automate the whole optimization process and take the guesswork out of the game?
Surfer SEO is one of the best on-page SEO tools site owners use to increase their search engine rankings.
In this blog post, I do a comprehensive Surfer review to help you understand what it is, its features, its price, and how you can use it to drive more traffic to your blog or your client's site.
What is Surfer SEO?
Surfer SEO is a data-driven on-page SEO (Search Engine Optimization) tool that helps website owners, digital marketers, and SEO professionals to optimize on-page content to improve a site's search engine rankings.
It uses a data-driven approach to analyze and optimize content based on Google's search engine ranking factors.
By identifying common ranking factors from the top 10 pages on Google, the tool suggests keywords, word count, headlines, and other optimization factors you can use to outdo your competitors.
How Does Surfer SEO Work?
Surfer works by studying the top-ranking pages on major search engines like Google and Bing for a specific keyword. It identifies common on-page SEO ranking factors like keywords, backlinks, word count, images, meta tags, and headline structure, among other factors.
After analyzing the top-performing pages using over 500 ranking factors, it provides insights into the key factors to incorporate into your content for your web pages to join the top performers.
For instance, it offers recommendations on the suggested word count, keyword density, related keywords, number of headings, heading structure, and number of images to add to your content.
Surfer SEO basically compares your content to that of your main competitors on SERPs, identifies what's missing, and suggests areas for improvement.
Besides content optimization, Surfer also helps users with other tasks like performing keyword research, content editing, site audits, content planning, and promoting site growth.
Features of Surfer SEO
Surfer SEO is currently among the most popular and preferred SEO tools in the market. It has a wide range of features that freelance writers use to make the content writing and optimization process a breeze.
Here are some of the most notable features of Surfer SEO:
(We'll do a detailed breakdown of each of the features later in the review).
1. Content Editor
Surfer's content editor is probably the most popular feature that works wonders in content optimization. It allows users to optimize content to rank for specific target keywords.
The content editor analyzes various factors and provides real-time suggestions on how to edit content to improve its on-page SEO.
It also has a plagiarism checker to ensure your content is 100% original.
This Surfer content editor is so amazing it can literally take your page from the 20th position to the coveted top three positions on SERPs.
2. SERP Analyzer
SERP Analyzer gives detailed information about the top-ranking pages for a given keyword in search engine results.
Such information includes the word count, keyword usage, backlinks, metadata, and other factors contributing to their rankings.
You can use this information to tweak your content to match that of your main competitors.
3. Keyword research tool
The keyword research tool that helps users find valuable keywords to target when writing content.
It provides data on search volumes, keyword difficulty, and related keywords, helping you to identify relevant and less competitive keywords to optimize your content.
4. Site Auditor
Surfer's website audit feature can help you identify on-page SEO issues on your website and correct them for better ranking.
For instance, it can check for broken links, missing meta tags, duplicate content, and other potential problems that may affect search engine rankings.
5. Content Planner
Its content planner helps users draw a working content strategy. It suggests relevant topics and keywords to target based on search volume, competition, and other ranking factors.
6. Competitor Analysis
Surfer SEO has a competitor analysis feature that you can use to compare your content with that of your competitors.
By analyzing the top-performing pages for a keyword, you get valuable insight and better understand how to improve your content to outrank the competitors.
7. Third-party integration
Surfer also has an integration feature that enables you to connect it to other content editors like Google Docs, WordPress, and Jasper AI.
Additionally, it has a Google Chrome extension you can use as a free keyword research tool to generate keywords for your content.
Surfer SEO's Content Ranking Factors
Curious about how Surfer ranks content?
The Surfer SEO algorithm considers several on-page SEO factors before ranking content. It also uses these factors to give you valuable content recommendations, which you can use to improve your site ranking.
Here are some of the common content ranking factors that Surfer SEO considers when ranking content:
Word count: Surfer analyzes the word count of top-ranking pages for a given keyword and provides an optimal word count range to help your content compete effectively.
Keywords usage and density: The tool analyzes the frequency and distribution of the target keyword and other related keywords within the content. It then suggests an appropriate keyword density to maintain keyword relevance without over-optimizing.
Heading tags: Surfer looks at the proper use of heading tags (H1, H2, H3, etc.) within the content. It suggests the number of headings you need to add and some keywords into the headings to improve content performance.
Keyword variations: Apart from the main keyword, the tool recommends semantically related keywords and keyword variations to enhance topical relevance and context. Without these related keywords, your content score remains relatively low.
Content structure: Surfer SEO also evaluates the overall structure and organization of the content. For instance, it evaluates the use of lists, bullet points, images, and paragraphs. This helps to ensure your content is well-structured and reader-friendly.
Keyword prominence: The tool may analyze how prominently the target keyword appears in the content.
Images: Surfer encourages the use of relevant images. They help to enhance the content's visual appeal and engagement. You'll notice that adding a few images to your content gives it a higher SEO score than plain text.
Outbound Links: Surfer SEO may analyze the presence of outbound links to authoritative and relevant sources, as they can contribute to the content's credibility and context.
Other Ranking Factors
Apart from the mentioned factors, other factors that Surfer SEO may consider when assigning SEO scores include:
Backlink profile
Website authority
Number of images
Page loading speed
Number of elements
Characters in the title
Meta tag structure
Referring URLs
Keywords in alt descriptions and metadata
How to Create Content with Surfer
If you ask an SEO expert, the surest way to rank high on SERPs is to write high-quality content that considers best SEO practices.
And if you want to write content about a topic and make it rank for certain keywords, it has to be better than your competitors! So, how can you use Surfer SEO to produce top-quality content that will drive organic traffic to your site?
Here's how:
Step 1: Conduct keyword research
Start by using the Surfer keyword research tool to find relevant and valuable keywords to target.
The keyword research tool can help you identify keywords with high search volumes and low competition.
For instance, let's say you run a travel blog and want to write an article about "best travel destinations in Europe."
Here are the main keyword suggested by Surfer according to search volume and average difficulty.
Here are the related keywords you can incorporate as suggested by Surfer SEO's keyword research tool:
Step 2: Open the content editor
Once you've found the main keyword that you want to rank for, go to Surfer SEO's Content Editor and enter your chosen keyword.
The Content Editor will analyze the top-ranking pages for that keyword and provide recommendations to optimize your content.
For instance, in our case, after entering "best travel destinations in Europe," the Content editor recommends:
A word count range of 5,308 to 6,104 words
Between 40-120 headings
At least 195 paragraphs
39-120 images (sometimes not possible to achieve, but the closer to this the better)
Step 3: Check keyword usage and density
After you finish writing, Surfer SEO will analyze the keyword usage and density in the top-ranking pages. It will then recommend an optimal keyword density for your target keyword.
For example, if the analysis shows that the top-ranking pages for your main keyword have an average keyword density of 2.5%, Surfer SEO may suggest using a similar or higher keyword density in your content.
Did you notice the initial percentage score was at zero percent since it was a blank document?
Once you start writing, the percentage score will keep rising as you incorporate more keywords and meet the other SEO recommendations.
Step 4: Include heading tags
As mentioned, Surfer ranks content based on several interplaying factors. In addition to keywords, the tool will analyze the use of heading tags (H1, H2, H3, etc.) in the top-ranking pages and suggest a well-structured heading hierarchy for your content.
If the analysis indicates that the top-ranking pages use 20 Heading tags, Surfer SEO may recommend using the same or even more in your content.
Step 5: Use keyword variations and related keywords
Surfer will also give you suggestions for including keyword variations and semantically related keywords in your content.
For instance, for the target keyword "best travel destinations in Europe," the tool has suggested other keywords, including:
European destinations
Vibrant nightlife
Tourist attractions
Natural wonders
Wonderful city centers
European cities
Mediterranean Sea
Step 6: Check content prominence
The tool will analyze how prominently the target keyword appears in your entire content and may recommend including it in some prominent sections.
As usual, the best SEO practice would be to include the target keyword, "best travel destinations in Europe," in the introduction and the closing section of the article.
Here is the article's introduction with the main keyword in it.
Step 7: Add images and multimedia
Surfer SEO may encourage you to include relevant images, videos, and other multimedia elements in your content. These help to enhance its visual appeal and make your content more engaging.
For example, if the top-ranking pages have engaging images of European landmarks, Surfer SEO may suggest including similar visuals in your article.
Step 8: Check content readability
Another factor that Surfer may evaluate as you write is the content's readability level and sentiment.
The tool may suggest keeping the language simple and positive to make it easy to understand and to appeal to a wider audience of travelers.
Step 9: Optimize the content
Once you've finished writing and have hit the recommended word count, look at your content score and keep editing if it's relatively low.
According to Surfer experts, a good content score should be between 67-100%. It shows that your content is relevant and of optimum quality.
However, a lower score is considered a warning for either low-quality or low-relevance content and should be edited as appropriate.
Once you've made the necessary improvements and achieved an optimum score, it's done! You can go ahead and publish the content on your website or blog.
How to Optimize Existing Content with Surfer SEO
In the previous section, we went through the steps of writing fresh content using Surfer SEO features.
Now, what if you have an existing piece of content that you only need to optimize for SEO through Surfer?
Whether it's a draft Google doc, an already published blog article, or a website page, you can edit it using Surfer to meet the on-page SEO requirements.
Here's how to optimize existing content:
Identify the content you want to optimize and copy the link.
For an existing blog, it's best to choose blog pages that are most relevant to your target audience and are already performing relatively well.
On the content editor, toggle the button below the keyword textbox to "Import content from URL."
Enter your target keyword in the keyword (s) textbox and paste the link to the content you want to edit on the 'URL' textbox.
Press enter, and the tool will start analyzing the top-ranking pages for that keyword and identifying the factors contributing to their success.
The content editor will then fetch your content from its URL, analyze it and give it a content score based on how search-engine-friendly it is. It will also provide various recommendations on how to optimize your content further.
Pay attention to the suggested word count, keyword usage and density, heading structure, keyword variations, questions, images, and other factors that can enhance your content's SEO.
Edit the content by ensuring the target keyword is appropriately distributed throughout the content.
When editing, be careful to avoid keyword stuffing—use the keywords naturally to maintain readability and flow.
Ensure your content has an H1 for the main title and H2, H3, etc., for subsequent subheadings.
Keep editing until your content meets the recommended SEO score of 67-100%.
Remember this: Even as you edit content for search engines, always have your target audience in mind and their search intent.
It would serve no justice if your content achieves a high SEO score but does not meet the search intent or engage your readers enough.
Surfer SEO Modules
Currently, Surfer SEO has six main modules that you can use to accomplish various tasks when optimizing content:
The six modules include:
Surfer SEO Content Editor
Surfer SEO Keyword Researcher
Surfer Content Planner
Surfer SERP Analyzer
Surfer Content Auditor
Grow Flow: The newest feature
We've already seen how to use some of the modules, like the Keyword researcher and the content editor. So, we'll just go a little in-depth on their specific features:
1. Surfer SEO Content Editor
The Content Editor is one of the core features of Surfer SEO that helps you optimize your content for specific keywords to improve its search engine ranking.
If you look at the content editor, you'll notice that it has three main elements: The guidelines, the outlines, and the brief.
The Guidelines
These are the recommendations that Surfer gives on how to structure and optimize your content after analyzing top-ranking pages for that keyword.
It suggests the optimum word count, heading tags, keyword density, and number of paragraphs and images based on the analysis of successful content.
However, don't treat the recommendations as hard rules since you may not be able to match all of them—for instance, in the screenshot above, the content editor suggests that I add up to 53 images, which may not be realistic.
Also, sometimes you may not hit the recommended word count, and that's totally fine!
Below the guidelines are the suggested keywords and the number of times you should use them.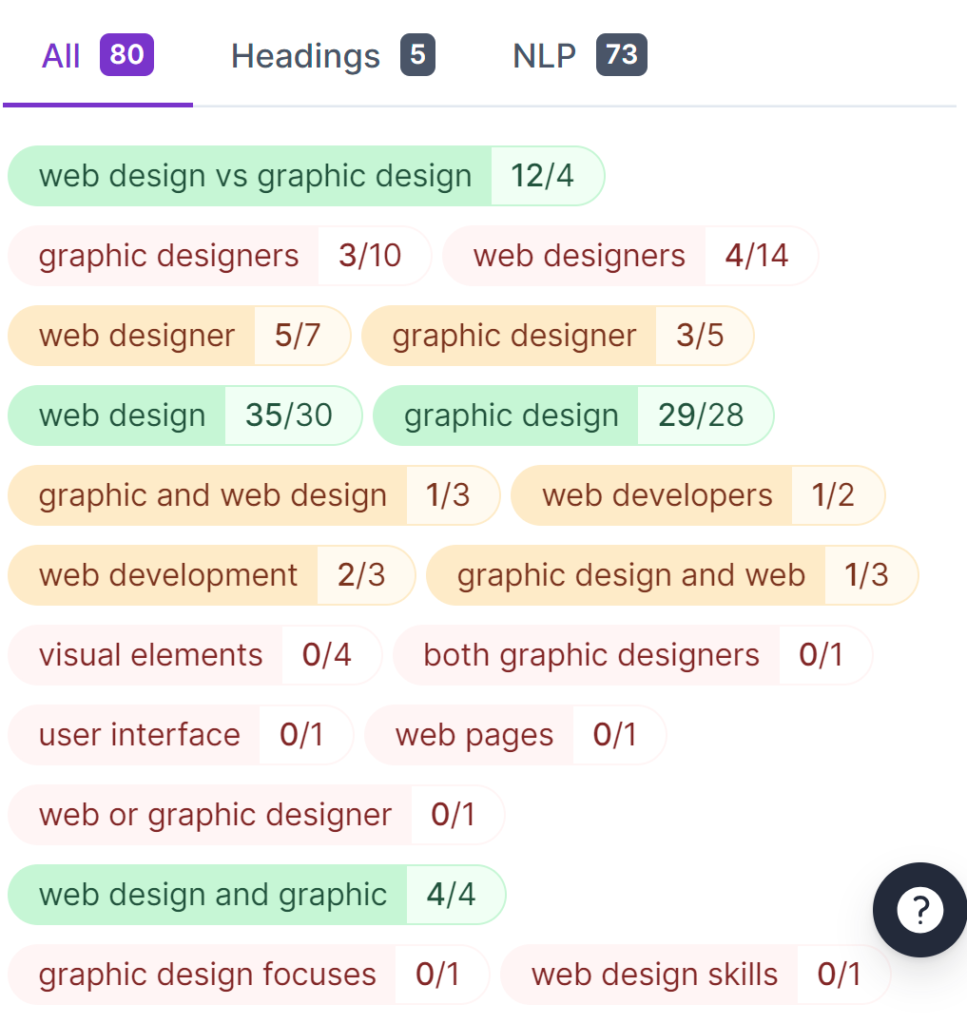 You'll notice that a keyword will be highlighted in green once it hits the recommended density. Before that, it will remain yellow, meaning that you need to use it more.
If you click on any keyword, it will give you an example of how you can use it in your text.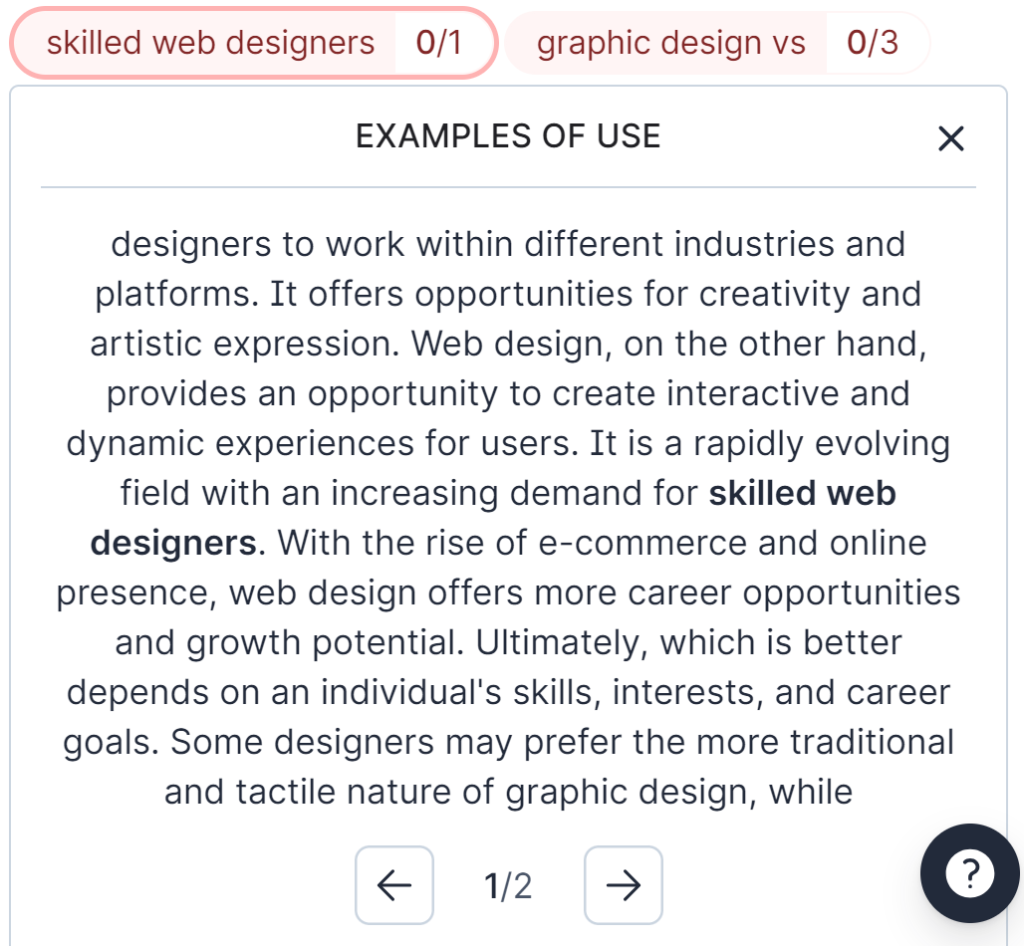 The recommendations may sometimes sound ambiguous or grammatically incorrect, so do not copy-paste them into your article.
The Outline
The content editor also has a suggested outline element for your content based on the provided guidelines. It helps you organize your content and ensures that you cover all the essential points to create a comprehensive and SEO-friendly article.
The outline suggests titles, headings, and questions that you can add to your article.
Again, I don't recommend pasting the outline as it is. Since they are AI-generated, some of the headings may be irrelevant to your article or too similar to existing articles on the internet (Hello, plagiarism!)
Review and edit each of the headings appropriately before using them in your content.
The Brief
The brief element is where the content editor outlines the main competitors for your target keyword. When you click on the 'Brief,' you'll find a list of five links to articles with the same keyword.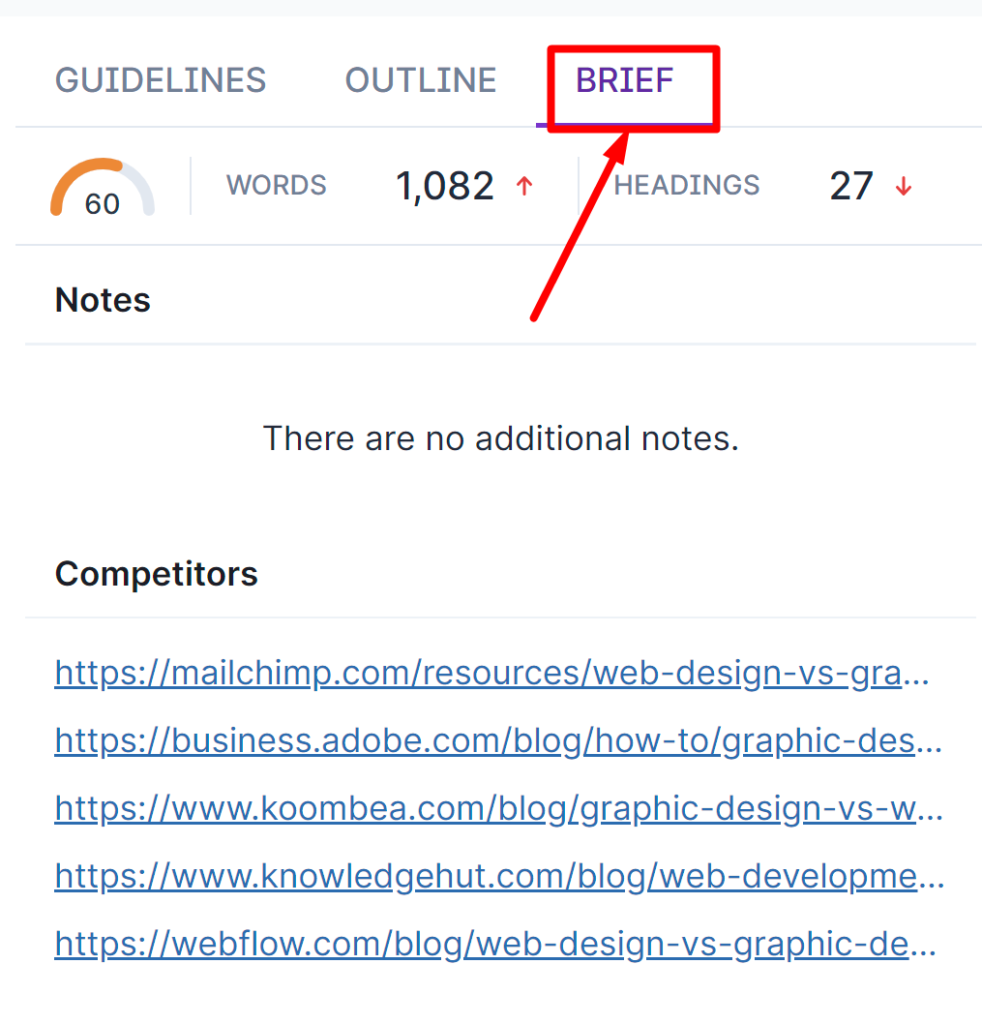 These are often the top 5 articles ranking for the same keyword on Google.
You can use these articles as references to get more information about your topic and emulate their structure for your content to join the top performers.
As you keep writing, you'll notice the overall score gauge moving from the red area to orange and finally to green.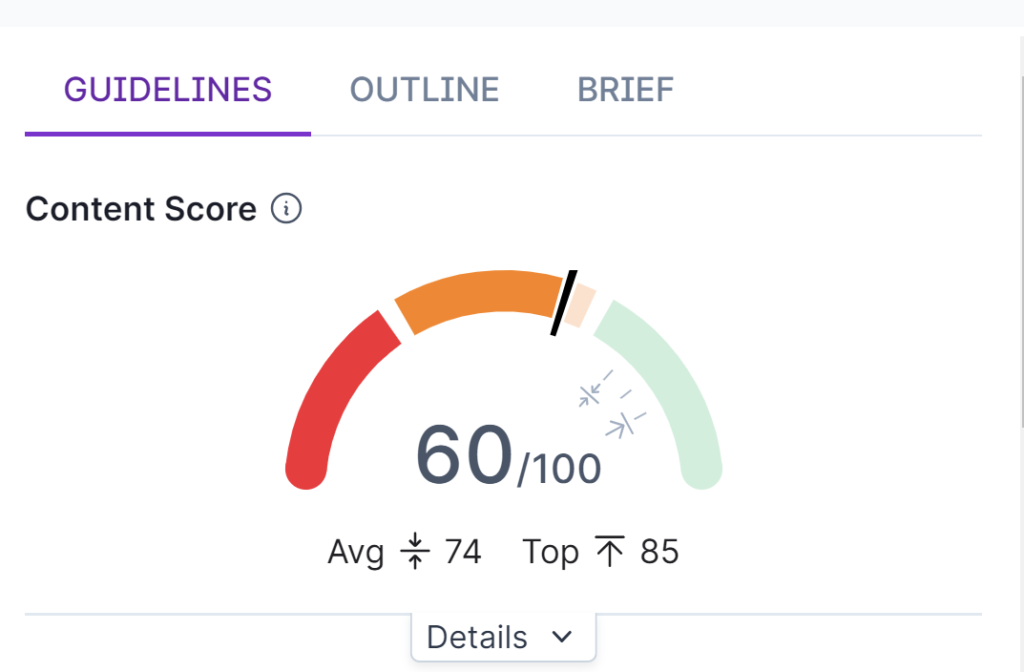 Red shows you still have a lot to do as far as optimizing is concerned.
Orange means your content is optimized but could use some improvement, while green means the content is well-optimized and can compete well on the SERPs.
2. Surfer SEO Keyword Research Tool
The Surfer SEO Keyword Research module helps in finding valuable keywords to target for your content. It provides data on search volumes, keyword difficulty, and related keywords.
To use this module, you only need to enter the seed keywords or topic, and Surfer SEO will present a list of potential keywords along with their relevant metrics.
This helps you identify keywords with good search volume and lower competition. You can then optimize your content for keywords that are likely to perform well in search engines.
However, the Surfer Keyword researcher is not as strong as other keyword tools on the market and only focuses on high-traffic keywords.
If you're looking for a low-volume keyword, it may not provide the best suggestions for you.
To make work easier for writers, Surfer developed a keyword extension known as the Keyword Surfer, which you can install into your Chrome browser.
Once you install it, you can do your keyword research faster on Chrome without having to go through the Surfer app.
Example: "Best travel destinations in Europe"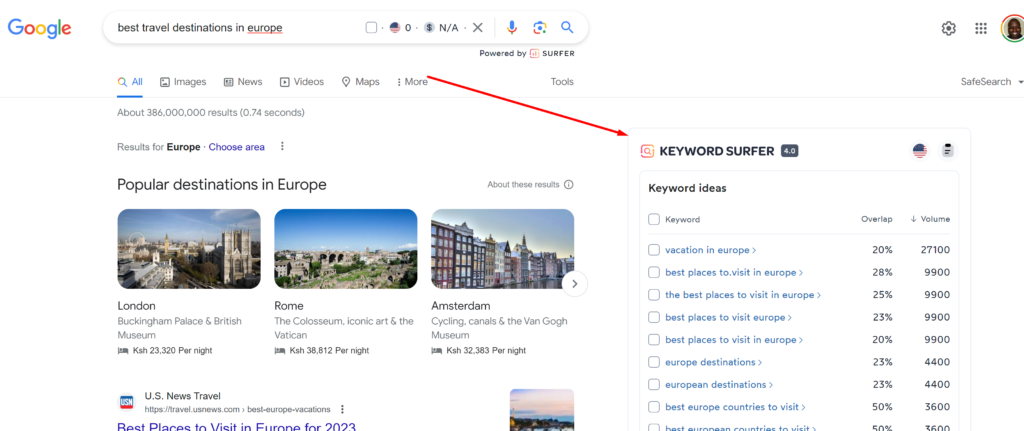 Even though the results are not comprehensive, it can save you a lot of time for keyword research, especially as a beginner.
3. Surfer SERP Analyzer

The SERP Analyzer is another amazing Surfer SEO module that analyzes the top-ranking pages for a specific keyword in search engine results.
It provides data on word count, keyword usage, backlinks, and other important metrics of these pages to let you see how your competitors are performing.
By understanding what works for the current top-performing content, you can tailor your own content to match or exceed their SEO performance.
This can potentially improve your chances of ranking higher or outranking the competition.
For instance, let's find out the sites that are currently ranking for the keyword: 'Freelance writing' and their key metrics.
The graphs show what's working for the article already published on that keyword:
Performance based on word count
Performance based on keywords and relevance
The SERP analyzer's functioning is complicated since it considers over 500 ranking factors to rank content and provide valuable recommendations.
You can also compare how your website ranks compared to other sites by inputting your domain name:
You can use the information you get from this comprehensive SERP analyzer to optimize your content to outdo the competition.
4. Surfer Content Audit
Are you skeptical about how to update old content on your site to make them perform better on SERPs? Surfer has a content audit feature that can help you with that.
The Content Auditor helps you analyze and optimize your existing content.
It analyzes your URL and identifies potential on-page SEO issues. It then provides recommendations on how to improve content relevance and its ranking potential.
This tool can be particularly useful for improving older or underperforming content on your website. Underperforming content can drag the whole site behind.
Once you update your site using the content audit recommendations, you're likely to see a spike in organic traffic.
5. Grow Flow
Grow Flow is a tool that's meant to help new users grow their websites faster by identifying valuable growth opportunities.

Basically, it's a growth management platform that uses the power of artificial intelligence to take guesswork out of the content optimization process.
Grow Flow suggests weekly tasks that you need to focus on to improve your site's ranking.
For instance, it can tell you:
Which topic to write about next
Which keywords to add to your existing site pages
Keywords to target for new content
Internal links to add to new and existing content
With Grow Flow, you don't need to worry about what to do next for your site to grow, match, and outdo your competition.
Surfer SEO Pricing Plans
Surfer SEO offers four main pricing plans:
The Essential plan
The Advanced plan
The Max plan
The Enterprise plan
1. Essential
The Essential plan is the basic pricing package that Surfer offers.
It provides essential features to help users with on-page SEO and is the best for beginners.
It goes for $69/month and typically includes access to the Surfer SEO Content Editor, keyword research tool, and some basic content optimization features
However, the content editor for this plan is limited to 180 articles per year, which is suitable for medium-sized projects.
It can also allow you to accommodate or share your account with 2 more users.
2. Advanced
The Advanced plan is a higher-tier package that offers more features and capabilities than the Essential plan.
It includes additional tools and functionalities to further enhance content optimization efforts.
It goes for $149/month, and its content editor can accommodate up to 540 articles per year. You can share the account with 5 more users under this plan.
The Advanced plan is the most recommended Surfer plan suitable for SEO experts and mid-sized teams..
3. Max
The Max plan is the best for users who need extensive SEO support and want access to all of Surfer SEO's advanced features.
This plan includes additional benefits like more detailed keyword research data, competitive analysis, and deeper content optimization recommendations.
The Max plan goes for $249/month and is suitable for large organizations, SEO agencies, or businesses with significant SEO needs.
Its content editor can optimize up to 1080 articles/year and can be shared among 10 users.
4. Enterprise
The Enterprise plan is the highest-tier Surfer SEO package.
It includes all the features of the Max plan, along with additional customization options and customized support.
It offers a personalized experience and is suitable for large enterprises or SEO agencies managing multiple client websites.
Its price is customized based on an organization's unique needs and allows for additional user seats.
In addition to the standard prices, Surfer SEO users can pay for add-ons according to their specific needs.
The add-ons include Grow Flow, SERP Analyzer, Audit, Whitelabel, Surfer SEO, and API.
Free Surfer Tools
Even if you don't have an active Surfer subscription, there are some tools you can access and use for free. They include:
Content editor extension: Once you install the content editor extension on your browser, you can access the link generated by a subscribed member on Google Docs.
Keyword Surfer Chrome extension: You can install the Keyword Surfer Chrome extension on your browser to get valuable insight about your target keywords when researching.
Article outline generator: The outline generator can help you create outlines faster based on your target keywords and topic.
WordPress integration: You can seamlessly integrate Surfer SEO with WordPress using its free WordPress plugin. When you do so, you access its optimization recommendations directly on WordPress.
Pros of Surfer SEO
Based on this Surfer SEO review so far, would you choose the tool as your reliable partner for optimizing content?
Surfer SEO has gained popularity among website owners and SEO experts for its amazing content optimization features.
Here are some of the main advantages that make it a preferred optimization tool:
Data-driven approach: Surfer uses data from top-ranking pages to offer actionable recommendations for optimizing content. This approach helps creators to optimize content in a way that aligns with the most important search engine ranking factors.
In-depth keyword research: Surfer SEO's keyword research feature provides comprehensive data on search volumes, keyword difficulty, and related keywords. It helps users identify valuable keywords to target when writing content.
Competitive analysis: Surfer's SERP analyzer helps users understand the competition and tailor their content in a way that can outrank the competitors.
Time-saving: Surfer is an amazing time-saver. It streamlines the content optimization process by offering real-time suggestions, saving valuable time and effort that would be spent on manual analysis and optimization.
Seamless integration: Surfer can be easily integrated into other content editors like WordPress, Google Docs. By installing the Surfer extension into your editor, you can analyze and optimize your content as you write.
Chrome extension: It also has a Chrome extension which makes it easier to conduct keyword research.
Responsive support: Surfer has a very responsive support team that can help you sort out issues or answer complex queries when using the platform.
Limitations of Surfer SEO
Like any other tool, Surfer SEO also comes with some drawbacks that some people find disadvantageous:
Highly priced: Many people, especially upcoming content writers, find Surfer highly priced and therefore opt for other free or less costly SEO tools. While it offers valuable features, the cost might be a drawback for users working on a tight budget.
Additional SEO factors: While Surfer SEO only focuses on on-page SEO factors, other SEO factors like technical SEO, off-page SEO, backlinks, and domain authority also affect the ranking of pages on SERPs.
Changes in SEO algorithms: Since SEO is an ever-evolving field, search engine algorithms change frequently. Surfer recommendations may not always align perfectly with algorithm updates. Therefore, users still need to stay informed with up-to-date SEO knowledge to complement the tool's suggestions.
Surfer AI
Surfer AI is an AI writing tool that allows users to research and write SEO-optimized content in a matter of seconds.
It uses the data it gets from analyzing top-ranking articles on Google and creates amazing content that's already optimized to rank high.
When generating the content, you only need to key in your keyword, and the tool will conduct quick research about your keyword.
It will get information on the right keyword usage, keyword density, the optimum word count, and relevant headings to include in your content. With just a click of a button, Surfer AI will generate a whole article for you.
However, remember that AI-generated content still requires human input and editing. Before publishing AI-generated content, revise and edit to correct any grammatical errors and factual errors. Edit even more to give it a human touch.
Refine the content further by adding links, images, videos, and other elements that make content more engaging. Like any other AI writing tool, you can use Surfer AI to write various content types, including content outlines, blog articles, and website copy.
Surfer AI can help you drive traffic to your website fast without going through the hassle of manually writing and optimizing content for search engines.
FAQs
Is Surfer SEO free?
No. Surfer SEO is not entirely free. It only offers a free seven-day trial to test some of its features. After the trial, you have to subscribe to a plan to access all its tools and functionalities. However, you can access some functionalities like Chrome extension and Google Docs integration even if you're not a subscriber.
Who is Surfer SEO best for?
Surfer SEO is best for content writers, website owners, SEO professionals, digital marketing agencies, and businesses that want to optimize their content to attract more organic traffic. It provides data-driven insights and recommendations to improve on-page SEO and boost content ranking on search engines.
What's a good Surfer SEO score?
According to Surfer, a good content score should be between 67-100%. The tools will analyze your content and assign a score based on several factors, including keyword usage and density, word count, number of headings, paragraphs, and images. A higher Surfer score generally shows that your content has strong on-page SEO optimization for the target keyword.
What is Surfer software used for?
Surfer SEO is used for on-page SEO optimization of content. It analyzes the top-ranking pages for specific keywords and provides insights, guidelines, and recommendations to help users create well-optimized content that aligns with search engine ranking factors. This helps websites to rank higher on search engine result pages (SERPs) and attract more organic traffic.
What are other Surfer SEO alternatives?
Alternatives to Surfer SEO include other SEO tools that offer content optimization and on-page SEO recommendations. Some popular alternatives include Semrush, Ahrefs, Moz, Yoast, UberSuggest, and Google Search Console. You need to look at their specific features and functionalities before deciding which one to use for your SEO needs.
Surfer SEO Review Conclusion
Surfer SEO has earned its reputation as the ultimate content optimization and on-page SEO tool. Whether you're a seasoned SEO expert or a newbie in the content space, this amazing tool empowers you to unlock the full potential of your content.
From keyword research to content optimization to site audit, Surfer provides a great way to gain higher rankings, increase organic traffic, and build a successful online presence.
If you're ready to get started, Subscribe to a Surfer SEO plan today and witness its transformative power firsthand.