At some point in our lives, we give up and fate takes charge – that's the world's greatest lie. On 13th April, I received an Upwork job invite. This was going to be my second job in Upwork. So I had to end my first contract to give space for this project. The client in the first contract was paying peanuts ($1 per 500 words). I thought it was time to look for greener pastures. Did God just answer my wish? Read on for more.
I accepted the offer and waited for the task. The client was willing to pay $20 for the first milestone. This was the best offer I had ever imagined of.
In Kenyan currency, $20 is 2,000 Kenyan shillings (KSh). When Upwork deducts its fee of KSh.400, my earnings are trimmed to KSh.1,600. Of course, Upwork deducts 20% of my pay and the fee reduces depending on how much I earn from a client. I didn't care – at least I would have some KSh.1,600 in my kitty. After all, a Kenyan tout takes home roughly KSh.1,500 per day. So, if I was able to write an article in a day and earn KSh. 1,600, ooooh my! That was an achievement!
I submitted the article but didn't expect such negative feedback…
In four days, I had completed the first milestone and it was time to submit my work. Before I submit any work in Upwork, I make sure I send the client one article to review so that they can tell me where they need changes. That's just my way of doing things. It's my ace in the hole.
I sent the article for review on 16th April, 2018 at 4:41pm. The client sent me a feedback on 17th April, 2018 at 10:46am. The feedback was "Poor English"
I was embarrassed and disappointed. I quickly replied, "Hello, Where can I make changes?" Here's exactly how he replied:
He went on to write, "These are spun articles; the English is not proper English."
I gave up and had to look for a quick solution. I asked my trainer for a suggestion. I decided to end the contract with no pay. I took it positively and was convinced that my English was poor.
So, what next Denzil?
I never logged in to Upwork again. I was discouraged. This (online writing) is not for me.
Winners never quit. Quitters never win. I WON'T QUIT. I declared. A strategy had to be drafted.
I woke up one morning and sat in a quiet room – where I couldn't hear the noise of my youngest adorable brother (Baby Hopkins). I wanted to establish a plan and come back stronger than anyone would have imagined. I called it my comeback.
The plan
After so much thought, I resorted to:
Google "how to write like an English Native Speaker". Luckily, I found one article that gave me an insight. Surprisingly, the author of that blog wasn't an English Native Speaker, she was an English as a Second Language ((ESL) speaker as well.
Download an android application called HiNative. This application enables you to ask questions to native speakers and you get instant responses. I only wanted to learn American English and nothing more. I learnt a bit of their culture and within some weeks, I had mastered their writing style.
Register for English courses online. You can get excellent courses in an application called Coursera.
Start learning in YouTube. YouTube has tons of knowledge. When searching, type in the right keywords. Just make sure you have strong internet connection and you are good to go.
Join Facebook writing groups run by native English speakers. I must confess that the groups helped me. I made some awesome friends in there. Some of the groups I joined include Writing Revolters and Copywriter Café.
Finally, I registered for Walter's Complete Freelance Writing Course. If you need a mentor or trainer, you can follow Walter Akolo on Facebook or WhatsApp him at 0720754933 for the best since sliced bread 🙂
There are also African groups that are resourceful. For instance, you can look for Awesome Transcribers in Kenya and Remarkable Freelance Writers in Africa.
Feel free to join my young and growing group, Content and Article Writers in Kenya.
The above groups will help you especially if you are starting out in freelance writing.
The New Dawn!
I got a third job invite. Guess what, the client wanted me to write about myself and something about what I love. I would pocket $10 just like that. Unbelievable. I took my time and did my best.
The client was very responsive. Apart from that, we exchanged a lot about our countries. She was a citizen of the United States.
I submitted the articles for review and she was impressed. Have a look at her comments and the awesome review she gave.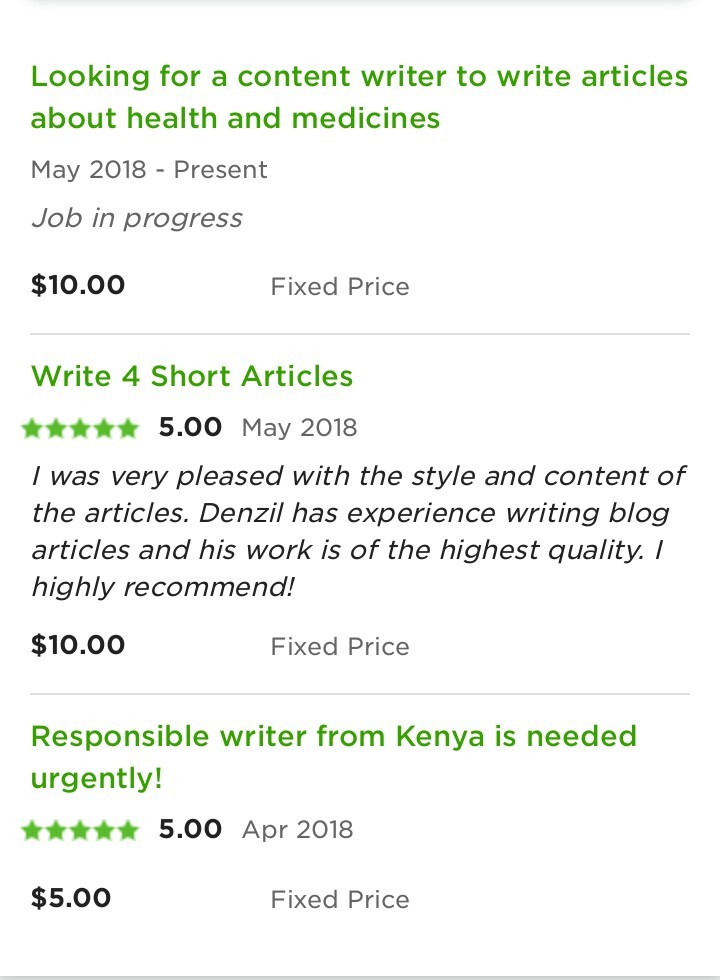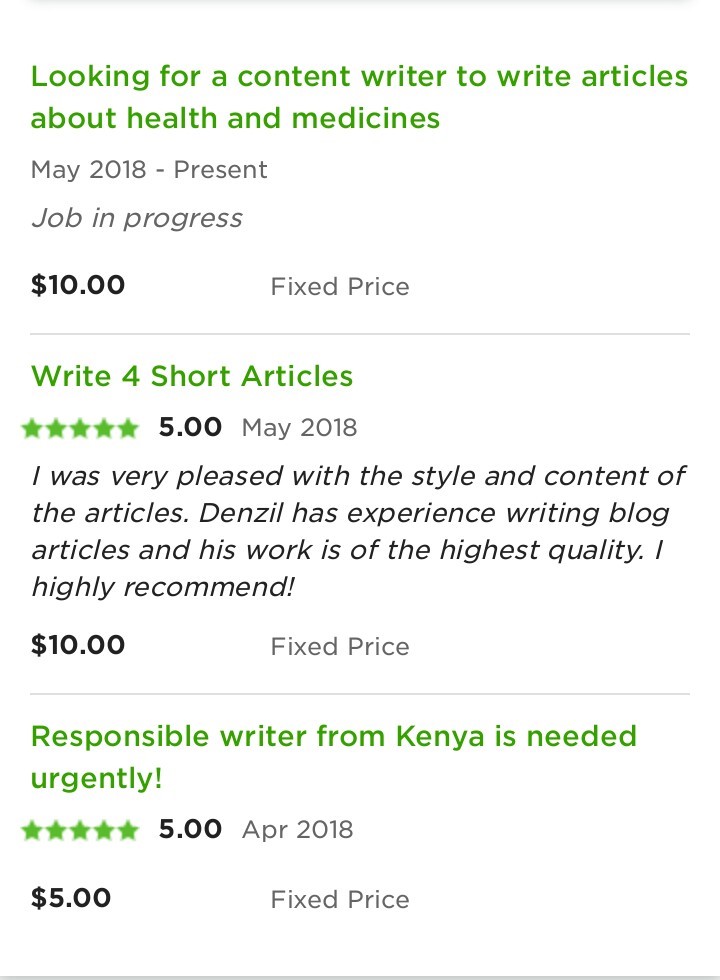 Don't lose hope. Press on and God will reward you. The best of all is that I have helped Kenyans win a job with my writing. The article was about SEO for local business.
Final Thoughts
You may face ups and downs in your quest for success. Don't lose hope. Keep pressing on and you will be successful. There is nothing as sweet as success – not even honey can be compared to success. You can turn negative feedback to something great.
Finally, remember these quotes:
"You'll not be paid for what you know, but for what you DO. Whether you have a degree or not, DO things that matter"
"A lion wins in the jungle, a shark wins in the sea".
Guess who I learnt that from? (Hint: He owns this blog).
CHOOSE WHAT YOU DO WISELY