Learn How to Write Content That Clients Love and Get Clients Who VALUE You
Let an experienced writer hold your hand and walk you through this.
Hi soon to be successful freelance writers,
This is Walter, the founder of FreelancerKenya.
How would you feel if you got a package that offers the following?
Article writing training
Expert guide on how to write a winning proposal (plus analysis of your proposals)
Top-notch tips on how to write articles that clients love
Assessment and scoring of your sample articles
Detailed guides on how to get amazing clients
Mentorship and follow-up
…and much more.
You'd feel great, right?
Well, that's exactly what I'm offering you; to help you become a successful freelance writer.
Details of This Offer
This is an offer for both new writers and veterans who want to boost their writing careers.
Here are the details, in a nutshell:
Price – Sh. 5,000 ($50)
Duration – One month
Mode of training – An online interactive training portal with all the lessons. In case you get stuck at any time, you can reach us via our friendly customer support portal.
A Little About Me…
As most of you know, I am a successful freelance writer, blogger, and internet marketer both here in FreelancerKenya and in other freelance writing sites. Below is evidence of this:
This shows that I became a Level 2 Seller in Fiverr. I did over 100 jobs, all rated highly.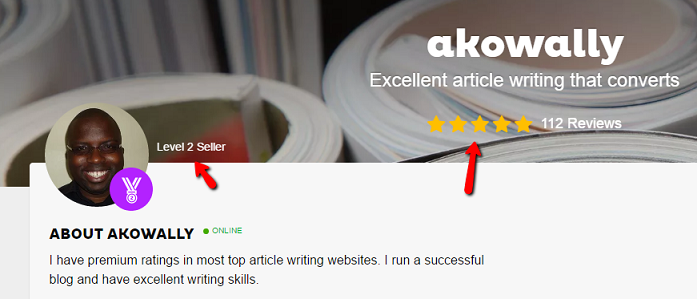 My Upwork Profile + Reviews
I've also gotten many high-paying clients from this blog's service page, pitching, and social media.
This is not to brag but to show you that you can also make a decent living as a freelance writer.
To help you succeed, I am offering an online, interactive article writing training for aspiring freelance writers and bloggers.
It is a no-holding back course where I give you expert tips on how you can earn well as a freelance writer.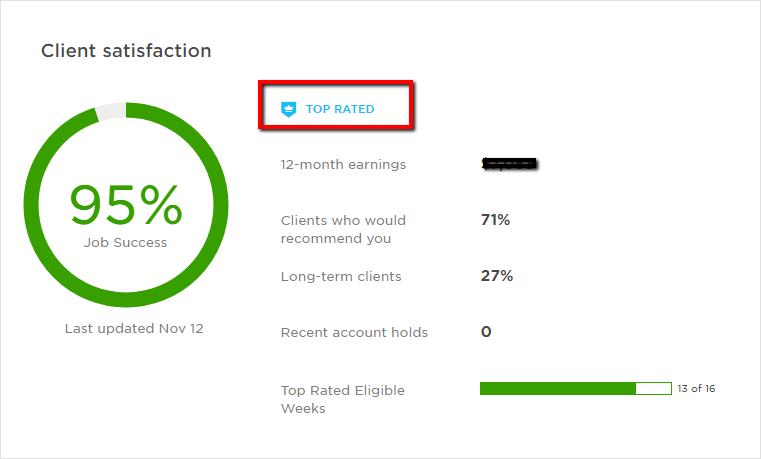 Prices Keep Going Up!
I started this at a very discounted rate. Therefore, I have no option but to keep increasing the prices, especially if I get too many people coming in. I'm also increasing features in the training to help you succeed more. Sign up fast before I increase the prices or even pause the offer.
Article Writing Training Requirements
You need to have a good command of English and a passion for writing. If you're confident you have those, we can get started any time. You'll also need access to a computer and internet.
How exactly will you be trained?
I conduct the training online through an interactive training website that has all the lessons. You will read, implement then feel free to ask questions via email. You will get help from our support team anytime between Monday and Friday.  Many people get jobs during the first two weeks of the course.
Bonuses
Yup! There are some bonuses to this.
You get a four-week support period. We'll help you check and optimize your articles, proposals, profiles, pitches, and website among other items. We'll answer any of your queries.
We check your online work profiles and show you where you need to improve
You get two free submissions at PenStars, the world's first international content assessment website. Here your first two articles will be thoroughly assessed and the amazing international team will give useful feedback.
I may hire you as one of my writers once you are through with the training (this depends on your quality and whether or not I have a vacancy).
Additional training details
I keep updating the training. Here's what the latest update contains.
How to get high paying clients through cold pitching (this is how world-class writers do it)
Getting clients on social media
Getting clients through blogging
Making money through eBooks
Proper outsourcing for increased profits
I'll show you screenshots from real clients that I've gotten using the above methods.
Frequently Asked Questions
How do you conduct the course? What happens after I pay?
To pay via M-Pesa, you send Sh. 5,000 to my number 0720754933 then text your email address. I'll then send you an email titled "Training". You'll get instructions on how to join my training site where you'll get all the lessons plus practicals. You'll read, learn, do the practicals and send me for review.
You can also click here to pay via card or PayPal and join automatically.
So, do you just send notes and disappear?
No. Hehehe… Why would I charge you for notes then I disappear? I do free 1000+ word posts on social media and email. I still manage to reply most queries on the FREE stuff. How much more would I do for paid stuff?
In short, nothing I do for free or for pay is just "notes".
What happens is as above, there are soooo many practicals for you to do and submit to us.
Ok, what are those practicals? What do you review?
Everything. Literally. My team and I check your samples, your profiles, your proposals, your cold-pitch, your blog posts etc.
I actually personally help create your blog if you use my HostGator affiliate link to sign up. I install for you some of the best plugins I use. You create the basic pages (Home, About, Services, Contact) and I proofread, edit and upload them myself. I just do the basics though, then you're free to do the rest.
Do you answer trainee questions or you leave them hanging?
I answer them all to the best of my ability. In a bit, I'll talk about what I use so that I never miss a query.
You train so many at once, how do you make sure all questions are answered?
Queries are sent through a dedicated support email and ticketed. With support tickets, you can't miss a query. Unlike your normal email (like Gmail), here you have to actually mark a query as Open, Pending or Solved. If you don't Solve, you'll keep seeing it there till you mark as solved.
I've had a few people here helping me with customer support. Whenever I'm unavailable, my assistant takes care of customer support emails. Each email is signed off appropriately, so when I reply I sign off with my name. Same to any other support agent.
All the assistants I've used have written for over 5 years and have had amazing reputations!
How do you get all those many writing samples checked?
I use my other site, PenStars for this. I've hired a couple of experts from different countries to do this. I give two free assessments for each trainee.
With this amazing team, a huge number of trainee samples can get assessed at once.
So, you first learn how to write articles that clients love. After that you get an assignment to write an article and submit to PenStars for assessment and scoring.
You're actually given a percentage score to know where you lie. A high score means you'll have better chances with clients.
Each article gets two resubmissions. Therefore, once the first article has been reviewed, you go on to the second one and get it assessed twice as you revise. This way, my top trainees have some STUPENDOUS samples that they use to get high value clients.
How long do you take to answer queries?
I strive to answer all emails within 24 hours on weekdays. A response can come instantly or at most a day after it was asked. My team and I don't work weekends. Since we're humans, sometimes things come up and we may delay a bit. We avoid that by all means so most days are consistent.
ZenDesk, the customer support system I use, shows statistics of how we respond. So far, we mostly hit the international customer support benchmarks. Plus the course goes for a whole month, therefore, on my side, I don't rush you to send assignments so that you focus on quality.
On your side, I assure you that queries will be answered either instantly or up 24 hours from the time you sent. This is usually okay, at least for most people. There are some who want things done faster and we're definitely working on that. We do our very best. Guaranteed.
What's your mode of communication
Communication is purely text-based. Mostly email since it's easier to handle the tickets. Email support gives you a reference that you can look at later, unlike verbal communication which you can easily forget. On email, we can explain a very tough query in detail.
I used to take calls some years back. Till one day during some of my mega launch campaigns, I got over 100 calls in one day. Not all from trainees. I couldn't do much that day but stay on phone talking.
After I got to 100+ calls in a day, I decided to go "text-only" for all the above things apart from a few guys in my innermost circles. Support here is purely via email..
This way, we can easily handle many messages in a day without breaking a sweat, and in great detail.
Being a writing course, you do better if you write a lot, right? I totally believe that a purely written communication system for writers creates a win-win solutions for both of us.
Do you guarantee success? Do all trainees succeed?
Any trainer who guarantees success is lying straight to your face. You get such fake hype guarantees from scammers from things like the fallen Public Likes, MMM etc. Those are heavily disappointing in the end.
Training guarantees training. Just like you go to school to get an education. I do my best to teach. On your side, you do your best to implement what you learn. Success is directly proportional to effort. You're paid for what you DO, not what you KNOW.
You'll succeed based on your quality, hard-work and effectiveness in reaching out to clients among other things.
So, not all trainees succeed. However, I've been blessed to have trained some of the highest paid and most successful writers in the region and beyond. That may be the unique thing that, by God's grace, sets me apart.
I've also trained on behalf of big NGOs and institutions like SamaSchool, HomeBoyz and KEMU among others.
Why does the price keep going up? Why doesn't it go down someday?
The more resources I have, the better the results YOU get. Check this out: To ensure this course runs smoothly, I use a ton of useful but costly tools. I also buy many books and courses myself. I bought a new course just this week from one of my mentors.Listen…Back when I started this course, I didn't have all these tools. The entire course was done via email. In case a tragedy happened to me, everyone had to wait till I got sorted. I also wouldn't be able to handle a certain number of trainees since I was doing it all alone.My top trainees at the time were doing KSh. 20-50k ($200 to $500) per month approximately 2 months after the training. It took a while before I first got a trainee, Charles, doing over KSh. 100k ($1,000).BUT NOW, with the introduction of a training site, a content assessment site, a support suite and a wonderful team, things still run even when I'm not there, which is what you want. The success rate is now HUGE! There are many earning way over KSh. 100k. The highest ever are actually doing multiples of that.If you check out my blog and Facebook groups you'll be amazed at what's happened recently. If you scroll back in time (my old blog and Facebook group posts), you'll note that we've never had the kind of success witnessed here in the past few months!
Can I pay now and start later?
Yes, you can, but only on condition that you'll not procrastinate too much. Make sure you start at the exact time you've indicated, unless there are unavoidable circumstances. My joy is to see people take action with what they learn and succeed. That's the whole aim of the course.
Is this only for beginners?
This is both for beginners and veterans. I've been a successful writer for 9 years now. And I've trained thousands of successful writers. For that reason, you can still join even if you're already a writer but you want to scale your writing income.
What Former Trainees are Saying
The training has really helped me. At least I can do part-time jobs while I focus on my medical studies. It's barely 2 months since I did the course and I'm already earning $500 per month working only 3 hours a day. I'd rate this course 10/10.
I started earning after a month of training. In my third month, I earned $1,268 working part-time. I've landed more clients ever since. I am no longer running an anxious family that has no idea where I am taking it. My children seem happier, and my wife seems more relaxed and assured. I believe that in itself is the greatest reward I have received for joining online work. And all this started by me taking a leap of faith, joining Walter's course and taking swift action with what I learnt.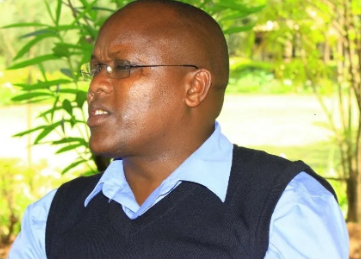 Just one month after the course, I landed a client who was paying $400 per week. Without this course, I would still be on my phone looking for jobs. I get prompt responses on all my (very) many questions. The course has incredibly useful information and is not rocket science. You just have to follow instructions, which are clear and straightforward.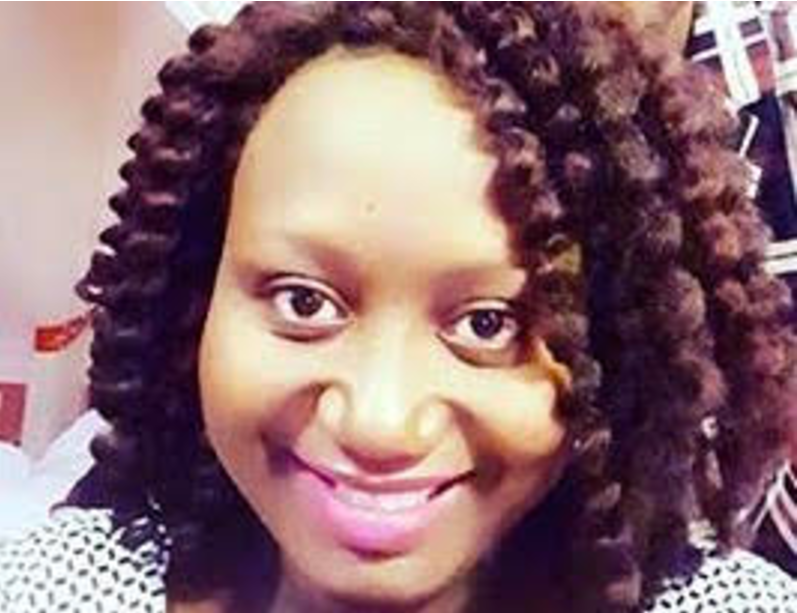 Two weeks into the training, I landed two jobs. The long-term one is worth $2,000. I've just withdrawn $230. Thank you, Walter. The fee I put into the course, the many rewrites to my samples and the close guidance paid me back many times over.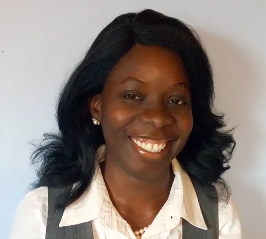 JOIN NOW BEFORE THE PRICE GOES UP
Once again, here's how to join:
Card or PayPal: Click here to pay via card or PayPal and join automatically.
M-Pesa payments: Simply send KES. 5,000 to 0720754933 then text your email address. We'll then get started with the online training.
Contact me in case of any question or if you prefer an alternative way to send the Sh. 5,000 ($50).
Join now before the price goes up.