"Walter, when is your NEXT seminar?"
I have heard this question uncountable times from innocent fans who don't know that I had never had a PREVIOUS seminar.
Each time I would say something like, "I work from home and like doing things online as opposed to offline" or "All my trainings are online" etc.
See, I started all this as a little shy guy who loved writing and doing work at home jobs. So, why would I organize an offline event?
However, this still remained my most requested thing on FreelancerKenya.
I therefore decided, why not? Maybe I may help more people by actually having one.
Before seminar
I settled for 1st March as the date for the seminar. It was first supposed to go for Sh. 1,200 per person at Pearl Palace Hotel in Pangani. Since I mostly deal with startups, most people could barely afford this figure so I made a quick tactical move.
I changed the venue to Ebony House, next to Tuskys Supermarket in Tom Mboya Street. This is also opposite Kenya National Archives.  This effectively changed the price from Sh. 1,200 to Sh. 500 per person.
Event Marketing
I marketed the event on my mailing list, which is always the first to receive any information I give out. If you are not yet in it, click here to join now or just join at the sidebar and you'll never miss a thing.
By the time I changed the venue, the timing was too short so I decided I wouldn't market it here on the blog. That was not the best move (see "The Mistakes" below).
I also heavily marketed it on Facebook, having gotten a huge social presence after I read Larry Keya's The Art of Social Media Marketing. Larry is a Kenyan entrepreneur like you and me so you can also get a copy of this. Here are more details on how I used his tips together with my own research to earn 50k on Facebook.
Below is the image I used on my Facebook page and profile to market my event.

The Profitable Web Business and Networking Seminar Goals
The event was to start at 2 to 5pm although we were given a slot up to 6pm. The target was to have 50 people come, though in mind I had pictured that 25 would show up.
Below were the items that people were to learn from the seminar:
1. How to start making money online
2. New ways of making money online
3. How to make maximum profits with least effort
4. How you can invest in FreelancerKenya we share the profits
5. A long Q&A session so that I can answer all your questions (In case you missed I will still guide you on email or phone – preferably email)
6. How to optimize passive income
7. How you can double your online income (for those already making money online)
The Turnout
I was so pleased with the turnout.
34 people attended….and it was my very very first seminar.
2 more had paid but couldn't make it so instead of a refund they requested for event notes.
The Lessons
These are the lessons that I taught at the seminar:
The two ways of making money online i.e. working for someone (freelancing) or selling something (internet marketing). If you read my latest eBook, then you will know all about this.
A look into freelancing together with its pros and cons. The conclusion was that people should slowly start moving from freelancing to internet marketing.
An in-depth look at internet marketing together with pros and cons. I concluded that internet marketing is much better than just freelancing, both in returns and personal branding.
Some internet marketing areas that I have made lots of cash in and the tips on how to do that yourself in Kenya. We often read about other markets and make many mistakes. I gave practical strategies on how to do this and if you look at the event notes, I have lots of screenshots as proof that they are methods I currently use.
How to invest in FreelancerKenya: If you want to invest in one of the fastest growing Kenyan online brand, I have a strategy for this. It is purely secure and we sign a binding agreement on this.
How to become an affiliate of my products and get 20% from them. I have this in my event notes. All who were at the event have these notes. See below in case you want these notes.
A long Q&A session which was the whole aim of the seminar, to answer people's burning questions and help them meet their online needs.
The Mistakes
Being my first seminar in my life, some mistakes couldn't miss. Below are some of the mistakes that happened and what I learnt from them:
I got there 2 minutes late. The early birds were already there which I really appreciated. However, it's a bad show to come even 1 minute late for your own seminar. In the next seminar I should be at least 1 hour early.
The projector didn't work. After all the preparations the projector did not work. I had to leave the place to go buy some stuff and come back to try making sure it works but in the end we had to do without it. This cost me an hour. As said above, I'll be getting there an hour before time to ensure all is smooth.
I did not invite other speakers. It is not a must to invite others. However, it's always great to have one or two other people speak, even if it's just an MC or someone to do a short presentation
After this, I have been consulting friends here and there on event organization and planning and be sure to have a much better event next time. I will even write a free eBook on events that I will send out to my mailing list when done.
Despite of all these mistakes those who were there said it was great and enjoyed the content and question and answer section.
What if I missed???
If you missed, no problem. I wrote and polished all event notes.  These notes feature all that I taught plus a few additional tips.
To be fair to those who came, I am selling them at the same price of the event.
In case you want to purchase them, send Sh. 500 to 0720754933 then send a follow-up text stating that you are purchasing event notes. I will then email them to you in a short while.
The Photos
Below are the photos from the seminar: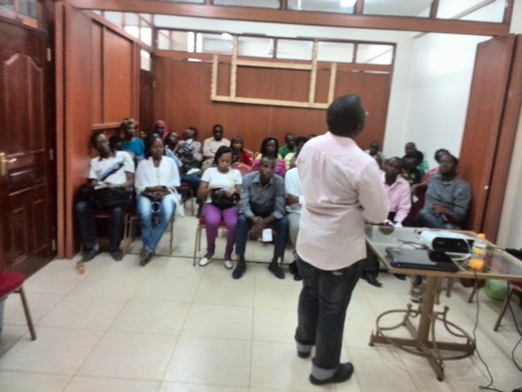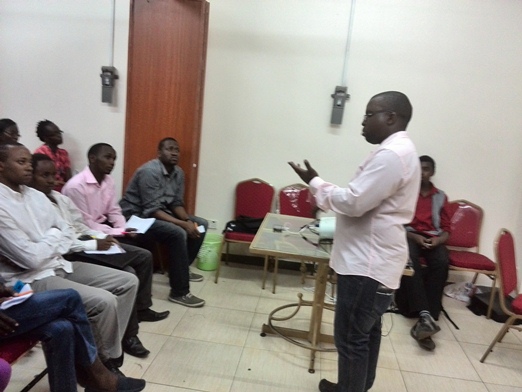 I must state that this was much better than I expected. The crowd was vibrant. There were so many questions asked and as of now, many people are already investing in FreelancerKenya as they implement the different lessons learnt.
What's Next?
I want to make this event monthly so I will be announcing when next I will be having it. I am also welcome to ideas therefore if you think there was anything wrong/good about it, feel free to let me know and I will appreciate.
I am being requested to hold an event in different counties. I am more than happy to do this. In case you can get a quorum in your county let me know so that we can work something out.
Meanwhile, feel free to buy the event notes for Sh. 500 from me. Just send the cash to 0720754933 and send a follow up text letting me know what it's for. Also stay tuned to my mailing list for information on the next event. Let's talk more on the comments, shall we?