How I Made $1,268 in a Month Doing Basic Freelance Writing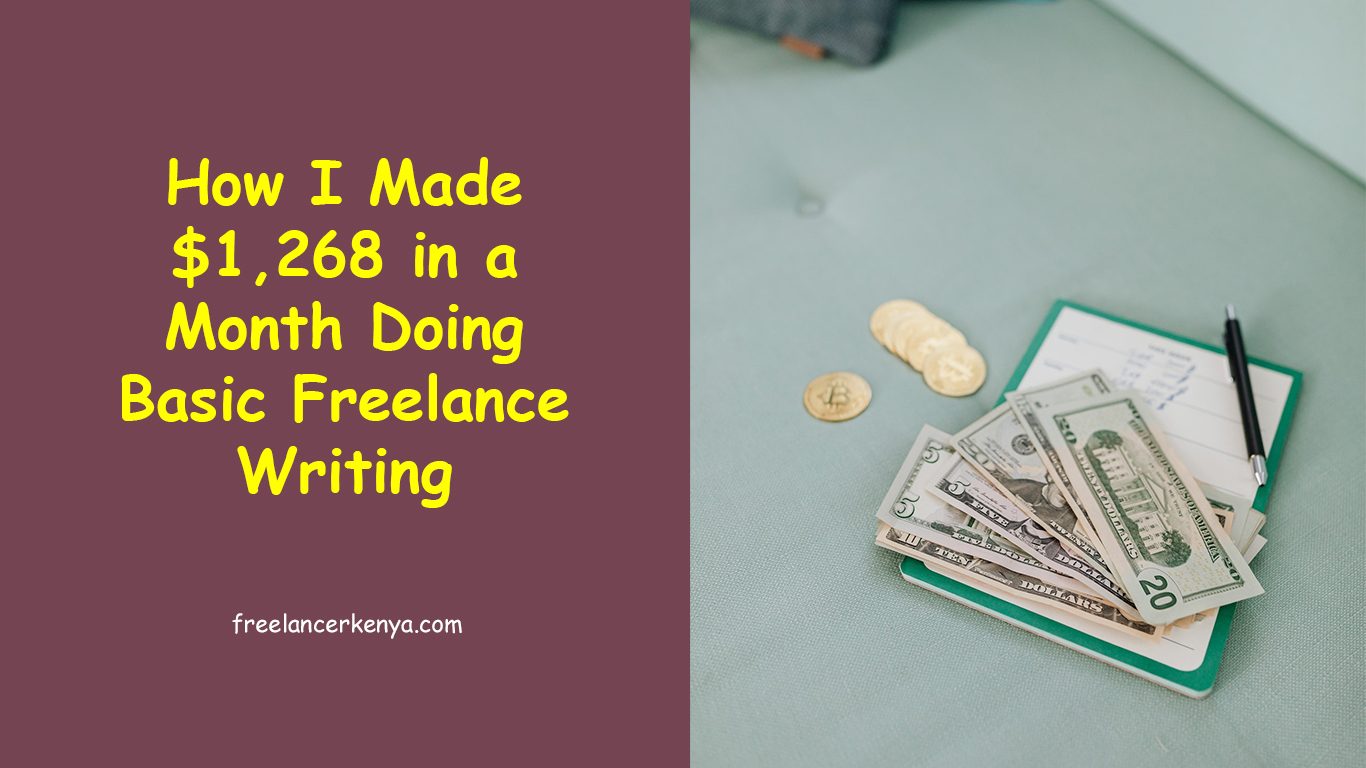 Disclosure: Some of the links in this post are affiliate links. This means that, at zero cost to you, I will earn an affiliate commission if you click through the link and finalize a purchase.
Hello, my name is Johnson Gitonga Nderi, and I am a part-time freelance writer. I am a food safety expert with almost two decades in food business management and consulting, especially in food safety systems.
I still have a career in food. Through happenstance and missed chances, I have not been as successful in my professional career as I would have wished.
I'm sharing my journey with you so that you may learn from some of the mistakes I have made, and also the decisions that made me join the freelance writing fraternity and change my life for the better.
My long history with the Queen's Language
I have always been a writer. I have loved English from the day I uttered the first word back in nursery school. In our time, you were okay if you knew not one English word up to class one!
By the time I was done with lower primary, I had read several children's novels including 'The Hardy Boys' Series, 'Oliver Twist' and several others. That was a feat in itself. I could recite the loyalty pledge off-head (a propaganda tool taught in school back in the day), much to the amazement of everyone else in the whole school.
But I was good at all subjects, and in the University I covered food science and thought that I would always work with beakers, retorts, Bunsen burners and test tubes. That was until I entered food safety management in the industry.
When I became a manager in a food export business, I realized that there was more potential in writing quality assurance systems, ensuring their implementation and defending them during customer visits and third-party certifications.
Why Online Writing?
I am a self-driven person, and as a senior manager in some of the biggest food export companies, I realized the industry was not yet ripe for world-class managers. Every single one of the companies I worked for was inhibited by the inadequacies of the families that ran them. And I worked for many. In short, you hit the roof soon after you joined the business.
There was no way you would ever express yourself fully and turn any business from a money-making machine into a legacy.
After staying in that state for almost a decade, I got jaded. I quit employment to become a food safety consultant. At least there I could have my free time and not bother with looking inefficient in someone else's dream.
I dreamed of creating a business that would defy that and create opportunities not only for myself but for generations to come, throughout the country and abroad.
As a consultant, I started experiencing long draughts as a result of poor marketing skills. I happen to be one of the best food safety consultants in the business if you look at the quality of the work. But I also happen to be among the least active due to lack of good placement of the products I can deliver.
When I heard of online writing, I thought that finally, I had an avenue to express myself through the power of the written word without the added responsibility of marketing myself.
The Vast Online Space and Its Potential
Originally, I thought that all online work was about writing articles. In fact, when I joined Walter's course, all I wanted was the opportunity to learn how to write a good article. I did not even know what I wanted to write about.
This was back in September 2017. Furthermore, I am more of a specialist, and I wanted to find an area where I could do enough work without having to hassle for gigs. I had tried online academic writing for a while, and I loathed the idea of thousands of writers waiting for one order to grab and then learn later what it was all about!
Why Cryptocurrency?
My dalliance with cryptocurrencies was incidental. At the time I decided to write, I also had another idea that I was trying to scale. I had created a company whose main work would be the digitization and simplification of online shopping and service provision known as Hail-a-Hustle Limited.
At Hail-a-Hustle, we aspire to be able to bring micro-businesses to online space for the first time in Kenya and to be able to cheaply manage micro-transactions with a high degree of convenience. The problem I had was in the movement of money between clients and shops for small shopping packages, and that is when I started researching on the peer to peer money systems based on blockchain technology.
So when I learnt how to write articles, I thought, 'What better way than to get paid to learn a technology I already need for Hail-a-Hustle?'
Furthermore, I found it to be a challenging niche and therefore a blue ocean with little to no competition.
The $20 Gateway That Opened Up My Life
Believe it or not, I at one time whined to Walter to give me the training as an advance to pay him later. He always knew I could easily make the $20 on my first gig. At that time, the course was going for $20 but the price keeps increasing so it's different now. But did he allow me to go to the training free? No! He would hear nothing of that.
And the reason is simple…
By doing so, he would have broken the shell for me, and I would never find my way. I would keep on expecting further help. That is not how the world works, and I guess I should already have learnt that lesson in my corporate life… Haha. I will never forget the lesson that his firm stand on the subscription fee instilled in me. I was down. And in Walter I found a hand that extended the harpoon for fishing. Not the fish. I am now fishing plenty…
But I digress…
So I started the training in September, 2017. By the second week, I was on Upwork, spurred by a very dry patch in my wallet and a burning desire to learn. I also opened my Fiverr and iWriter accounts.
My first three jobs on iWriter were rejected, and I never went back to the site again.
I found a friendlier ground on Upwork, and I started earning by the start of October.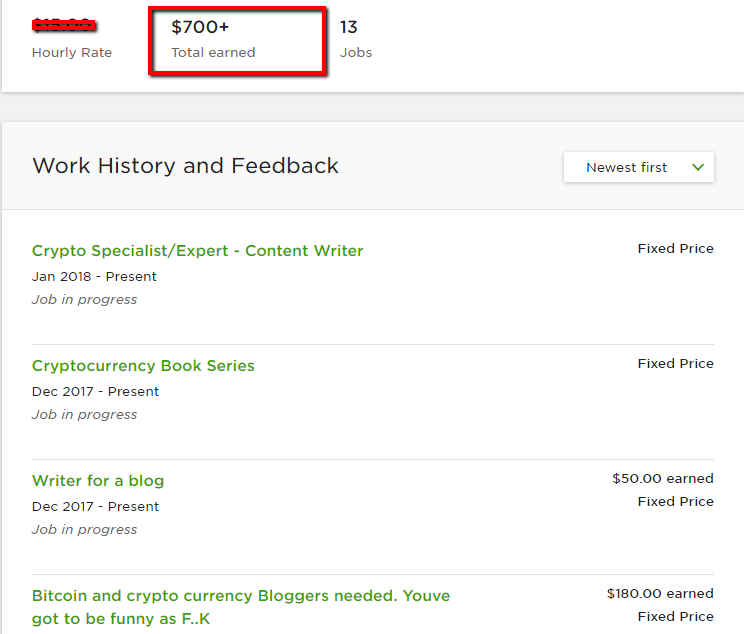 However, I only made measly amounts as I embarked on my journey of paid learning. I kept on getting 5-star ratings on the first jobs though. I wrote about everything from diabetes to cleaning services in Kentucky before I decided to work on cryptocurrency.
Meanwhile, my Fiverr gig on cryptocurrencies kept on getting peeps without any orders. I kept on improving the wording on my gig and on November 13, 2017, I hit pay dirt. My first ever crypto order on Fiverr was confirmed, and I went at it like one possessed.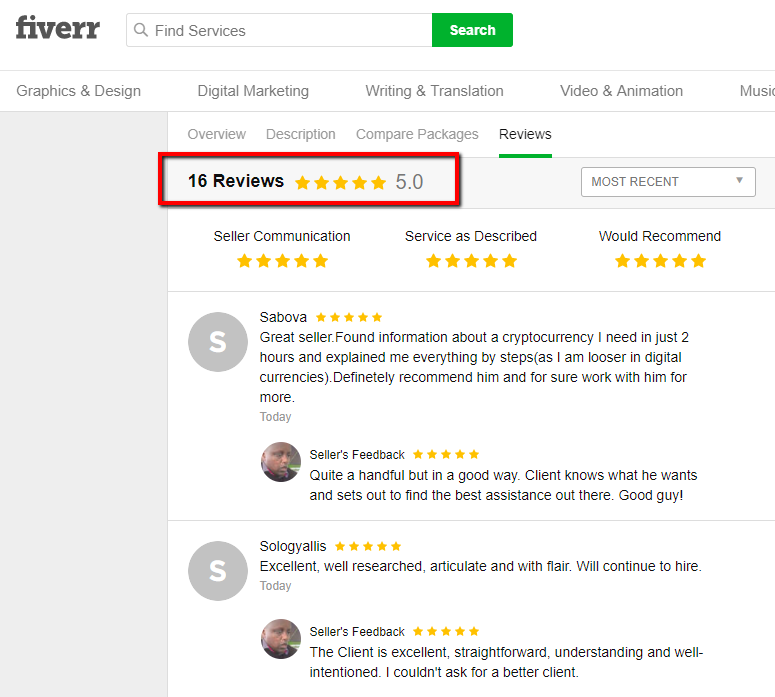 When doing this particular order, I re-opened my lessons on the Complete Freelance Writing Course and kept on glancing at Walter's advice. I felt the same way I felt the day I joined high school and my father left me at the mercy of strangers. Will I do a good job? Will the client be happy? Will this fail like iWriter?
Remember that I already had some experience with Upwork, with good ratings, but when I open new chapters in my life, I always get jitters, but not quite like what I experienced when doing that first job on Fiverr. I made $40 and felt like a king, especially when I got a 5-star review.
That is because I had made a record six clarifications about the order from the client to give him exactly what he wanted, made numerous dashes to glimpse at Walter's advice and used more than ten research references, including my earlier work, to write an introductory 500-word bitcoin article.
From there, the orders came thick and fast in Fiverr, and I was crashing an article on Christmas day at home, at the expense of delegating my birthright to cut the throat of the Christmas goat to my younger brother!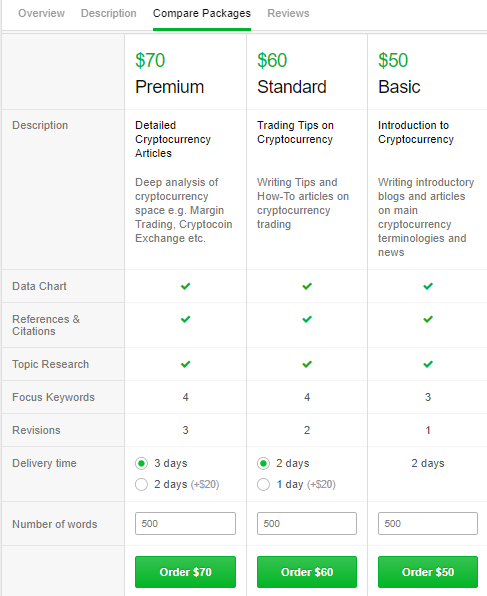 But it paid off. As I write this, I have just landed a long-term client for $400 a week. And for much easier work than I have done since I started.
And all this started by me taking a leap of faith, joining Walter's course and taking swift action with what I learnt.
The Cold Pitch
As I said earlier, I am not of much use to anyone when it comes to marketing, but I went out looking for the first outfit in Kenya to carry out blockchain work. They are called Bitsoko, and they offer crypto wallet and merchant services for blockchain based organisations.
I needed their technology to scale Hail-a-Hustle, and when I visited their website, I realized they needed my written word. I did not have money to scale my website, but I didn't need money. I needed their skills and they in turn needed my writing skills.
Together with Bitsoko, we are creating the website I dreamed of, and I have in turn written them the articles they need to scale their brand and benefit all the entities they are trying to assist, Hail-a-Hustle included.
Bitsoko agreed to pay me a whopping $0.24 per word. But there were conditions. I would only collect the balance after they deduct the admin fees that we agreed on, and they would only pay in their token, known as BITS.
In November, there was one crazy incidence when I made $850 by selling the BITS I had earned on EtherDelta. I expected $85, but I had skipped one decimal zero by mistake on the price of my BITS, and for some reason, someone bought them and left me with almost 3 Ethereum. I got convinced that I was in the right industry!
In fact, combined with my Upwork jobs, I could have made the $1,000 in November, but I did not want to use the freak transaction to say I beat the challenge!
Outsourcing
I realized that outsourcing could be a lucrative way of earning money online as I also tried to assist other writers to scale the online totem when I gave two articles and an eBook to another writer shortly before Christmas. She did a splendid job, and I organized to meet her for the first time in Nakuru this January, where we discussed more work in the coming months together.
In outsourcing her services, she afforded me the time to go to Mt. Elgon and get some 30 peasant farmers a certificate that allows them to sell their produce to Europe. It is a food safety system known as GlobalGap and it is part of my professional life.
$1268 Here I come!
By 1st January 2018, I had accumulated $748 on Fiverr, done work worth $180 on Upwork, and had some small change of BITS which I sold for $340 on Christmas Day. That was $1268 in December alone.
In effect, I had hit the $1,000 challenge, which I thought was a mirage just a few short months ago!
In addition, I carried out one of the largest food safety projects I have done so far and which has opened other doors in Kenya and the region.
What next?
Honestly, I have not even accomplished anything in online writing. I am just getting started. I have just been hurtling from one article to another, working 'hard' and churning 'quality work.'
But do I need to work hard? Do I need to wear my fingers on the keyboard for nice dollars I could not get just a few months ago? I believe not. I am a hustler. I want side hustles to earn me money on the go.
I have started a cryptocurrency website, DigiCoinAfrica. I have not had time to look at ways of monetizing it yet.
I have Hail-a-Hustle to scale, and once the website is running, I will initiate Derimex Fruits and Vegetables, which is a home supply business that will run on the Hail-a-Hustle blockchain.
Hail-a-Hustle is also poised to be the First ever ICO in Kenya, and we have our Initial Coin launch on February 24th, which will herald a new era in crowd business funding in Kenya. Our coin will be known as the HustleCoin (HCN). We intend to make it possible for you to order a meal from your favourite hotel near your home or office as you type your heart away.
The other main project that I have been turning around in my head is to create one of the first online gig factories in the world. I want it to operate as a conventional factory with marketing, quality control, production, finance, administration, laboratory and training departments. It will be the ultimate freelancer, receiving, channelling, assessing finished work and submitting online orders to clients in a way that allows freelancers to learn and earn in real time, and to finally specialize in writing what they want.
Final Thoughts
I have seen a revolution in the way I think.
I am no longer running an anxious family that has no idea where I am taking it. My children seem happier, and my wife seems more relaxed and assured. I believe that in itself is the greatest reward I have received for joining online work. It is the reason why I immerse myself in every project with everything I have got.
Secondly, with Hail-a-Hustle, not only will I make a profit in e-commerce, I will be able to introduce many innovations that take care of the poor, the unemployed, and the environment, which is the bedrock of what I have always wanted.
These are many words that simply say that Yes, I am grateful for the chance to be a writer and online business person, I am not going anywhere. I am here to stay!