How Tom earned $2,600 in October 2018 doing freelance writing jobs
Disclosure: Some of the links in this post are affiliate links. This means that, at zero cost to you, I will earn an affiliate commission if you click through the link and finalize a purchase.
What's your biggest win right now? Mine is the story of one of my trainees – Tom Nyarunda. He's now getting high paying clients. He sent me an email on Saturday that has been in my mind throughout the week. I just had to share his story.
Tom joined my freelance writing course in September 2017. He was very hardworking despite of the different challenges he faced. Back then, he was earning Sh. 200 to Sh. 300 ($2-$3) per 500 words. He wanted to go way higher…
His aim was to start earning $100 a day
When he finished my course, he told me this: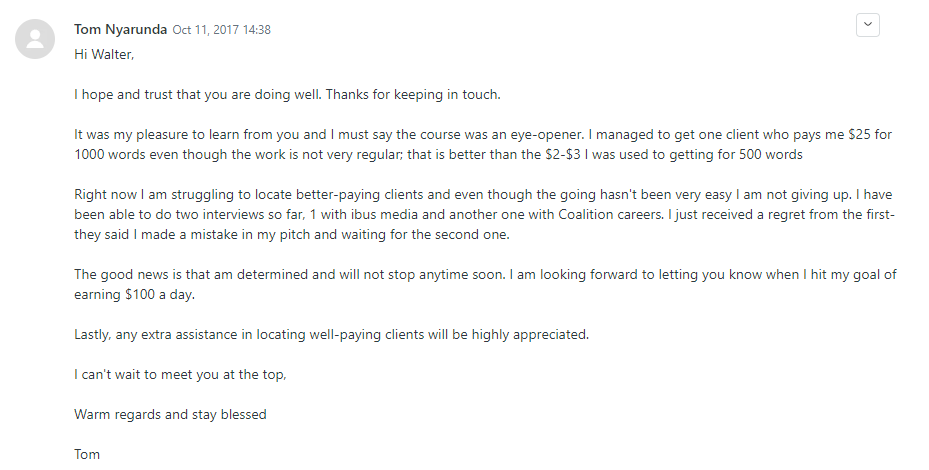 This email came exactly 1 month after he finished the course. I usually follow up with all my students at that time to see how they're doing. As you see, Tom had moved from $2 to $3 per 500 words and by this time he was doing $25 per 1,000 words. He was well on his way to get high paying clients.
Impressive, right? You haven't seen anything yet. There's more. Let's go back to his goal; $100 per day. If you work for 26 days a month (daily excluding Sundays), that comes to $2,600 per month. Exactly one year after the above email, Tom had hit this goal!
Tom earned 0.41BTC in October. That's almost KES. 260,000 (2600 USD).
The above exchange rate applies at the time of writing this post (2nd Nov 2018). It may be different if you read it later.
And no, he did not use Upwork. His Upwork account was suspended. He focused on my other methods to get direct clients. I'll tell you exactly how below. Meanwhile, here's the email he sent me on Saturday, October 23rd 2018, one year after he finished my course.

Judging by the typos in his email above, I can tell he was writing in a hurry hehehe. Feels great to hit your goal. Even if it takes a year of hard work. The attachment he sent above is the very first image on this post if you scroll up. Read on to see his actual writing on a site.
Here's a breakdown of what he's done
✔️ He used to do low paying $2 to $3 per 500 word jobs before joining the course last year.
✔️ After the course, he focused on the sizzling hot ???? cryptocurrency niche, just like my other 6 (KES) figure trainee Johnson Gitonga Nderi
✔️ He wrote for Cryptosumer. That's where he learnt about this niche.
✔️ In September, he earned approx. KES 120k ($1,200). He got the job from Reddit.
✔️ He also gets writing gigs from Listiller and Crypto Jobs.
✔️ He made the $2,600 writing for Blockchain Reporter.
✔️ He's started writing for Block Explorer. See his article here
✔️ His rates are now between $0.08 per word to $0.15 per word ($40 to $75 per 500 words).
I like saying this about successful trainees
I'm not the one who made them successful. It's first God. Then the trainee himself/herself.
I give them the promised information (training and in-depth mentorship). They then push hard to get results.
There's no success without effort.
You're free to follow in Tom's footsteps above.
If you need in-depth guidance and mentorship, you can always get info about my course here.
God bless you.
What's your big win? Please share in the comments. I love reading success stories!