Why PayPal Sucks and What You Can Do About It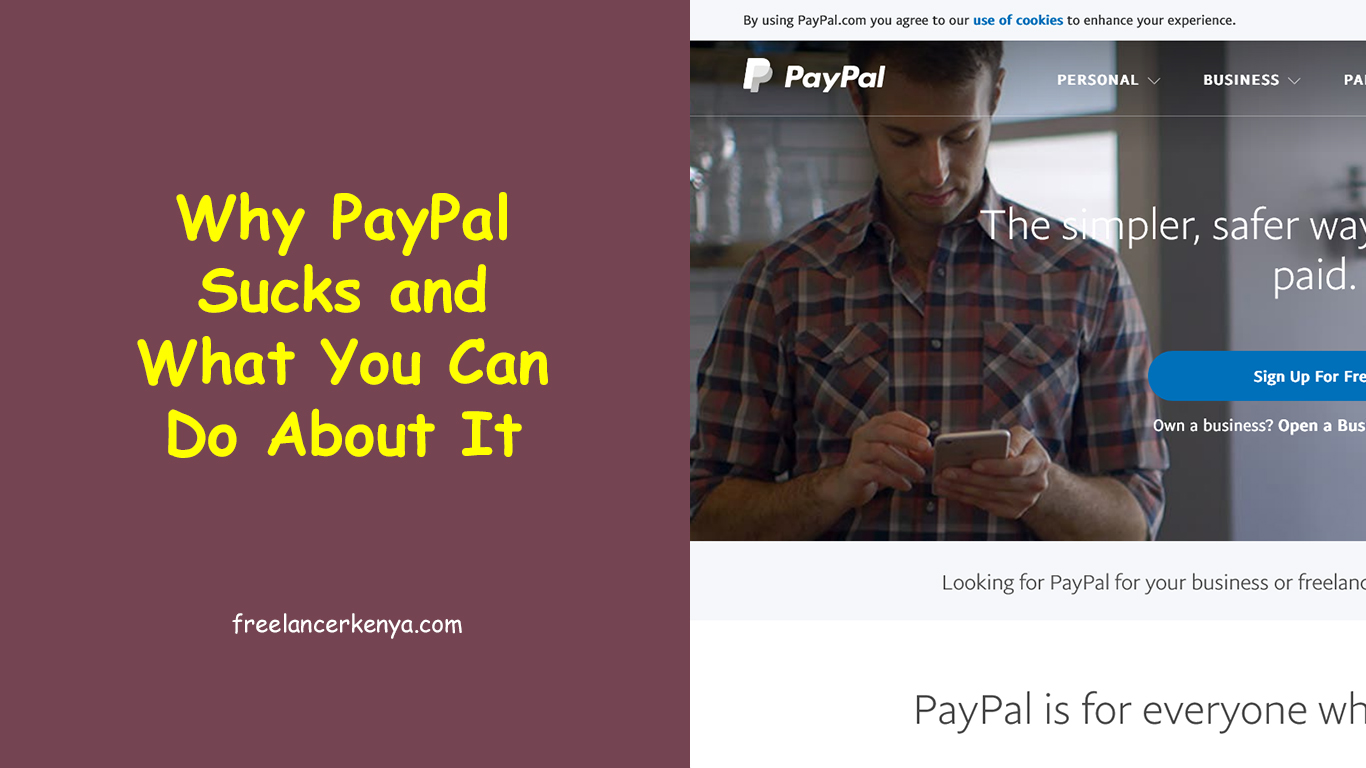 Disclosure: Some of the links in this post are affiliate links. This means that, at zero cost to you, I will earn an affiliate commission if you click through the link and finalize a purchase.
Do you use PayPal in Kenya? If you're a freelancer, I bet you do.
It's mostly not a matter of choice. You have to use it since there are many sites that only have PayPal as their withdrawal method, for example iWriter and Rev among others.
Don't get me wrong I love PayPal and have been their ardent user from back in 2011. But I must admit that of late, PayPal sucks big-time in Kenya. In fact, wherever possible, I always use Payoneer instead of PayPal. I hope the guys over at 2221 North First Street San Jose, California 95131 where PayPal is located get to read this post because something needs to be done, NOW!
Below are my reasons why PayPal SUCKS and what to do about it.
1. Constant limitations
A PayPal limitation is where your account is sort of "suspended" and not allowed to do some stuff. For example you may be unable to send money, send refunds, make website payments etc.
This company seems to be malicious against Kenya and a few other countries because most countries don't have it this way.
Before 2015, it would be hard for them to limit your account. In fact that would only happen if you clearly violate their terms of service.
Comes 2015 and there comes strange limitations. In Jan and Feb only, I got so many emails and Facebook inboxes by guys telling me their accounts had been limited. Funny thing they had done nothing contrary to the PayPal terms of service. They would simply receive money from Rev, iWriter, Elance (now Upwork) etc and withdraw to Equity (which is allowed by PayPal).
After PayPal limits an account, they ask for some stuff e.g. a photo ID, business registration certificate (for business accounts), invoices etc. Sadly, for many accounts nowadays, even after you have provided them with all that they require, they still permanently limit or close the account.
Note that if your account is permanently limited, you won't be able to access your funds for 6 months. However, if you're lucky, they may allow you to send refunds to your clients so that they use an alternative means to pay you.
Mr. PayPal, if you're reading this, kindly after you've received the right documentation, restore someone's account. I'm not advocating for those going against your terms, but for the real, law abiding users, restore immediately.
Update: PayPal listened. Nowadays limitations are not as common as they were. Thank you, PayPal!
2. Inability to transact for new or unused accounts
"We're sorry, but you cannot send this payment right now"
This is the error you receive when trying to transact with a new account. Even if it's your real, verified account with your own details, it will still bring this error for a while. For more information on the steps to create your account, you may want to read our trusted facts about PayPal in Kenya.
Upon calling Mr. PayPal to ask why the error, you may be given reasons like "your network has issues, try again" or "you are unable to transact for security reasons, keep trying" or anything else Mr. PayPal wants to tell you.
It's funny that they allow you to receive cash that you won't be able to withdraw.
Worse still, in some cases you won't be able to receive the cash at all. When someone sends cash, s/he gets the above error.
The saddest fact about it is this, there is no indication as to when the transaction will go through. Imagine you receive your hard earned $1,000 to your legitimate PayPal account but are unable to withdraw it for a week or more due to the above errors!
3. Inability to add the Payoneer Global Payment Service
Now, one of the biggest benefits of Payoneer in Kenya was the fact that you could withdraw money from PayPal to your Payoneer account. This would be done through the addition of their US virtual account which they now call the Global Payment Service.
After adding the service to PayPal, you would be clicking "withdraw" on PayPal, proceeding to send to your "bank account" and the cash would be available for withdrawal on your Payoneer account after two days.
However, this was stopped by PayPal in mid-2014. From then till now, it is not possible to add this payment service. It only works for those accounts that had added the service to PayPal earlier. However no new additions are possible.
Therefore, the only PayPal approved ways to withdraw your money from PayPal right now are: Doing it through Equity Bank, which takes 3 days and using the PayPal to MPESA service.
However, these methods are more expensive than what the Global Payment Service used to give, unless you withdraw from PayPal to a Kenyan USD Equity bank account.
What you can do about it
Below are my quick pointers on what you can do about it.
Use alternatives e.g. M-PESA Global , Wise (formerly TransferWise) and Payoneer where possible.
Use old PayPal accounts to receive your cash if you transact high volumes per month (e.g. if your brother has an old PayPal account you can receive your payments through his account if he agrees to it)
If you choose to create your account, build the volumes slowly.
Very important: stick to the same IP and gadget for your account. For example you can dedicate your laptop to be the only place where you withdraw from, using your Safaricom modem or wifi. Another example is if you choose to use your phone, try to always be using the same phone for PayPal transactions, especially when sending money or withdrawing money.
If you travel outside Kenya, you will not be able to use your PayPal account in the new country so have someone manage it for you or open a new one. Logging in from another country may lead to an instant limitation.
Pray – Yes, pray that Mr. PayPal makes things easier for us in future
Bottom Line
PayPal is still a "necessary evil" for Kenyans. Despite of the fact that they have strange issues here, most sites still only allow PayPal.
Due to the above reasons, I still say that nowadays PayPal sucks in Kenya.
The constant limitations, transaction delays, and delayed withdrawals can make you sick to the stomach.
I am usually very optimistic that things will get better for this industry. However, I am always against discrimination.
If this trend continues, I hope the other providers, like Wise (formerly TransferWise), and Payoneer, will overtake PayPal so that they are left to discriminate themselves.
The good news is that PayPal is also feeling the heat and slowly improving their services. In my opinion, they still have work to do.
Let's talk on the comments, shall we!