Your success as a freelance writer depends on the path you choose. If you do the right things, you can be the next successful writer who earns well and enjoys the freedom that comes with it.
These are notes from the three hour live meeting I held on 31st August 2022 via Microsoft Teams. It was my way to gift you after my 37th birthday! So, by reading this post, you're accepting my gift!
Here, you'll learn how to build a profitable freelance writing business in 2023. That includes:
How a high-quality article looks like in 2023
How to manage your time for optimum productivity (I'll share a little free tool that's working wonders for me)
The writer's journey
Exact methods you can use to get high-paying clients
Q and A session
Need someone to hold your hand and teach you all you need to know? Join my Complete Article Writing Course.
Let's start with who I am!
Walter Akolo: An ordinary, friendly guy who loves sharing tips. In fact, some people messaged me after the live call and said, "I didn't know you sound so ordinary!" Yes, I'm just like any other guy on the corner.
Freelance writer since 2011
I've written possibly tens of thousands of articles
By God's grace, I've been featured on HuffPost, Ajira, Tuko, Nation, Standard, Homeboyz, ProWritingAid, Bankless Times, Billetto, Write Worldwide, Change Creator, etc.
I've been blessed to train over 4,000 writers since 2013. Some of my top trainees are the highest-paid writers in the region.
What is pure gold content?
I love referring to epic content as pure gold on most of my communications—email, blog, social media, etc. But what exactly is pure gold? Is there some magic way to churn out pure gold?
It's actually easier than you think, my friend.
Pure gold content is content that meets your client's goals. Or your client's brief. Or your client's instructions. There's no magic. Each client has a different set of instructions. Always pay attention to what your client says. What's gold for one may not be gold for another.
How does great content look like in 2023?
We spent over two hours just discussing how to write great content. Why? Because that's what clients will be buying. Your writing service.
I used this HubSpot article example to show you how great content should look like. Make sure you have that article open in a new tab as you read below so that you understand what we discussed.
Here are the ingredients of the article you see above:
A catchy title
I talked about different ways to write catchy titles and referred to one method I like that I got from Frank Kern (you can look him up and yes, I bought his book and courses).
He calls it "How to YAY without BOO". For example, "How to Lose Weight Without Fasting".
The particular HubSpot example above uses a listicle (list post) title, i.e. a title with numbers (13 New…).
An alluring intro
Your intro should be alluring and make someone want to read more from you. You can use things like shocking statistics, empathy, pain points (then promise solutions), etc., to introduce your article. This article has an intro that shares a pain point and promises solutions.
Calls to action
Not every client will request this. But for those who do, it's good to include one after the intro, just as what the writer above has done.
A call to action (CTA) is text that informs readers to do something, e.g., buy now, download now, book a call, schedule a meeting, hire me now, schedule a demo, etc.
When tasked to include these, have one after the intro, one or two inside the body, and one at the very end after the conclusion.
The HubSpot article has a "Download Now" call to action on the intro and conclusion.
Subheadings with great content
Avoid one-word subheadings. I personally love starting subheadings with verbs where possible. Unlike the article above, avoid full stops in subheadings, unless the subheading has two sentences.
An assuring conclusion
The usual method is to write the word "Conclusion" as a subheading. However, nowadays, you can still have a concluding subheading that's tied to the title.
For example, the above article's title is "13 New Customer Onboarding Best Practices" and the conclusion subheading is "Start Onboarding Your Customers".

Image: The assuring and well-written conclusion of this HubSpot article
A conclusion is also a great place to have another call to action if the content requires it. You can see the "Download Now" call to action in the HubSpot example.
Relevant links
Make sure you add links to reputable resources, e.g. statistics, studies, surveys, and useful facts. That sets you apart from the competition.
Clients may tell you to include internal links, e.g., if you're writing for HubSpot, you can include links to other HubSpot articles. And external links, e.g., if you're writing for HubSpot, you can have links to other reputable sites in the article.
Here's an example showing how to use links to statistics:
Social media referrals have stagnated at around 5 percent of all traffic for years.
Useful images
There's no ideal number of images for an article. Some articles require more images than others.
For example, an article titled "How to lose weight fast" can have fewer images than an article titled "Steps to Creating a High-Converting Upwork Account (With Screenshots)".
Where possible, use graphs or charts. After each image, graph, infographic, etc., include a link to the source.
Below is an example of a graph with a link to the source (extracted from the same example article above).
Proper paragraph length
Avoid huge paragraphs. Keep them at two to three lines like how I'm doing it on this post. It's okay to have a few one-line paragraphs for emphasis.
Avoid plagiarism, i.e., never copy-paste chunks of text from another site as it is. To write well, read from multiple sources, learn, and write in your own words. Another formula people use is to avoid repeating the same 4+ words from any source, unless it's a proper noun.
Researching for pure gold content
Before writing anything, you must research. I recommend researching on different levels.
First level of research
When a client orders an article, research on Google to get information about what you'll write. After that, create a skeleton outline with your title and subheadings. You can include notes on what you'll include in each section.
Here's an example of an outline:
Title: How to lose weight without fasting
Subheading 1: Run 5km twice a week
Subheading 2: Walk for an hour thrice a week
Subheading 3: Reduce your intake of fats and carbs
Conclusion: Finally, get to your ideal weight loss target
Remember, this is just a rough draft. As you research, include short notes under each subheading to see what you'll include.
The outline will then guide you as you flesh out the content.
Second round of research
Here, you can research for images. You can get images in different ways, including:
Screenshots if it's an explainer post like "How to install WordPress"
Graphs, charts, and infographics from authority websites. You can use Google Images and search for such. Make sure you include a link to the source, as explained and demonstrated above.
Stock photos, i.e., the free images you get from sites like Pixabay, Pexels, and Unsplash
Third round of research
You're almost through with your article, so you can do a final round of research to include useful statistics and facts to add the "research appeal" to your article.
For example, if it's an article on weight loss, you can research "weight loss statistics". Include the primary source of the statistic. If you get a statistic from FreelancerKenya, and FreelancerKenya says it got the statistic from WHO, use the statistic from WHO.
You can still keep researching as you write your article, e.g., to flesh out content under specific subheadings if you feel it needs more meat.
Write your first article and publish it!
With this information, write your first article. Get a professional to check it out. Some people charge for editing. If you have a good writer friend, they may check it out for free. Your first sample is like currency. It can help you get amazing clients or block things for you for a long time.
If you take my writing course, we'll check your first two samples for you to ensure you're on the right track.
Once you're sure it's well done, publish it on LinkedIn or Medium. You can look up the steps to do this. I showed how in the call but it's just as easy as going to either platform, signing in, and clicking on "Write Article" then following the prompts.
For example, here's a LinkedIn screenshot: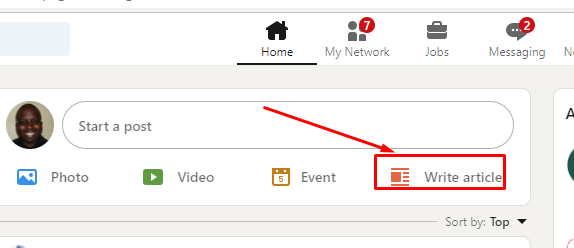 Hurray! That will form your first published sample! You're now a published writer. You're way ahead of your competition of beginners or veterans who don't have anything online in their names.
Need someone to guide you further and thoroughly check your first two samples? Join my course today.
Start looking for clients
The next step is to look for clients. There are many ways we discussed on how to look for clients. This includes:
Get high-paying clients on Upwork
Create a professional profile, get someone to check it out to ensure it's well-done and persuasive, start sending proposals.
There are many people on this very audience who've already hit the $100,000+ mark (cumulatively) on Upwork. It's totally doable. I'd challenge you to go to Upwork, and use the search box to look for "Kenyan writer". You'll see so many who are doing great.
Look up the free Upwork course and attend its free webinars. Check out its help pages for tips as well.
Create powerful gigs on Fiverr
Set up your first gig here. In Fiverr, a gig is a description of your service.
You can do this fairly quickly. Make sure it has the right title, description, gig packages, etc. Fiverr has awesome tutorials on all this.
It's okay to get someone to check it for you to ensure it's on point. If all is well, you can create more gigs to increase your chances to get clients.
You can start passively getting clients via Fiverr when they notice your gig and order your service.
Get clients on social media
I was on the phone with a former trainee two days ago. She said she's earning over $5,000 per month from a client she got on Facebook group.
Every day, go to Facebook and search things like "content writers needed", "copywriting job board", "blog post writer", etc. Apply for jobs heavily.
Optimize your LinkedIn. There are many tutorials that will show you how to do this.
Join social media groups that talk about niche sites, affiliate marketing, internet marketing, etc. Pitch people who are struggling with their content.
Pitch more clients directly
Look for valuable brands you'd like to work for.
For example, as a marketing writer, I can create a list of email marketing websites, social media marketing websites, search engine marketing websites, content marketing agencies, name it. I can then reach out to them asking to be their writer. You can do this for sites on your favorite niches.
Take advantage of job boards
There are so many job boards that are coming up. If you look up "freelance writing job boards" you'll get a ton to check out. One of the most famous one is the ProBlogger job board.
There are many other ways to look for clients such as referrals, networking, reaching out to your own contacts, joining events, mastermind groups, creating a writer's website and optimizing it to attract clients, blogging, etc.
Make sure you apply for 10 to even 50+ jobs daily.
I have many long-term clients but I still keep applying for work regularly. That's how you grow year after year after year.
How to stay productive every day
What do you do when you wake up in the morning? Don't just rush to social media or Netflix. You should have a process that keeps you producing at scale. Here's what I recommend:
Nourish your mind, soul, and spirit: Start with something that energizes you, such as Bible study, prayer, watching uplifting videos, listening to encouraging podcasts, etc. Whatever works for you. Even if it's calling someone who will encourage you.
Learn something about writing: It doesn't matter how many years you've had in the game, keep learning. Take courses from all over—my course, Skillshare, Udemy, Surfer, HubSpot, name it. If you can't afford paid courses, take free ones. Or simply learn by researching on Google and YouTube. Focus on learning how to write better and how to get clients. Spend an hour plus on this and do one course at a time.
Get work done: This should take most of your working day. If you're not already working, apply for 10 to 50+ jobs daily. If you already have client work, do it and deliver on time. After delivering, apply for better jobs. If all your current clients pay you $100 per 1,000-word article, apply for work paying $150+ per article. As you grow, you can cut off disturbing clients and focus on those who value you.
Anything else: You're now exhausted. You've read, prayed, looked for clients, delivered work, and applied for more. It's time to do anything else like watching something, going out, social media, hanging out with your peeps, etc.
In the call, I demonstrated how I use Workona to boost productivity. I've created these workspaces:
So, when I click on any, it opens the right tabs and resources to study the word, learn online skills, complete client work, take care of my team, train people, share free FreelancerKenya resources, and repost useful content on social media.
You can see the "Jobs" workspace is greyed out since it's open as I write this. When I click the "x" sign to close it, it will close all the tabs I have on my Chrome and I'll be able to hop on to the next workspace, i.e, "Training".
This Chrome extension has worked wonders for me. I hope it will help you as well.
The process of becoming an expert
You don't just wake up and become an expert. There's a process.
You may have read on my blog or elsewhere that people here are earning $3,000 to even $10,000+ per month as writers and you're like, "I want to get there today!".
Sadly, it doesn't take a day to get there. There's a very specific framework that people use to become top income earners.
The process sounds very simple, but it will only work if you stick to it to the end. It can be a whole speech by itself, but I'll summarize it into three things:
1. Continuously learn how to write great content
Never ever think you've made it. Experts keep learning every day.
Work in stages.
A beginner will just need to know how to write a fantastic 500-word article then move up to an epic 1,000 word article with zero grammatical errors and in keeping with a client's brief.
An expert will need to understand persuasive content, conversion optimization, content marketing strategy, sales copywriting, landing pages, ad copy, professional niche mastery, etc.
You'll need to understand each facet of how content works and moves people to take action. The psychological part of it all.
New things will keep coming and you never want to miss the bus and become old news. Stay ahead of the game. If possible, years ahead of your peers.
2. Write great content continuously
You should write every single day.
Write for clients. Write for social media. Write for your church. Write for your own blog. Write, write, write. And test the performance of your writing.
Take out what's not working. Focus on what works.
Become GREAT in what you're already good at.
3. Continuously get better ways to look for and engage clients (while creating your own businesses)
A beginner will simply look for clients on Upwork, Fiverr, social media, job boards, or directly through their sites. They'll talk about how they write "grammatical, unique, and well-researched content".
Experts will take it up further and focus on pitching CEOs and founders of companies, pushing massive audiences, upselling, building great networks, and scaling businesses at incredible speeds.
As I write this report, I'm also discussing with a company founder. I started writing short posts for him, but now he wants to take it up further and create massive content for his fast-growing brand.
So, yes, just three steps to becoming an expert writer. But see how I've used the word "continuously" in each? That's because the moment you stop growing, that's the moment you start dying. Grow continuously. That's how you stay relevant for years.
Q and A session
The reason it was a closed meeting is that we went deep into specifics, including me showing some of my specific earnings and my outsourcing table. I may not share those in such detail right here on the public platform.
The call ended with an interactive Q and A session. Here are some questions answered (though it was better on video as I was showing some of these things live):
What is cold-pitching?
Cold-pitching is looking for jobs where they've not been previously advertised. You identify valuable companies that you'd want to write for, then apply to work there, even if they've not stated they're hiring.
What do you use to get client's emails?
The best tool I know of is Hunter. During the call, someone also suggested Reply.
How do you write a great Upwork proposal?
Read a client's job post thoroughly. Make sure your proposal actually responds to what's in the job post. Your first few lines should include the BEST qualities that market you.
If you're a beginner, start with your skills in line with the client's job post e.g. "I'm a skilled freelance writer who will give you error-free, well-researched, and unique content."
If you're a veteran, start with PROOF e.g. "I'm a professional writer who's been featured on HuffPost, ProWritingAid, and Change Creator."
On the rest of the proposal, respond directly to the client's post e.g. if they said they want weight loss articles, mention that in your proposal.
Always include the BEST sample of your writing as further proof you can deliver.
What is the easiest way for a beginner to get freelance writing clients?
Unfortunately, there's no easy way, my friend. You'll need to sweat. A lot. As a beginner, use multiple methods such as Upwork, Fiverr, social media, job boards, Reddit, cold-pitching, etc. Then start focusing more on the methods that give you the most income, as you grow on more profitable areas.
What time do you sleep and for how many hours?
As a freelancer, my sleeping time varies depending on what I'm doing. I strive to sleep for seven to eight hours every day. When I'm in the zone (moments of super high productivity like today), I may sleep for even five to six hours. At such moments, you drive heavy results then slow back down to your normal routine.
I advocate you sleep for seven to eight hours daily. Avoid overworking, poor posture, or anything else that may compromise your mental or physical health.
Should you use AI apps like Jasper for client work?
Some clients literally tell you to use it. Some tell you not to. Jasper does a good job only if you know how to use it well. In some cases, it writes better than a below average writer.
It doesn't always produce factual content, so you'll need to edit and fact-check thoroughly. It's a tool, just like a pencil, pen, or computer. It's what you do with it that matters.
It may not be ideal for some tasks, and it may create pure gold on others. Some writers love it and others hate it. The best way to know is to get a free trial and see how it works for you.
I'm a perfectionist, so where I've used Jasper or any other tool, I've most likely done heavy manual editing. It basically gives me direction then I take up the rest on my own. Most of what I do is my own manual writing.
And the best version of Jasper is Boss Mode. That's what I've had for several months now. It has powerful features that I'll talk about in another blog post.
The best way to know how it works for you is to try it out first.
Get an expert to help you through the process
Wow! That was so much to swallow. The three hours were awesome. People interacted with each other and kept chatting on Microsoft Teams even way after the call ended. Some even linked up and created their own groups out there.
But, here's a quick question:
What if someone helped you through the writing process?
What if an expert held your hand and literally showed you the way to go so that you can land high-paying clients?
Yes, I can help!
I train in article writing. My course includes everything you need to succeed as a writer. You will:
Learn how to write articles that clients love
Get your sample articles assessed by international editors
Learn how to create an Upwork account like a pro
Get each aspect of your Upwork account creation assessed to ensure you're doing it right
Create a Fiverr account and get it checked for errors
Get your writers' website or blog set up for free (if you use my affiliate link to pay for your domain and hosting)
Understand exactly how to write high-converting proposals and pitches
Get support for one month, where you'll be free to ask questions pertaining to becoming an expert writer
Learn how to blog, outsource, create ebooks, and get additional expert tips
Have unlimited access to the learning material, even long after the support period expires
You may just be the next person earning well as a freelance writer.