I've been freelance writing for over a year now. In that time I've built a freelance writing business that brings in $2000 plus per month. Only last month I earned $2793 from freelance writing. Don't believe me? See the screenshots below: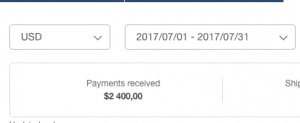 The second screen shot on the right shows the value of work for a Canadian client. If you convert that into US dollars (based on the exchange rate at the time) you get $393.
I'm not showing you these figures to brag. I'm showing you this to prove that it's possible to build a successful freelance writing business in 12 months (or less, as successful freelance blogger Jorden Roper shows). It's also possible to pull yourself out of the hole of writing for content mills where you earn very little.
You see, I started freelance writing in June 2016. I was churning out articles for Lifehack, earning peanuts. But then I stumbled upon a strategy to grow my freelance writing business. I implemented the strategy, and as they say, the rest is history.
In this post I'll share that strategy and plenty more, including:
My time writing for a content mill
How I built my foundation as a freelance writer
How I landed my first few high-paying writing clients
My time writing for an agency who took forever to pay me (and what I did)
The insanely simple technique I used to land my highest paying blogging gig ($250 for a single blog post)
How I increased my rates with an existing client and got rid of low-paying clients
Before I jump into the post, I want to emphasize that the only thing holding you back from achieving what I did is yourself and the excuses you're making…
You don't need some fancy writing degree to succeed. If you can write and deliver what your clients want, you will succeed.
You don't need to spend endless amounts of money on writing courses before you start. You can learn on the job. I'm even doing a copywriting course while I build my business and write copy for clients.
You don't need to research your industry/industries/niches for hours on end before starting. Yes, someone once told me they want to spend a few years researching an industry before writing about it. Seriously? Sounds like an excuse to me. You'll gain experience as you write.
You don't need tons of experience to start freelance writing. I had very little and managed to build a freelance writing business in a short time.
You don't need to have a niche nailed down. Niche selection is one of the biggest stumbling blocks. If anything, you can select several niches and over time your niche will choose you. It's an evolution.
You don't need the perfect website. Putting together a writer's website is an important part of building a writing business. But too many people aim for perfection. Stop it. Launch something simple; you can always change it with time.
Okay, now let's dive into the post.
Writing for Lifehack
My journey started when I applied to write for Lifehack through the ProBlogger job board. After sending my application and many back and forth emails, I got the job. Over the next few months, I wrote 35 posts for Lifehack.
The pay was mediocre, but it was a starting point. I refined my writing skills, the exposure was great, and I landed two writing clients who came across my articles on LifeHack.
While writing for Lifehack, I became aware of a challenge by professional blogger Bamidele Onibalusi – and that changed everything.
The Earn Your First $1000 Freelance Writing Challenge
Sometime in July 2016, Bamidele announced the Earn Your First $1000 as a Freelance Writer Challenge. Bamidele created a pseudonym and documented step-by-step how to make your first $1000 and in the process build a writing business. I took the opportunity with both hands and in the next few months followed his progress and implemented the strategies to build my writing business.
I Built My Foundation
I focused on my positioning, writer's website, and online presence.
My Positioning
Because I couldn't nail down a niche, I positioned myself by service. I offered blog posts and guest posts across several niches such as business and marketing.
For anyone struggling to select a niche, don't. It only becomes a stumbling block when you're starting your writing career. You can choose several and as you write about more topics, you'll soon see what interests you and what doesn't.
My Writer's Website
I launched a writer website, using the Divi theme and chose my name (nickdarlington.com) as my domain. A name which specifies your niche can be an advantage from an SEO perspective. But I didn't want to limit myself. I wanted the option to target several niches, so I chose my name.
The hosting platform I used was Bluehost as I already had a blog hosted on their platform. I then created key pages that every writer's website should have:
About page: I included information about myself and my services, together with an image.
Contact page: I made it easy for people to contact me via a contact form and also listed my email and telephone number on the site.
Service page: I provided more detail on the services I offer and include a contact form for those who want to hire me. If you're creating a writer's website, you can have a separate hire-me page.
Because I had experience using Divi, it took me a day to create the site.
My Online Presence
I updated my LinkedIn, Facebook, and Twitter accounts to reflect that I was a freelance writer.
With my foundation set, I built social proof.
Building Social Proof
I already had social proof through Lifehack, but I wanted to bolster it even more. So, I decided to pitch Huffington Post. The idea was simple: I would get featured in a major publication and leverage that credibility to command higher rates when negotiating with prospective clients. So how did I go about doing that?
Firstly I worked on an article idea for the Huffington Post. It was a rough idea, with a title, and brief article outline. I then searched for the editor's email address.
A simple Google search yielded the editor's name for the Huffington Post. I then used email finding apps like ViolaNorbert, FindThat and Hunter to get her email address.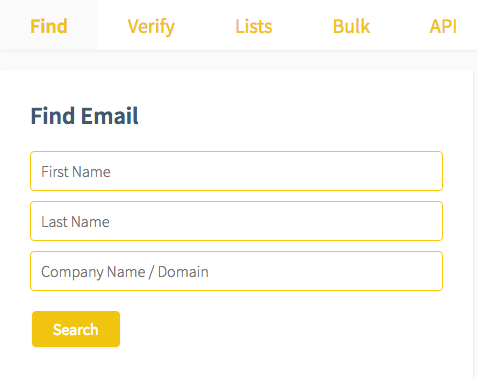 When using these apps, you need the editor's name and the domain name. Type those into the tool and the app will find the email address. Armed with this information, I was ready to pitch. I sent the following pitch with my subject line reading 'Writing for the Huffington Post":
Shortly after that, I received this response:

I wrote the article, had my social proof and moved on.
Building My Prospect List
I shifted my attention toward cold-pitching. But first, I needed to create a prospect list.
I searched for sites/companies on Google and LinkedIn. I used keywords for the many niches I wanted to write for such as "technology websites" or "business websites."
I filtered results by country, only focusing on Australia, USA, United Kingdom and Israel. When I landed on their site, I evaluated whether they were worth pitching based on whether they had a blog and how professional the site looked.
A professional looking site indicates whether they will be willing to spend money on a writer. Once I had a list of about 80 prospects, I found editors' and content managers' email addresses through the techniques I listed earlier.
Cold Pitching
I then started reaching out to prospects with this template: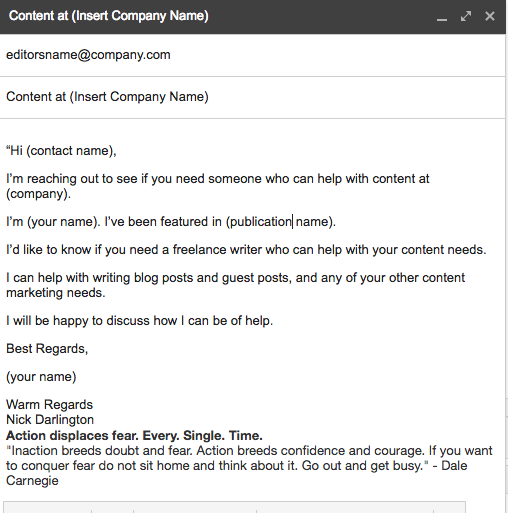 I used the subject line "Content at (company name)" and out of 80 pitches, I gained interest from several websites and publications and landed two clients.
The one client agreed to three $50 blog post per week and the other up to $450 for a magazine article (excluding transcription). My new rates were a far cry of earning next to nothing writing for Lifehack.
So with two clients in the bag, I was self-employed and had a freelance writing business. And over the next few months, I wrote several articles and blog posts for these clients. I still write for them today.
I also landed a few jobs through clients who saw my work on Lifehack. So yes, while writing for Lifehack wasn't lucrative, it gave me exposure. It's something you should consider if you're a new writer.
From the period June to November my income increased month-to-month. I went from $105 in June 2016 to $1980/month in November.

Things were going well, but then existing client work tapered off. Thankfully, through a referral, I landed a job writing for a local marketing agency.
Agency Work
The agency gave me welcome work, albeit at a reduced rate. But, it was constant work and ensured a steady stream of income (or so I thought).
Following an initial prompt payment for an eBook I wrote, over the next few months, I was regularly chasing payment. Excuses ranged from 'the accountant is only in the office once a week' to 'we only pay our writers when we get paid by our clients'.
For freelance writers, that should immediately be a red flag. I mean, imagine you're a reseller of bananas who buys your produce from the market, then you tell the market owners they'll get paid when you do. It doesn't work like that.
To me it seemed obvious: they were stalling on payment and sitting on that interest in their bank account. Whatever their reasons, I was fed up with emailing and chasing for payment. I was emotionally drained, and angry that they failed to deliver their end of the bargain. But it's a lesson I had to learn, and one lesson I will never forget.
I sent an email explaining that I wasn't going to write any further articles for them until they paid (I wanted to share the email here but can't find it).
About a month later I received all the money, and I haven't written for them since. Due to late payment, over the period of December and January, my income was low. Despite the lack of revenue, I learned a lot. I felt more confident to stand up for myself and charge what I'm worth.
The work picked up in February and March, but I was still averaging $1500 each month. I knew that I wasn't pushing myself enough. I knew I could do better. That combined with my new found confidence was the driving force I needed to shift gears.
Shifting Gears: Pitching For More Work at a Higher Rate
I started cold-pitching again. This time, the goal was to increase my blogging rates to over $0.20/word. One day, while compiling a prospect list, a thought occurred to me: What if I targeted writers in my niches to see who they're writing for, and then pitch those publications?
It made sense. Not only would I reduce prospecting time but I would filter out low-paying clients. It was a no brainer and I started putting this deceptively simple technique for landing high-paying clients to the test.
I used Google search to type in the freelance writer I had chosen. Google revealed several results, and after more digging, I had seven prospects.
I found the editor's emails and sent them a variation of the pitch I used when launching my writing business. Only this time it was different because I had more experience to offer. Below is the pitch (I've broken down the various elements of the pitch for you):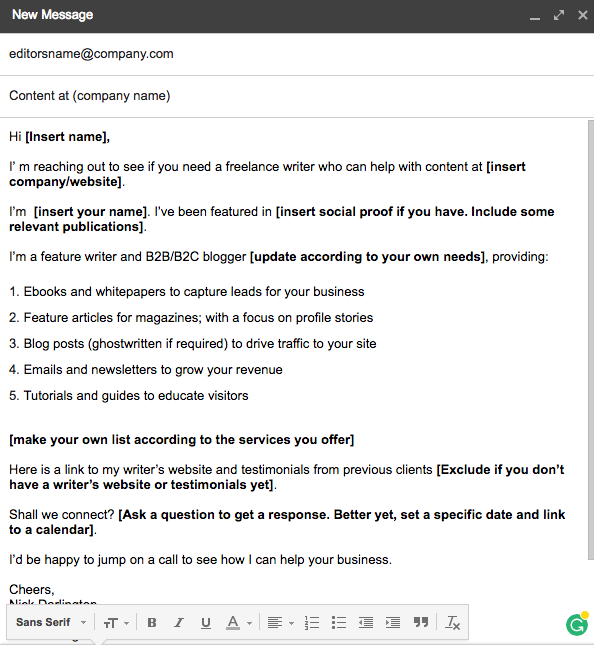 Out of my small prospect list, I got three responses. Not bad, right? There was one prospect that was particularly interested and so I pursued her. Here's her response to my cold pitch:
I responded, and told her that I would send her some questions and work on a few ideas. Focused on over delivering, that Monday I sent an email jam-packed with ideas and questions which showed I cared about adding value.
It worked: she responded saying I was fast winning my way into her number one freelance writer spot and I hadn't even started writing yet! Win. She had more questions and was already asking about my rates.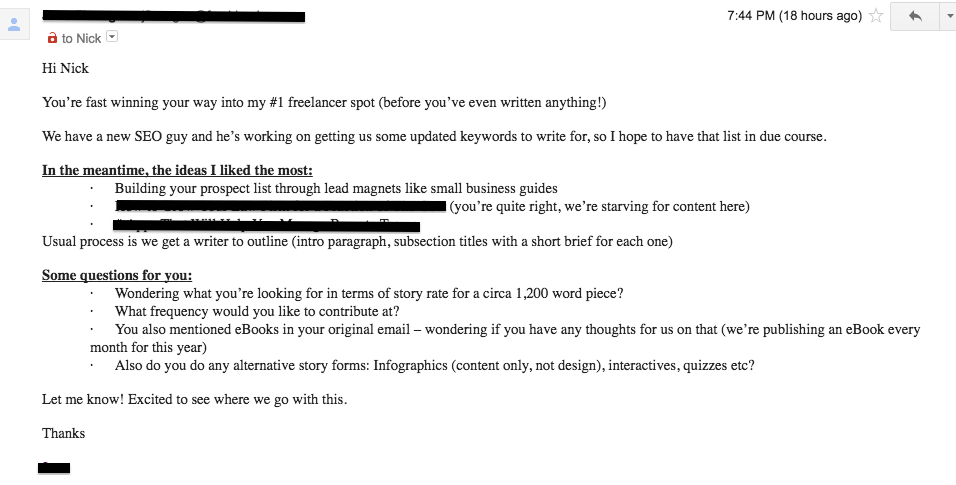 I responded sticking to my guns, saying that I charge $250 for a 1200 word blog post.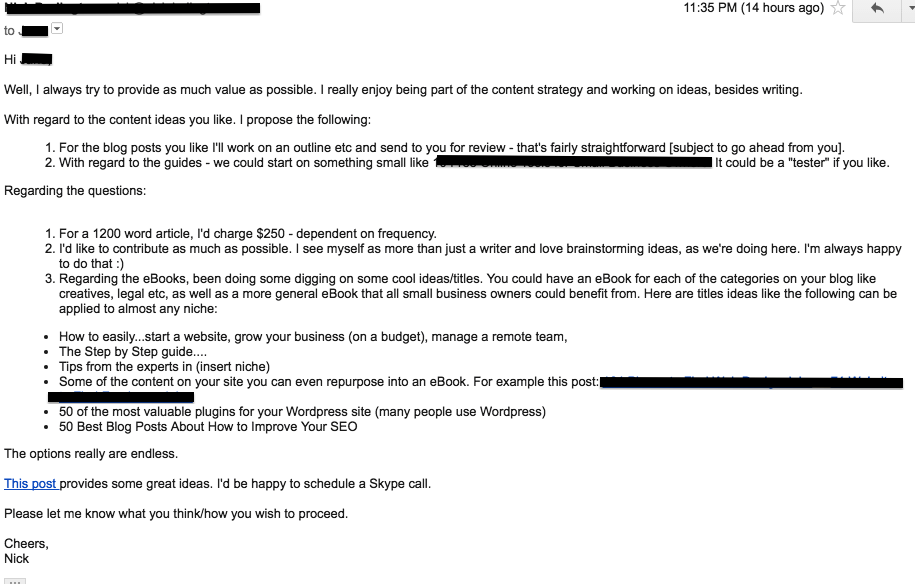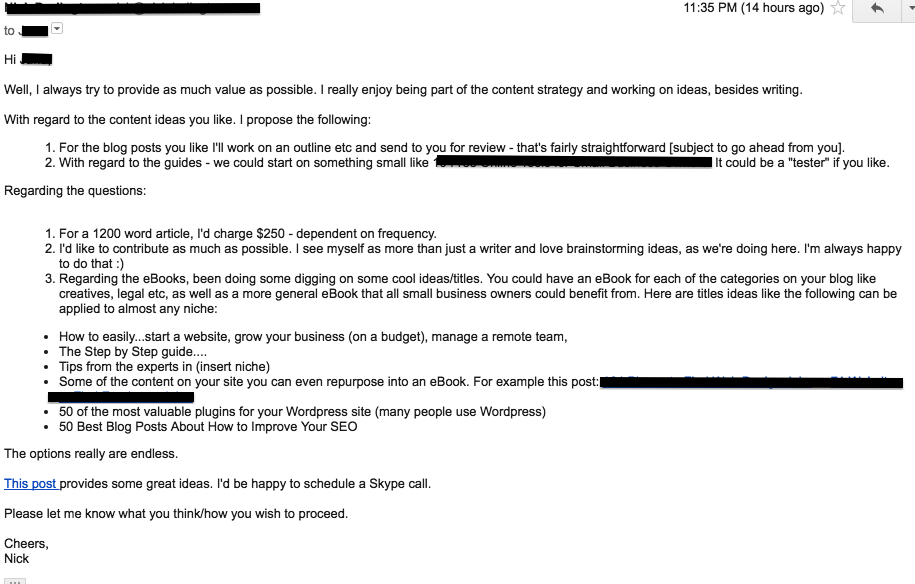 She didn't question it, sent me a contract, and she is now one of my top clients. Only last month I wrote five blog posts for her. She loves my work and the value I give beyond writing (article ideas, SEO writing, researching keywords and so on), and has increased my rate to $300 per blog post.
The whole process got me thinking: there are plenty of people that are willing to pay high rates, I only needed to believe I was worth higher rates.
With that win, I continued cold-pitching and landed several other clients. At one point I had close to seven clients.
But there was one problem:
I had an increased workload, and the lower paying gigs were taking up too much time. Time that could be better spent writing for the higher-paying clients.
I mean what would you prefer: writing a 1200 word blog post for $250 or $60? That was my predicament. So I made a decision: I would attempt to increase my writing rates with existing clients and get rid of low-paying clients. If I lost a few, I would still have a comfortable monthly income. So I was content with that option.
I Raised My Rates With Existing Clients and Got Rid of Low Paying Clients
Two of my clients weren't willing to pay me higher rates, so I gently got rid of them. I did, however, make myself available to help them find a new writer. One of the clients mentioned how professional I was and was more than happy to give me a positive testimonial. The other client? We parted ways on good terms, and I put them in contact with a new writer, too.
However, a third client agreed to a rate increase. Remember that client I landed who agreed to $50 per blog post? After meticulous attention to crafting an email, I sent the following (take note – at the time they had requested me to write an eBook for them, and I had only recently increased my rates to $60):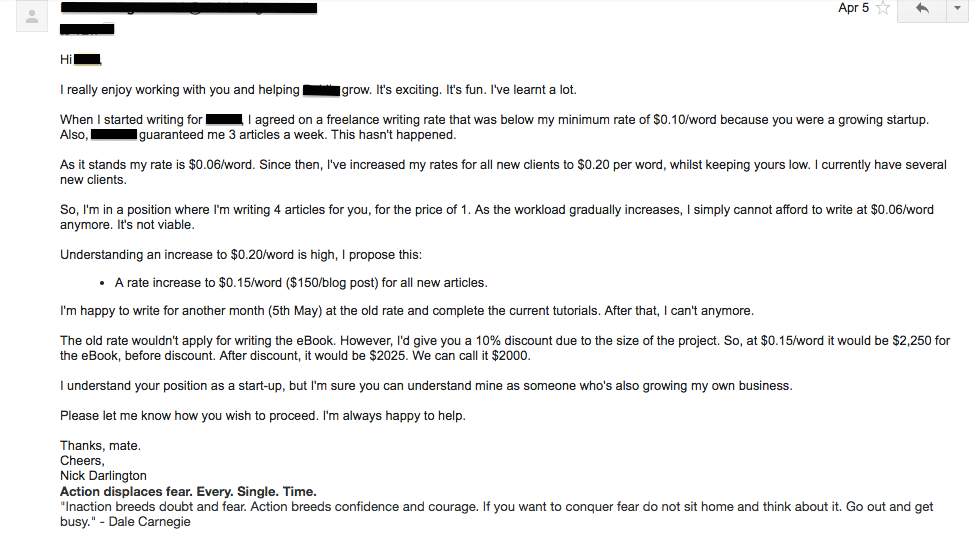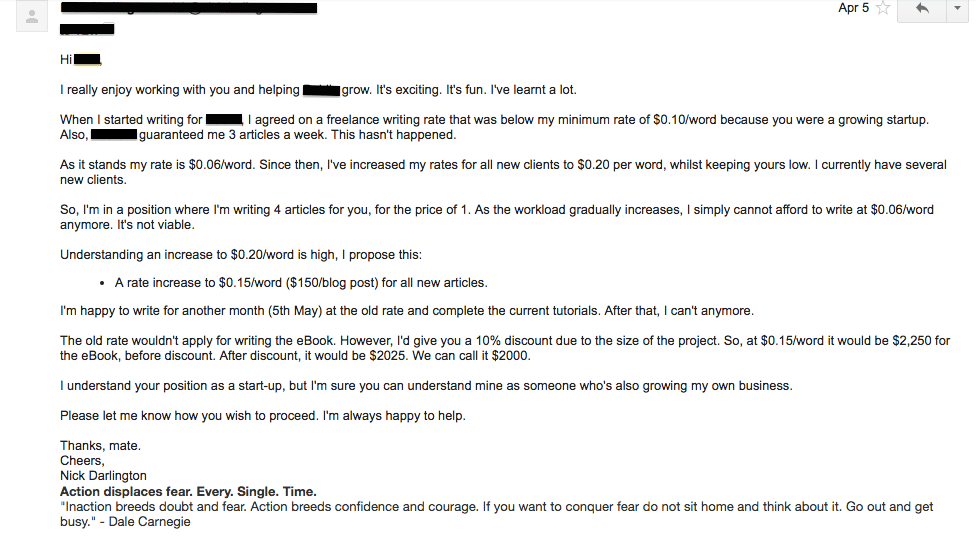 In the email, I said that:
I enjoyed working with them.
I highlighted the current rate
My writing rate had, in fact, increased across the board and that it didn't make business sense to write at the current rate.
I was willing to provide them a discount to $0.15/word, as a sign of good faith. They'd given me a lot of business, and I did value them.
To be honest, I wasn't expecting a favorable response and I was right; the next day I received the following email: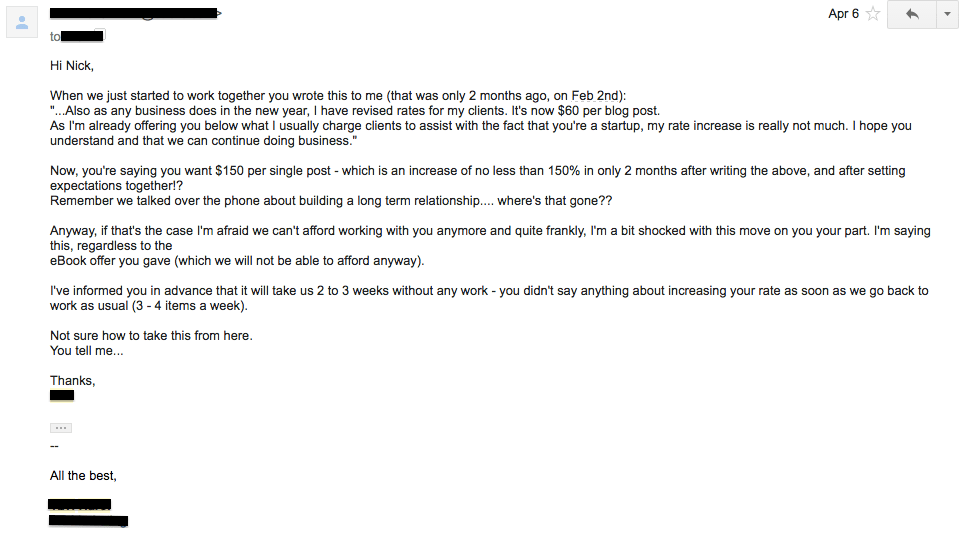 He wasn't happy, and while I felt for him, I wasn't changing my decision. I responded, reaffirming that it was a business decision. I explained that while I understood it was a shock, it was something I had given much thought to.

He responded more favorably, asking if we could meet in the middle. He was willing to offer me $100 for a blog post (an increase of $40) and a frequency of 8 posts a month.
I agreed. While it wasn't $0.15/word, the client guaranteed a monthly frequency of posts. Besides, I would now get paid more for two articles than I would for writing three.
By pitching for new clients at an increased rate, raising my rates with existing clients, and getting rid of clients who weren't willing to pay me the new rates, I've been able to move beyond the $1500/month average, to well over $2000/month. The below graph depicts my growth over the past four months in US Dollars:
The monthly income figures are:
April: $2365
May: $1590.50
June: $2410.88
July: $2400
And if you include money from my Canadian clients, my figures for June and July, are $2800.88 and $2793 respectively. That's after the currency conversion from Canadian Dollars to US dollars.
Admittedly the income tapered off in May. I attribute this to some work I completed in May being paid for in June along with my decision to get rid of clients.
I now get the majority of my income from three regular writing clients:
The client that pays me $300-$450 for a magazine article (excluding transcription). Since landing this client, I have earned over $6000 from them. I'm set to make $1500 from them this month and have already written and submitted two articles for them.
The client who now pays me $300 for a blog post. I'm set to earn $1200-1500 this month. I've already submitted three articles to them.
The client that pays me $100/blog post. I will earn $400 with them this month.
I also have clients I work with on a less regular basis. As things stand, I'm set to earn $3000 this month alone.
And again, I'm not sharing these figures with you to brag, but rather to show you that's it's possible to earn well from freelance writing. Just use the right strategies, believe in your worth, and find those clients who are willing to pay you the rates you want.
Conclusion
In the space of 12 months, I've built a sustainable freelance writing business by using the right strategies and taking action. I built my foundation by positioning myself, creating a writer's website and establishing my online presence.
I then bolstered my credibility through getting featured in the Huffington Post. I prospected for and cold-pitched to get my first few clients.
As my business grew, I did face challenges – such as dealing with the agency who didn't pay me on time. But I overcame the problem, became even more confident and started cold-pitching by targeting writers in my niche to find clients who were willing to pay me more. I succeeded, and then increased rates with existing clients and got rid of low-paying clients. That has allowed me to earn $2793 in the last month.
Whilst everyone's professional writing journey is different, I believe that if you build your foundation, guest post to gain credibility, and cold-pitch to find high-paying clients, you'll achieve your goals – I'm living proof that the biggest thing standing in your way is yourself!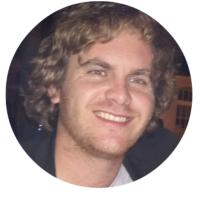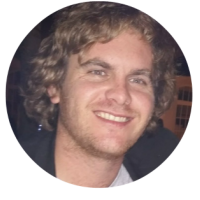 Nick Darlington is a feature writer, B2B blogger, copywriter, and co-founder of WriteWorldwide – the number one resource for freelance writers whose first language isn't English.