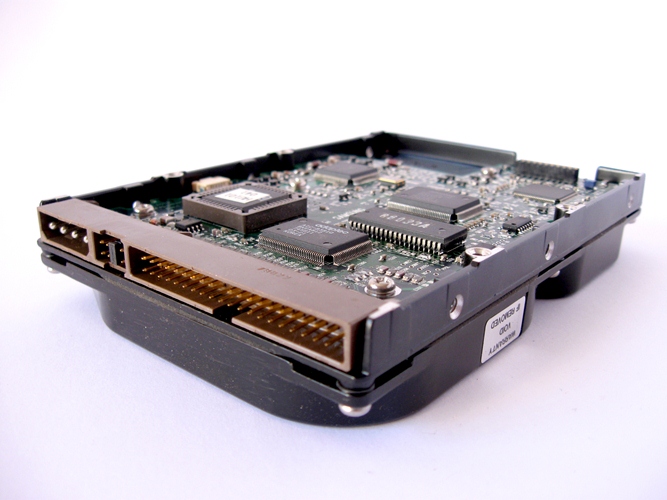 Hard Drive Not Found
That's the error message that I was getting last Friday night when I tried to boot my laptop. The rule of thumb here is then to shut down and start the computer again. After some few seconds of loading, I got another "Hard Drive Not Found" error. The same happened even after multiple restarts.
I felt like telling the laptop, "Si hard disk ndio hii" after unscrewing it and seeing that the hard disk seemed normal.
That was as far as my limited knowledge of hardware could reach. I turned to Google but there was a lot of jumbled information, mostly stating that my hard disk may have been damaged.
No one wants to hear this! Therefore, I called Joe, one of my best friends and a computer wizard to ask what the problem might be.
It's great to have a good friend since Joe quickly came the next day and checked it out. After multiple commands and wiz stuff, his conclusion was the same, hard disk failure. He told me not to buy a hard disk till I talked to Thomas who is the authority in our area when it comes to computers.
The story gets a little bit predictable here, Thomas also concluded hard disk damage and so I had to buy a new hard disk.
But, like the title says, how did I survive the hard disk damage? Below is what I did to maintain my freelancing efforts intact.
1. Dropbox
I really thank God for Dropbox.
I normally keep all my important folders in Dropbox. Therefore, whenever something happens to my hard disk, my important files are always intact. Even if a client asks me for my portfolio and I'm at ushago, I'll simply log in to Dropbox online and get the files ASAP.
Of course I lost some of my movies, music and stuff, but none of my freelancing stuff was lost.
Dropbox is a cool cloud application that synchronizes files on your computer with online files. In short, whatever you save on your computer's Dropbox folder will be automatically saved on the Dropbox website.
For example, if you have a file you call "Graphics" that you use for your graphic design work, should you need them and you're far away from your computer, you can simply log in to Dropbox and you'll find the file intact. Also if your hard disk gets damaged, you'll still have the files intact online and in your other devices.
You can also sync Dropbox in different computers and mobile devices. Therefore the "Graphics" folder will be found online, on your computer, your iPad, your Android phone, your partner's computer and wherever else you want it to be. Whatever you update in one place automatically updates everywhere.
2. Google Drive
I had some of my files also stored in Google Drive.
This does the same job as Dropbox. You can sync your files on multiple devices and also get them online.
The main advantage of Google Drive is that you can edit your files there. For example, I am writing this article directly into Google Drive. This is because I started it before I got a solution for my issue and I was using a relative's computer.
Alternatives to Dropbox and Google Drive include SkyDrive and Box. Box is especially great for those who want to be notified whenever someone previews or downloads their stuff.
3. Outsourcing
My computer crashed when I was in the middle of an urgent writing job. Immediately after it crashed, I outsourced the whole project I was doing to Benleem; an awesome writer and one of the top followers and commentators of this site.
Of course he did a brilliant job and since I trusted him, I texted him the email addresses of my clients and he gladly sent the work to them. All the clients loved his work!
I normally outsource most of my writing work to fans of this blog who have expressed interest in writing. I mostly hire guys in Freelancer and iWriter but soon I'll also be doing so through GlobeSkill, Elance, Fiverr etc. My aim is to one day be outsourcing to GlobeSkill since this is a Kenyan site that we all need to promote.
4, Gmail SMS and Other SMS Options
 I operate a small phone. You know, those ones that can only call, text and "mulika mwizi".
This is just a phone ya kushikilia as I wait to buy another one that I've been eyeing thanks to some thugs who stole my previous phone.
Good thing, I am subscribed to Gmail SMS. I therefore receive alerts on my phone whenever someone sends me an email and if it's urgent, I can still respond using my small phone. Note that you can read entire mails through Gmail SMS by replying "M" to the text messages till you read the entire text.
By the way, for those who feel down since they have small phones like me :), nowadays there is Gmail SMS, Twitter SMS, Facebook SMS. These can help you get by some of the important stuff you like doing from these sites.
For example, to follow me via SMS, simply send "F FreelancerKenya" to 8988 if you're using Safaricom or 40404 if you're using Airtel and you'll be able to follow my FreelancerKenya Twitter handle!
5. HostGator Email Forwarder
I get my hosting from HostGator and just like all other great web hosting services, they have an email forwarder I therefore forward all incoming mails from my websites  to my personal email address. For example, when you send an email to [email protected], I'll get it on my personal email address then go to Outlook to reply (you can even email me now, even if it is just to say hi).
During this time when my computer had crushed, I simply replied to all emails using my Gmail and it was business as usual. I've now fixed back my Outlook and as usual I love reading and responding to ALL emails.
6. Email Marketing Software
Once again, I love emails. That's why I created an exclusive mailing list for my subscribers where I send great updates once or twice a week. You can feel free to click here and join my mailing list and get my free updates.
I use AWeber as my email marketing software. This is touted by top internet marketers as the best email marketing software and I totally believe that. Imagine selling stuff online without having to type new emails every day.
In case I want to go anywhere and I need my list to receive a couple of email updates, AWeber automates the whole process so I can easily write emails now and instruct AWeber to send one next week and another one the week after.
Therefore, despite the fact that my computer was crashed, subscribers were still receiving great updates and I was answering to their questions using Gmail or Gmail SMS before I could get a comp that has Outlook or Mozilla Thunderbird for my private domain emails.
7. Backups
I value my software. In fact, I have one of the biggest software "banks" than most people I know.
I therefore always backup my important software on DVDs so that in case of anything, I wouldn't have to start calling people to help me with their software. Of course I also back up important movies, music and even trainings that I have bought such as AffiloBlueprint. As much as these may be backed up online, I back them up offline too to make sure that I save on bandwidth and time whenever something happens to my machine.
8. Evernote
 Evernote is a handy little tool for notes. It is sort of a place where you can store your ideas and use them later for your blog, freelancing schedule or even planning purposes.
Here, you can simply install the software, jot down stuff, copy-paste emails, do to-do-lists and save them for later. It is also an app that syncs across different devices therefore if your computer crashes, your notes remain intact online and offline in multiple platforms such as phones and other hand-held devices.
9. WordPress Blog Scheduling
If you've done a bit of internet marketing, then you know that timing is a very important factor in everything, including when a blog post goes live. Even this post that you're reading now was written and scheduled to be released later via WordPress scheduler.
Whatever happens to my machine before that time, the post will still come out at the intended time and have the intended impact.
Conclusion
Experts say that all computers will crash at some point, its just a matter of time. Therefore, it always helps to do a lot of preventative measures to make sure that you're safe before yours crashes.
Therefore, feel free to use all the measures above, get a good antivirus software, make sure your laptop doesn't keep falling and get a UPS or power guard so that it is not easily damaged by power surge. With the above measures, your freelancing career will still do great even with a Hard Drive Not Found error. Feel free to drop a comment below or email me for anything (even if it's telling me there was a typo :)).