Comment Contest Winner and Other Freelancing News
When you don't have time to take note of what's happening around the freelancing world, don't worry, FreelancerKenya has got you covered.
Last week was a heavy one in the freelancing industry, especially considering the sad move that PayPal and iWriter made.
I was happy to be featured on another blog. Read about it and grab their free eBook (limited copies).
I also held a blog comment contest via my mailing list and two people won Sh. 1,000 each. Another reason you need to join my mailing list. I will be holding such contests once in a while.
Below are the details.
1. Blog Contest Winners
After writing the blog post, 8 Excruciating Mistakes to Avoid in Your Online Business, I kicked off a contest in my mailing list for the top commenter. Two people who would post the most touching comments would each win Sh. 1,000.
I appreciate every single comment that was posted there. You guys are awesome. It was very hard to choose the winners. But even though two people won, you are all winners. I am so grateful to you all.
The two winners were Dennis Mwangi and Anthony Ndirangu. Click on their names and you will see the comments they posted.
Why these two?
For Dennis, he not only gave an awesome comment, but if you look through the comments you will see that he also responded to many other people's comments with sound advice. He also has an excellent sense of witty humor. I loved that. For Anthony, he put up a long post (almost like an article, with good advice that was totally on topic).  They both promptly received their Sh. 1,000 reward on their MPESA.
Congratulations Dennis and Anthony.
Once again, all the other approved comments were awesome. You may be the blessed to win next time.
2. PayPal Withdrawal via Payoneer no longer possible for new guys
According to PayPal last week, they are no longer accepting additions of new Payoneer bank accounts to their system.
These are the bank accounts known as Global Payment Service (formerly Payoneer Virtual Bank Account). They enable one to withdraw money from PayPal to their Payoneer accounts. There is no official communication out there yet (if you Googled at the time of writing this) but many freelancers tried adding their accounts and they were denied.
Note that those who have already added their Payoneer Global Payment Service to PayPal will not be affected, only new users.
Below is an excerpt from an email from PayPal confirming this – a freelancer forwarded it to me.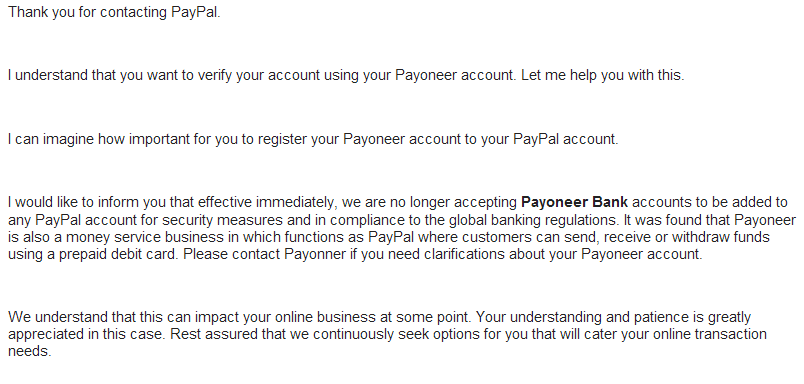 So should you still use your Payoneer account as a new freelancer? Yes. Even without PayPal, you can still add your USPS to other sites like Skrill, Amazon, CJ and others. Some sites like Elance, Freelancer and Fiverr pay via Payoneer. Here are more benefits of Payoneer.
3. iWriter is banning low rated writers
If you are in iWriter and your rating is below 4 stars, work hard to improve your rating. Below are some ratings that will get you banned, according to the iWriter FAQ page:
A writer rating below 3 after 5 reviews, 3.2 after 10 reviews, or 3.4 after 20 reviews.
As most of us know, all articles on iWriter get rated, apart from the auto-approved ones.
You can get a good writer and outsource some work to them to bump up your ratings. If you are a totally new writer, you can start by working for someone or other sites like Upwork and PeoplePerHour before going to iWriter. Here are some tips that will help you succeed.
4. My interview in Niabusiness
I was elated to be interviewed by the blog Niabusiness. This used to be an awesome blog back then but when updating this post, I've seen that it's no longer in existence.
Thanks for taking your time to go through this news post. In case you have any other news from the freelancing space feel free to contact me and let me know. Let's talk on the comments, shall we?