This is to announce that http://freelancerkenya.wordpress.com has successfully moved to http://freelancerkenya.com which is a self-hosted WordPress.org website and not part of the free WordPress.com. Any FreelancerKenya queries will be redirected here. All the posts and comments are still intact. In case you had subscribed to my blog via email, don't worry, you'll still be getting updates on my posts. Feel free to subscribe again in this new address just to make sure all is well. Due to the fact that a self-hosted website has more functionality than a free WordPress.com blog, get ready for great stuff coming up. I appreciate the great support that you have shown in helping me to get where I am today.
Look out for the following in the near future:
1. A powerful eBook detailing how you can be successful online as a Kenyan. This eBook targets the Kenyan market and talks about the specific advantages and challenges that we face as Kenyans. It gives laser targeted tips that will help you make real money online and keep it flowing. It promises to help you add or even multiply your income if you follow the advice carefully.
2. Make Money Series – This is a series of blog posts on how to make money online. They will help you discover the best methods of making money online that suit you. They will also help you in creating multiple streams of income.
Due to your great support, I am willing to go an extra mile to make sure you get nothing but success. In case you have any comments, kindly post them in any article in http://freelancerkenya.com or send me an email at walter@freelancerkenya.com. Also feel free to check out and like my Facebook page on the sidebar.
Currently, at the date of writing this, http://freelancerkenya.com has the same theme and design as the former http://freelancerkenya.wordpress.com. I will be making a couple of changes over the next few days to make sure that I give the best delivery. Bear with me as I make all these changes, it's all for the good. As always, I wish you great online success. Keep it FreelancerKenya!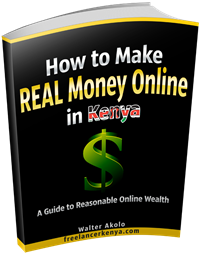 Powered by Max Banner Ads