I recently started an online freelancing challenge. The aim was to start from scratch and become a successful freelancer. I got some amazing results.
Instead of doing it alone, I decided to do it with many others in one of the best Facebook groups in Kenya – Awesome Transcribers in Kenya (or just ATK) that has over 30,000 members.
This is a group that not only deals with transcription tips, but also other legitimate ways on making money online. I founded it back in June, 2014 when doing a transcription challenge (yes, I love doing challenges).
It has some of the best and most helpful members when compared to most other Facebook groups. We even have GoTranscript admins in there. How cool is that?
You might also want to check out my recent Paysa interview on how to maximize your career as a freelancer.
Back to the freelancing challenge.
What was the freelancing challenge all about?
The challenge was simple. I was to do the following:
Become a newbie in Upwork, iWriter and PeoplePerHour
Dust off and optimize my old Fiverr account that I hadn't worked on for 2 years or so
Look for work on online job boards.
In all these sites, I was looking for freelance writing and copy-editing jobs.
Since there were many people in ATK who also wanted to start from scratch, I decided to make it a challenge where I would show what I was doing step by step so that we could all learn from each other.
I totally believed I would make it since I had been a freelancer for years. However, I really wanted to see others succeed.
I loved the results.
A few days into the challenge, guys just couldn't stop posting on the group the fact that they had landed a client in the different sites named above.
Many are still earning from the different sites they joined. The whole challenge was a smashing success.
We still have a long way to go since I'm writing this just five months after starting.
Below, I show you how to succeed in the various sites and the strategies I used. I also tell you what is yet to work and give you my final thoughts.
How to succeed as a Freelancer in Upwork
Upwork is a merger of the former oDesk and Elance.
I loved Elance and had made some decent amount there before this merger.
I hated oDesk since it was famous for all the wrong things – mainly low pay and difficult clients. A couple of friends kept talking about oDesk but I had never given it a good thought.
When they merged to become Upwork, things got better.
Upwork Market Research
I did quite some research on Upwork and came across great information from different sites.
Locally I got some great content from Sheeroh Kiarie's WorkOnlineKenya and David Mbugua Kiongo's FreelancerInsights.
Internationally, the site had some outstanding reviews, especially from Danny of FreelanceToWin and John & Radhika of FullTimeNomad.
Lots of guys in the ATK Facebook group also expressed just how much they loved Upwork.
Whoa! This site just had so much love.
After reading all this, I was convinced that it's a great site to work with.
Upwork Case Study Results
By the grace of God, I was able to get the results below from Upwork.
7 jobs from 6 clients
6 5-star reviews
100% job success score
Top-rated eligibility (in the next few weeks I'll be a top rated Upworker)
Below are a few screenshots from my Upwork profile.
My Upwork Success Strategy
Below is the strategy that I used to get to where I am in Upwork.
Research: When starting, I always had a Google tab on. I constantly researched all aspects of this site i.e. profile, bidding, proposals, security etc. I used a lot of information from the sites I named above. This brought OPTIMIZATION! I simply love putting the right effort into things.
Merging profiles: I merged my former Elance profile with Upwork. This brought MOMENTUM since I already had some few Elance stats.
Complete Upwork Profile: I completed my profile 100%. This brought CREDIBILITY. Don't start working there with a half-baked profile.
Testing: I tested different types of projects, rates, clients, countries etc. My online mantra is TEST AND OPTIMIZE. Testing always helps me to PLAN AHEAD.
Skill tests: I did 5 skill tests. This brought REPUTATION.
Using all connects: I make sure I use up all 60 connects (30 proposals) every month. THIS INCREASES PROBABILITIES.
Targeting: I send my proposals to mostly "Intermediate" and "Expert Level" projects. This gets me into the sea of PROVEN, WELL PAYING CLIENTS.
Reinforced proposals: I strive to write great, heavenly proposals and attach samples, links and any other useful evidence. This ADDS VALUE.
Rates: I bid at slightly above average rates. This shows CONFIDENCE but still enables me to build my REPUTATION.
Diversification: I diversify with other sites. This SPREADS THE EGGS. Thus when not working in Upwork I still work for other clients/sites.
I go deeper into Upwork success in my training. But for now, those are general tips that should get you going. I may also do a thorough Upwork review later on as I continue working on this great site.
How to Succeed as a Freelancer in iWriter
I already knew iWriter. In fact, I first joined this site back in October, 2011 when it was still new.
However, I had long stopped working there and moved on to other things.
Some guys in the above Facebook group were saying that it's hard to get started in iWriter as a newbie.
So I decided to become an absolute newbie and see.
iWriter Market Research
I didn't really need to do a lot of market research on this site. It's more of a plug and play site. I had already written hundreds of articles in iWriter in the past.
In fact, right here in FreelancerKenya, there are so many articles about iWriter. If you're reading this as a total iWriter newbie, then you can start by checking out my iWriter review.
iWriter Case Study Results
Here are my iWriter results:
32 articles written and 31 reviewed
4.8387 stars average rating (out of 5)
Elite ranking
I'm a favorite writer to 3 clients so far
Zero rejected articles
Below is a screenshot of my iWriter stats.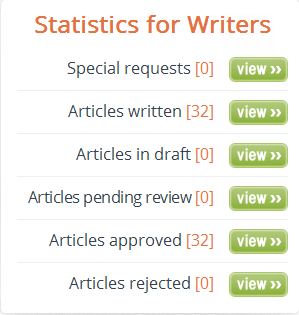 You'll definitely note that I don't work much in iWriter. There have been few jobs there of late, therefore I keep myself out of the queue to give opportunities to other writers. Additionally, my article pricing is generally above what most clients in iWriter offer.
However, I will still sneak back in there once in a while and write something. I still need to get to Elite Plus which is the highest level there paying around $32 per 500 words. To get there I need to have an average rating of 4.85 after 40 reviews. I need 8 more 5 star reviews for that (at the time of writing this).
My iWriter Success Strategy
Below is the strategy that I used to get a good rating real quick and earn in iWriter.
If you want to succeed in iWriter, here's what you can do.
Strategy #1: Picking 150 and 300 word articles
Short articles will get you many quick ratings. Start with 150 to 300 word articles. Avoid going above 500 words when still new.
Strategy #2: Writing for clients with high approval rates
Go for clients whose approval rates are as close to 100% as possible. If you're a newbie, go for clients with an approval rate of 70-100%. This will increase the probability of your article being approved.
Strategy #3: Picking clients who give 5-stars
You only want 5-stars so you look for clients who give 5-stars. Simply check the client's ratings. Those rated well are likely to rate you well if you do an excellent job.
Strategy #4: Excellent articles
There are no two-ways to this. You can't get to Elite Plus if your writing is poor. Once you select an article, make sure you give it your all so that it's worth the 5-star.
Strategy #5: Easy articles
Try look for the easiest articles to do so that you don't spend too much time Googling and wondering how to do it. Take it quite slow as you build your profile. The relatively easy articles come mostly at night so kesha (stay awake all night) if you have to.
Strategy #6: Special requests
The above strategies will land you superb clients who send you special requests.
I got one special requester in 2 days! I considered it a big blessing since that doesn't always happen. I would always ace her articles so that she would give me many 5 star reviews. She ran out of work after 5 articles but I'm glad I worked for her.
Whenever you get special requests, write impeccable articles. This way, that the client will be sending you work whenever s/he needs content written.
Strategy #7: The inbox trick
Before I start an article, I would open the "contact requester" link on a new tab. Once done, I would send a message there stating, "Hi. I have just submitted your article. If it has an issue, please request modification and I'll edit it quick. If you love it, I'll appreciate a 5 star review."
I later realized that you don't really have to do this for all clients. Clients with high approval rates, hundreds of articles written and 5 star ratings in iWriter most likely already know the importance of feedback.
You can just use your better judgment to know who to inbox.
Yes, simply ask and you shall be given.
How to Succeed as a Freelancer in Fiverr
Fiverr is still one fun site to work in. It is difficult to get a bad rating in this site if you're good at what you do.
On the other hand, flow of work here can be unpredictable sometimes. The primary model of this site is that you set up your service description (called a gig) and wait for people to order your gigs.
I had already worked with Fiverr a little bit a few years back. One goal of this challenge was to revamp my Fiverr account and start earning from it too.
Fiverr Market Research
I did not do much market research on this since I already knew the market. You can check out my Fiverr review here. I wrote that in 2013 though so some screenshots there may not be updated yet. I'll edit it soon but it should give you a feel of what the site is all about.
I had a few friends from the Facebook group who were making it big on this site so I decided to take the plunge into it, again.
Fiverr Case Study Results
So far, here are my results in Fiverr.
15 jobs
14 got 5 star reviews and 1 got a 3.5 star
1 long term client
You can check out some of my Fiverr screenshots here.
My Fiverr Success Strategy
Set up an excellent Fiverr profile
Create fantastic gigs
Apply for jobs (submit offers to buyers)
Deliver your very best
Ask for feedback
Be an excellent communicator
Share your gig on social media and forums, especially where potential clients may be
For this case study, I only used number 1, 3 and 4 above since I had already done most of the others earlier.
Other Methods
Below are some other sources of online work that I tried out as part of this challenge.
Job boards
I tried out so many job boards. Some of the famous ones include the ProBlogger Job Board, FreelanceWritingGigs and Craigslist. Through these, I got one long-term client.
PeoplePerHour
I've not managed to get any client yet from PeoplePerHour. In fact, out of all the bids I sent, I only got one response. The client asked for my Skype ID (they allow it here) and after giving him he went missing. However, a few friends from the Facebook group have been earning very well here.
One friend tells me she earns well here from simple tasks e.g. writing a slogan.
For that reason, I still bid here every month. They only give you 15 bids per month anyway, which is not that much.
Final Thoughts on Becoming a Successful Freelancer
It's been so much fun rebuilding a freelancing career. It has also been quite some work.
As mentioned above, I've had some level of success on these sites. I'm still not where I should be but I'm happy and content at how far I've come in just 5 months.
What gives me great pleasure is that through this challenge, there were many more success stories. My definition of a perfect challenge is one in which many who take part in it succeed, and not only the challenger.
To be honest I didn't really think I wouldn't make it as a freelancer. I had already done it for years and I believed that my strategies were rock solid. I still have some of my old connections who give me freelance work.
Due to the fact that this was a public challenge, many learnt from me and I equally learnt from them. Big-up to all members of the Awesome Transcribers in Kenya Facebook group who made this a success.
My biggest prayer was to get as many people as possible into freelancing, and it worked just fine. I decided to air it all out here so that you, the reader can also make it.
What's holding you back? Other ordinary guys just like you and I are earning as freelancers. Go ahead, make the decision and get going. If you work at it, you can also become a successful freelancer in 5 months or less. You can get trained in case you want to fast track things. Check out my training details here.
Next is the internet marketing challenge where we're building sites from scratch. Don't miss out on it.
Let's continue the discussion on the comments section.