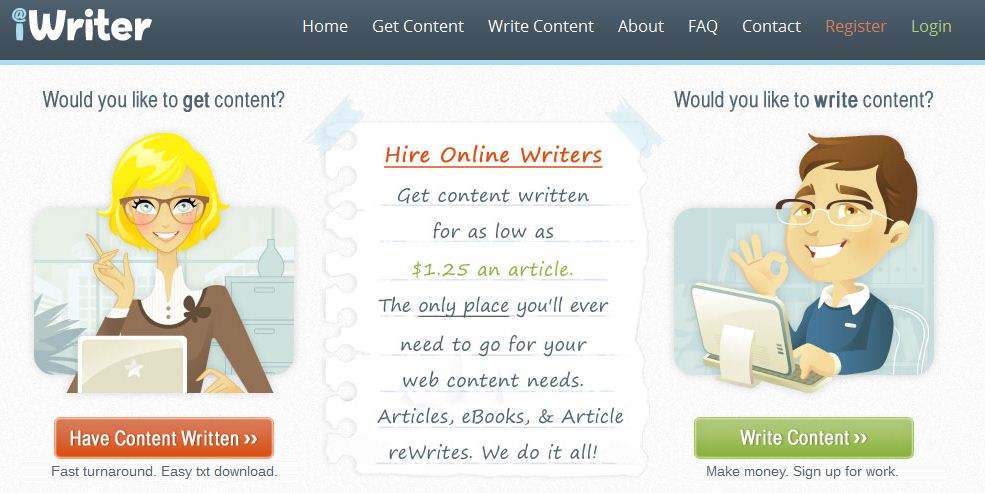 Why is iWriter the best article writing website? If Freelancer.com was a toddler, then iWriter.com is an adult when it comes to freelance writing.
This is a true paradise for any good freelance writer who wants stress free writing. Before going far, I would want to stress that it will work best for people who have already established their writing skills. The better your writing skills are, the better your experience with iWriter will be. Let me not waste time introducing this site but delve right into the iWriter.com review.
What is iWriter?
iWriter.com is a website for professional freelance writers and in my opinion, the best article writing website.
In this site you don't waste time bidding for projects. It works a bit differently and professionally.
It has a rating system which will be used to determine which projects you'll be eligible to do. There is a job board where you choose the article you want to write.
You will therefore not just work on blind projects like other freelancing websites. By clicking the small plus sign on the left of each description, you'll find details about what the client wants.
There you'll see a link to either check out the other (special) instructions by their clients (called requesters in iWriter). Each article you write will need to be approved in 3 days by the client. If they don't approve, the article will be auto-approved by the system and you'll get paid. Each article (apart from those auto-approved) is rated and the ratings will help you to get to a higher ranking.
Warning: If you have many low ratings, you will get a warning and eventually get banned. Therefore, as you start, focus on getting as many high ratings as possible.
So what does rating mean in the site?
The rating is simply someone giving your article a "score" of between 1 and 5 for each article. 1 star will mean a very poor article while 5 stars stand for an excellent, brilliant article. A good average rating will lead to a better ranking and therefore more money and more projects.
What does ranking mean in iWriter.com
There are four levels where you can be ranked as below. The prices written reflect the prices at the date of updating this article. They are subject to future changes. These are also average prices, some requesters pay more. Generally, writers are paid 81% of the amounts paid by requesters for articles.
1. Standard Writers
You are automatically a standard writer once you sign up to iWriter. What that means is that you'll have access to articles that are meant for standard writers. Payments per article for Standard writers are as follows:
150 words – $1.01
300 words – $1.62
500 words – $2.24
700 words – $4.05
1000 words – $6.07
2. Premium Writers
You become a Premium writer when you have at least 25 ratings in your account averaging above 4 stars and above The current rates for Premium writers are:
150 words – $1.62
300 words –  $3.24
500 words – $4.05
700 words – $5.27
1000 words – $8.10
3. Elite Writers
This is one of the dream places to be in the site. You become an Elite writer when you have at least 30 ratings in your account and an average of between 4.6 stars and above. An Elite writer earns an average of the following:
150 words – $3.50
300 words – $5.67
500 words – $8.10
700 words – $10.13
1000 words – $14.99
4. Elite Plus Writers
This is the best of the best level in iWriter. This is also reflected in the pay as below. To become an Elite Writer, you need an average of 4.85 stars and at least 40 ratings:
150 words – $8.10
300 words – $14.60
500 words – $24.30
700 words – $30.30
1000 words – $45
Special requests
A special request in iWriter means that a requester sends a project directly to you. The great thing about a special request is the fact that it pays more than the regular articles.
You also get to have repeated writing opportunities from the requesters. For example, I used to write eBooks for a specific requester for a long time. He kept giving me 5 star ratings since he already liked my style and I kept giving him great content. This therefore worked as an excellent symbiotic relationship.
Plagiarism checker
I personally have a Copyscape account that I had been using with bidding sites like Freelancer.com. With iWriter, I have been saved off this extra cost since the site automatically runs your work through Copyscape for free.
You will only be charged in case the first run gets some duplicate content. The content will be highlighted and you will have a chance to correct them. You'll be given 3 chances to do this. If an article fails Copyscape thrice, your account will be suspended.
Most good writers naturally don't plagiarize so this shouldn't worry you.
Grammar test
iWriter has a short and very easy grammar test that you need to do before you start writing. To get to the grammar test, just click on "Write Content", scroll down to articles tagged as "Standard" and click on the little grey plus sign then click "Write Article". You'll be prompted to do the short grammar test of 15 questions. Pass mark is 13 out of 15.
Conclusion
This is an awesome and very professional site for writers who know what they're doing.
So, what will separate the sheep from the goats? Any good writer will have an easy time due to the fact that many articles will be approved and he will keep rising through the ranks. A below average writer on the other hand will easily quit due to many rejections and they may never get out of the standard ranking.
Due to this fact, many who are below average give up within a few weeks. Therefore, please only start on it if you know for sure that your writing is above average. This site is my personal best in terms of purely article writing sites that don't have barriers to entry.
In case you will forget everything else I have written in this iWriter.com review, please remember these two things:
Always aim to get to the Elite Plus ranking so that you can earn good cash.
Always aim to get special requests.
Check out the second part of this review. If you have any questions, don't hesitate to ask. Also feel free to comment below and give suggestions about what your best article writing website is. Click here to sign up to iWriter.