Tweet
Hi Freelancers and Aspiring Freelancers,
This is Walter, founder of FreelancerKenya.
How would you feel if you got the following for only Sh. 2,000:
Article writing training
Possible writing job offer from me or my connections
Real time support as you start out with clients
Expert reviews on your test articles to monitor your progress
You'd feel great, right?
Well, that's exactly what I'm offering you; to help you one-on-one (online) to become a successful freelance writer.
Details of This Offer
This is an offer for new writers.
Charges – Sh. 2,000
Duration – One month


Mode of training – An online interactive training portal with all the lessons plus videos and additional materials. In case you get stuck at any time, you can reach us via our friendly customer support portal.

Bonuses – Read on
A Little About Me…
As most of you know, I am a successful freelance writer, blogger and internet marketer both here in FreelancerKenya and in other freelance writing sites. Below is evidence of this:
This shows that I am an Elite writer in iWriter.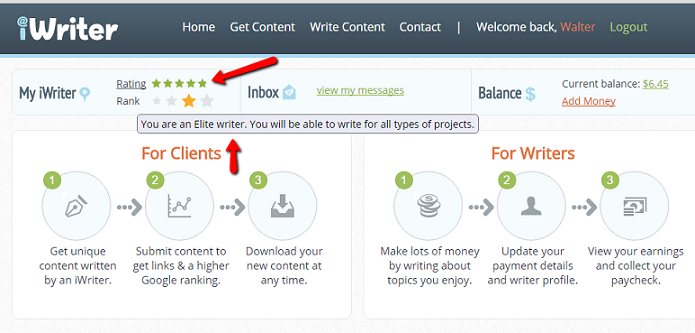 Here's a screenshot of my iWriter reviews: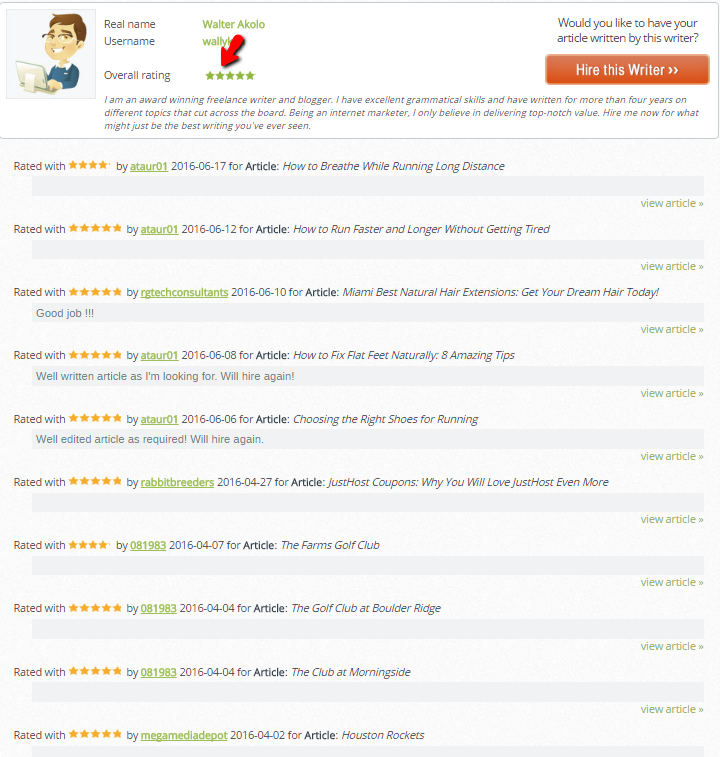 This shows that I am a Level 2 Seller in Fiverr, one of my favorite freelancing websites. Here I have done over 100 jobs, all rated highly.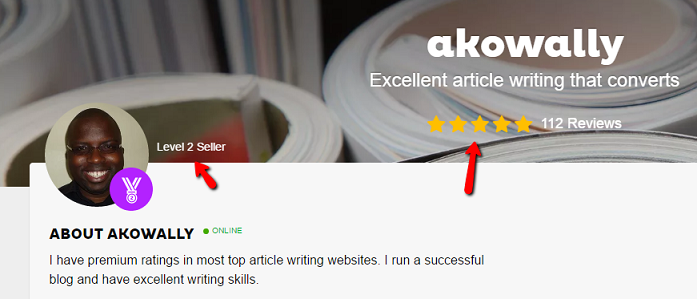 See the stars on my writing gig reviews: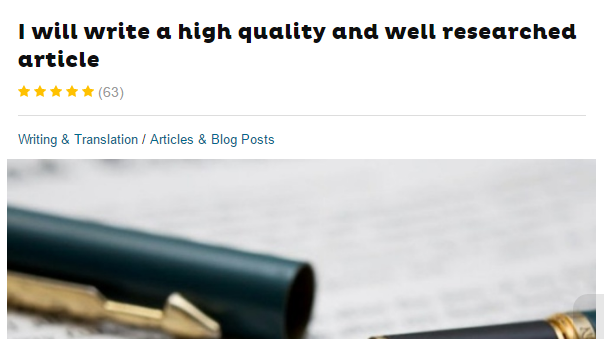 Here is my Upwork profile.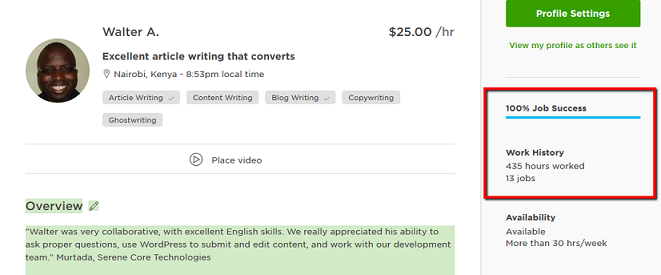 Below is the feedback that I've pasted on my overview.

I've also gotten many high paying clients from this blog's service page, pitching and social media.
This is not to brag but to show you that you can also make a decent living as a Kenyan freelance writer.
For a limited time, I am offering an online based, interactive article writing training for aspiring freelance writers and bloggers.

It is a no-holding back training where I give you expert tips on how you can earn as a freelance writer.
Prices May Go Up Any Time
Prices may go up any time, especially if I get too many people coming in. I'm also increasing features to the training to help you succeed more. Therefore, sign up fast before I increase the prices or even pause the offer. 
Article Writing Training Requirements
The only thing required to join this program is a good command in English and a passion for writing. If you're confident you have those, we can get started anytime.
How exactly will you be trained?
I conduct the training online through an interactive training website that has lessons and videos. You will read, implement then feel free to ask questions via email. You will get help from our support team anytime between Monday and Friday.
Many people get jobs during the first two weeks. To enroll simply send Sh. 2,000 to my number 0720754933 (Walter Akolo).
Bonuses
Yup! There are some bonuses to this.
You get a four-week support period where we'll help you check and optimize your working articles and answer any of your queries.

We check your online work accounts and show you where you need to improve
You get two free submissions at PenStars, the world's first content assessment website.
I may hire you as one of my writers once you are through with the training (of course if your quality is good).
Additional training details
I keep updating the training. Here's what the latest update contains.
How to get high paying clients through cold pitching (this is how world class writers do it)
Getting clients on social media
Getting clients through blogging
Making money through eBooks
Proper outsourcing for increased profits
I'll show you screenshots from real clients that I've gotten from the above sources.
How to Enroll
Simply send Sh. 2,000 to 0720754933 and text me your email address. We'll then get started with the online training.
Click here to pay via PayPal and join automatically.
Feel free to contact me in case of any question.